"Do you even know what to do on the first night?"
"Oh my God, don't remind me, the idea of someone I have no feelings for touching me, grosses me out."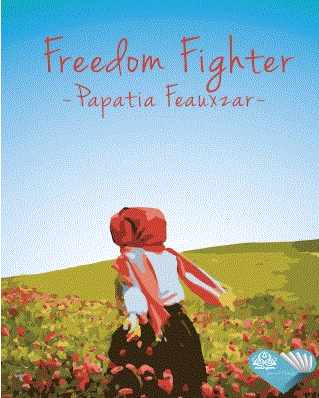 It is easy to be carried away by Papatia's descriptive prowess. It is simple, almost basic, yet does not fail to give our mind's eye visa and a free ticket to Chad, and subsequently America. Nonetheless, it didn't distract us from the theme. The chapters pan out, reminding us of the title: Freedom Fighter. This narrative is a bitter-sweet tale of arranged marriages.
Humorously similar to some Nollywood stories, we find a classic Chevrolet breaking down in a town that didn't see many cars, sending all and sundry down to the tourist attraction. When the owner, Dayhay, sends messages to Sheyma asking for her hand in marriage, the other girls don't understand her dillydallying. Imagine telling some friends that a rice bae asketh and you don't want to receiveth. She eventually agrees for her family sake.
"Thank you, Sheyma, Allah will reward you, Insha'Allah, for your sacrifice."
Sheyma's dream of becoming a world famous pastry chef didn't seem a likely reality in Laiyor, yet she wanted to remain the free-as-a-bird twenty-one year old. If comfort zone has held you before, you would smile knowingly of its grip.
With this revelation of her age, one heaves a sigh of relief, that at least, it is not a child marriage in addition to being arranged. The marriage holds and she leaves behind gifts and a better life for her family, holding a promise of achieving her own dreams as the new Mrs. Kantay.
Dayhay allows her coldness, ignores them even. In no time, we see a popular pidgin proverb come to play –body no be firewood. She finds her body betraying her with yearnings for him. She narrates: My mouth watered at my adventurous thoughts and I swallowed. Her first night is as fairytale as they come, and indeed the sex life after.
What are the odds of falling in love after an arranged marriage? I found myself wondering if this marriage would have a storm or not, and just when I thought it unlikely, it hit. Papatia does something brilliant, ensuring not to serve the usual flaws of an arranged marriage. The storm is not unusual, so again I figured, any marriage could work this out, but is this going to be any harder because of the foundation on which it was built?
The book may have done with some better editing, as I found some pages too wordy. E.g. "Have you been misbehaving behind my back?" My husband asked full of rage." It could easily have read –my husband asked angrily.
Another instance: He stopped talking for a moment, bit his lips and shook his head. One cannot possibly be talking and bite his lips at the same time, so we didn't need the first part really. On the writing style, well, not every time big-big grammar, plus I find that some readers lean more towards prose like hers.
This book reminded me of three things; Chiagozie Obioma's piece, Eghosa Imasuen, and a Twitter thread I came across –the tweet was disgruntled at a writer feeling the need to explain Banga soup. Reading Freedom Fighter made me stand firmer on my stance as regards explaining certain words or phrases to your audience. I know how many times Papatia sent me to Google, and for this, I am very glad.
Want to find out how they made their marriage work?  RUN down to the OkadaBooks store right now! You'll find this and a thousand other amazing books there.
Have an amazing week.