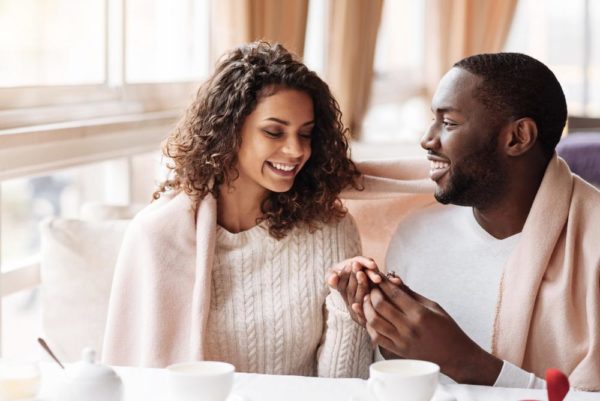 Have you ever had this overwhelming feeling to get married? You find yourself looking through wedding magazines and blogs for wedding related things.
Sometimes, you find yourself going through scores of wedding pictures of strangers, paying close attention to each and every detail. Like it sneaks up on you when you least expect it and you find yourself mentally planning for your 'big day', or having the same repeated dream of your big day.
I recently went through the phase which I call 'the me too I must marry' syndrome. I have never been one in the past to fantasise on how my 'big day' would turn out to be. In fact I always shied away from marriage talk in general.
Don't get me wrong it isn't that I don't want to get married; I just always thought it would happen when it happens…without stress.
Actually before I caught the bug, I always thought I had a few years before thinking of getting married. Even when my friends began getting married or started talking about the need to be married, I always replied in a relaxed way and with a relaxed voice saying "God's timing is the best."
I remember the first time I felt the urge to look at beautiful wedding gowns on various blogs, picturing myself in them, and thinking about how I would glide down the aisle like a princess towards my husband who would be patiently waiting in front for me. I could imagine the loving faces of the guests as they watch me walk towards my new beginning and future. (However, not without a few snickers and envious looks because we know in a gathering there are always bound to be some haters hehe).
The more I had these thoughts and dreams, the more I wanted to get married and the harder it was for me to not want to rush into any relationship with the end goal of marriage.
At times I find myself window shopping for rings instead of shopping for clothes. All those beautiful exotic rings seducing and at the same time calling my name, in the same way a lover calls his beloved.
As I stare at the gems, my ring finger itching to try them on and make a home for one of it.
I remember the one time I built up enough courage to walk into one jeweller's shop on one of my trips to London. I just couldn't resist the pull/ attraction to the rings as I went past the alluring shop. I stepped into the shop and requested to try on some of their engagement rings. Each ring I wore made me so happy; it was almost like it was actually real. I was in the process of trying on a nice pink diamond ring when the lady behind the desk said something that made me freeze. 'I love when women already know what they want, it is quite exciting when you know he is about to propose, isn't it' she said smiling.
Reality set in, as I quickly dropped the ring. I excused myself and hurriedly walked out of the shop without looking back, leaving the shocked attendant repeatedly calling after me. I couldn't believe I had gone to the extent of trying on engagement rings; it was bad enough that I was persistently day dreaming about my big day.
I couldn't help but wonder why I became so obsessed with the idea of getting married. I was usually the one to advise someone on the need 'to take it slow' and not rush into a marriage. My motto has always been 'anything worth doing, is worth doing well and perfectly'. Now here I was planning everything about my big day in detail without the most important part of the whole arrangement, 'a groom'.
The thing about this syndrome is that it envelopes you, until it is almost all you can think of. Most women have experienced it at least once in their life time – most times after a significant occurrence.
I have been able to trace it back to the end of last year and one significant event that recently happened in my life. This was when my sister got engaged to her fiancée. At first I was just happy for both of them and the fact that my sister had finally met her match. The man who understood her and who also encouraged her in the ways of the Lord (these were some of the qualities she constantly asked God for in her dream man). The fact that he was also a handsome guy from a good family only added to his good attributes.
Then we got into the planning process (which, let me tell you, is a whole lot of work) and it seems my every free time is spent with my sister and her wedding planner. I have become entrenched in every aspect of the wedding planning. I spend nothing less than four to five hours either talking about clothes, food, entertainment or decoration.
It has become a part of my daily routine and unconsciously I find myself looking at wedding blogs not even for my sister but for myself and jutting down the things I like. For instance if I see a dress design I like, I write it down or save it on my tab under my recently made pinterest page. In the file I have over thirty wedding gowns, forty types of engagement rings and some other items. Not a day goes by that I don't add more things to the page or even look at the items already added.
I knew I had it bad, when I started looking; no, I began searching desperately for the man to walk down the aisle with.
I started compromising on most of my beliefs as I thought that was what was needed in order to get my heart desire. This was when I knew I needed to take a step back from all the wedding planning process. Though I am still actively involved in the process, I make sure it doesn't take up all my spare time as it previously did.
Trust me; I now understand why so many women cave into the temptation and pressure. One day I am looking forward to going through my own personal experience on the journey to martial bliss.
I know the time has not come and I have decided to enjoy every aspect of my life. However, once in a while I still feel the consuming effect of the intoxicating syndrome.
My head is telling me to take my time, whilst my heart is telling me to take a chance and live on the fast lane. Having been through that phase, I have decided to listen to my head and not my heart. Yes I too must and by God's grace would get married but it shall be when God pleases.
Photo Credit: Dreamstime| Viacheslav Iacobchuk