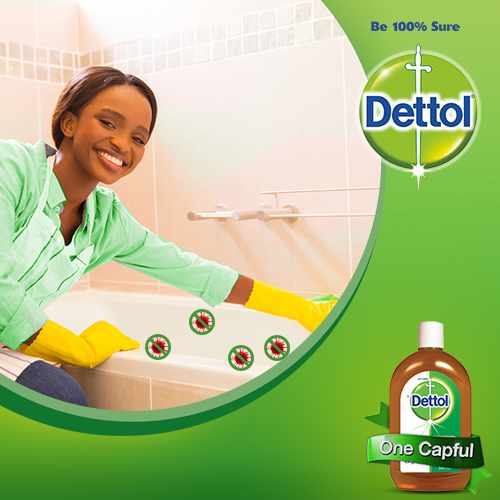 Being a wife and mother means coming to accept that sometimes, living arrangements can get a bit crowded. You know how it can be, relatives from both sides of the family coming in to spend a week or two. Friends you haven't seen in a long time trying to catch up on old times and even the occasional acquaintance just passing through town.
Guess what room suffers most. The Bedrooms, the kitchen? Wrong!
The toilet and bathrooms.
More occupants in our home means that bacteria and illness-causing germs are more likely to spread easier and faster. Therefore, to avoid this, I ensure that the toilets and bathrooms are kept in good hygienic conditions.
I do this by cleaning them thoroughly and not just with ordinary soap, but with the added protection of Dettol. I add one capful of Dettol Antiseptic Liquid to my cleaning water because with Dettol, my home is clean and germ-free and so is my family.
I am a Powerful Naija Mum and I rely on the power of Dettol's 1 capful to keep my family germ free. Are you a powerful Naija mum? Dettol wants to celebrate you!
As a reward for all your efforts to keep healthy homes and families, Dettol is celebrating powerful Naija mums. This means some of you lucky mothers will get to hang out with your favorite celebrities in Nigeria at the end of the search for Powerful Naija Mums!
Each week, mums with the highest likes get to win a Dettol Power Pack filled with exciting prizes including a smartphone and at the end of the campaign, a final draw will be done to select the top mums with the highest engagement. These mums will be part of Dettol's Powerful Naija Mum photo shoot with the celebrities. The shoot will also be featured on top blogs and websites with many exciting gifts to be won!
The first set of winners have already been announced on our Instagram, Facebook and Twitter pages. The winners, Josephine Ocheuje, Adebiyi Abike George and Oluwakemi Joseph who had the highest likes in week one were rewarded with a brand new smartphone and a Dettol Power Pack filled with fabulous prizes.
To participate:
Upload a photo/video on your social media page, telling us how you use Dettol's one capful
Make sure you are holding the bottle of Dettol in your photo or video
Ensure your post is seen by using the hashtag #Powerfulnaijamum #Dettolonecapful
Tag @thenaijamum on Facebook and @thenaijamum_ on Instagram
WIN EXCITING PRIZES!!!
Be a powerful Naija Mum with Dettol!

*TERMS AND CONDITIONS APPLY
————————————————————————————————————————
Sponsored Content