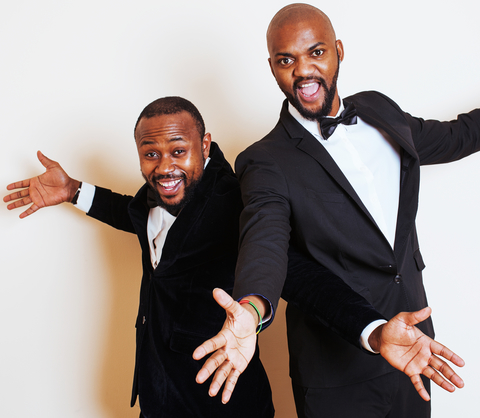 There is nothing as beautiful as two straight guys who unapologetically share a strong bond of friendship. We have seen love shared between popular bromancers like that of Olamide and Phyno or IK Ogbonna and Alex Ekubo…and they make it clear to all guys that "bros" make life worth living.
While not every man is lucky enough to have that kind of epic friendship, those who do, find that the bromance could actually be as serious and even as powerful as having a significant other; as such, things can also get sour and end up in a 'divorce' (Don Jazzy and D'banj, Uti and Alex Ekubo).
Of course, no one wants a break-up or anything of that sort…but people change. Over time you may realise that they are not good for you anymore, or it could just be that you have grown and your bro is just not on par with you anymore. At times like this, stretching the bromance could do more harm than good and you are better off ending it as soon as possible.
Here are signs that tell you when it's time to dissolve your bromance situation and distance yourself from your bro:
The bromance becomes one-sided
You are a dude, so you are not expected to be clingy or needy…but then, you need your bro! If he is not into the relationship as much as you are, and you are certain it is deliberate, it is time to cut him off. The signs are clear. He doesn't call anymore, never initiates plans, only reaches out when he needs something from you, claims to be too busy to hangout or just does not have much interest in what's going on in your life anymore.
Balance is key in any kind of relationship. When your bromance becomes out of balance and you've tried but can't find a way back, stop wasting your time, because chances are that he does not value or appreciate you anymore. He has lost interest in you, and you don't want to force yourself on him. Believe it or not, forming "hard man" and constantly pursuing him anyways will drain you emotionally hurt your self-esteem.
Jealousy and Envy creeps in and everything become a competition
This may not necessarily be on the part of your bro. You could be the one who becomes jealous of him – either because he has stepped up in his career, or social life. You start to envy his possessions and lifestyle. You feel like you have to compete with him, to prove you are not beneath him or that you are even better. Jealousy is a green-eyed snake that poisons every kind of relationship. If you start to feel this way about your bro, it's best you cut off from him for you own good and his.
If it's the other way round, the same move should apply as clearly. It shows that you are both no longer on the same page, level or path. The minute the friendship is no longer based on mutual support and happiness for the other's personal growth, then it becomes negative for both parties.
You are no longer yourself without them
Sometimes, you have so much fun with your bro that you fail to see how dependent on them you have become or how your association with them is affecting your life. It is normal for bros to start acting like the group of guys they hang with. Human nature has a way of making one imitate the people close to them as a way to fit in and survive. You start to use the same slangs, pull the same stunts, and before long start to rely on them for approval.
This may not be necessarily bad, but in the case where you start to behave in a questionable manner or you start to feel responsible for your friend's behavior because they're behaving in a certain way, it is time to hit the road. You really should not even be in relationships that alter your identity by affecting how you behave.
He is not supportive and he is dragging you down
Bromance is all about encouraging each other, standing up for each other and inspiring each other to be happy, healthy and successful. Your bro should be your support system. He should be able to motivate and uphold you when you are dealing with the stresses of modern life. He should be the one you count on for moral support, constructive advice, and self-esteem boosting. If in the long run, you find he does not contribute anything positive to your life, rather all he does is belittle you, stunt your self-confidence and make you doubt yourself …it is time to move on. Do not let yourself drown in a toxic friendship. Ask yourself: is he always there whether I'm dealing with a situation that's positive or negative? Is he willing to show up for me at any time? Can I go to him for anything without receiving a form of criticism of judgment? Does he get off putting me down?
You are being emotionally or physically abused
It is hard to imagine a guy being on the receiving end of emotional or physical abuse from another man, especially when they are not in a homosexual relationship…but it is the case in a lot of bromance situations. Whether it is verbal abuse (passive-aggressive arguments, backhanded compliments or straight up insults), emotional abuse (guilt-tripping, emotional blackmail, reverse psychology, silent treatment e.t.c) or straight up physical abuse, a bro who abuses you is not someone you want to keep in your life  – no matter what…no matter how minimal or sly. Bromance is about finding a way for both people to grow and be better together, not about one person being the Lord and the other the serf. The moment you realise that you are being abused, one way or the other, it is time dust your slippers and take off.
Photo Credit: Yunuli123 | Dreamstime.com