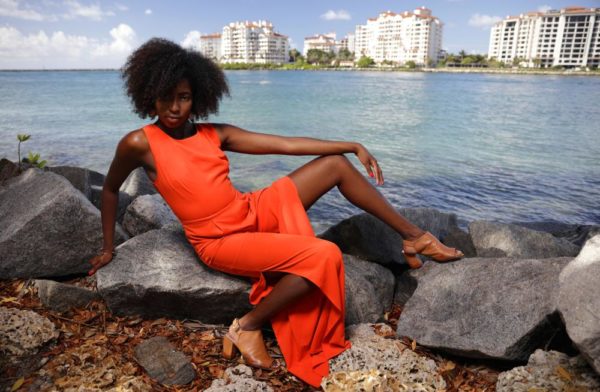 Recently, I saw a story in a newspaper titled: "FG Laments Increase in Homosexuality and Wearing of Dreadlocks."
What a wonderful time to be alive! In a country, we can also call a failed state, boudoir behaviour and natural hair is a problem. As kids, we were told the future belonged to us, but here we are: acting as though we are tenants in our own country. I put it straight to our elders that they failed us. If we – youths – do not do anything now, we'll end up failing our own kids.
Since the Federal Government has decided to focus on how youths are into the "Bad Gang" lifestyle, when it should be busy working on creating infrastructures that would bring about economic boom, I hereby write: '"Bad Gang" Starter Kit… for Gals-Dem'.
All black
This is the first step. Drape yourself in black! Black is elegant. There's never too much elegance.
Make up… especially eyeliner
Let your eyeliner be long and dark. As long as the list of the names of people you have written off; as dark as the untold things you'd like to do to them. With all the negativity out there in the world, you have done the right thing to write those people off. Watch as their negativity bounce off your contours and highlights to fall back into their ugly, bitter souls.
Anklets
Accessorise with anklets! Most people think wearing anklets show you belong to some cult, or whatever. I mean, they call it "leg chain". It shows they are ignorant. High time you ignored their ignorance.
Natural hair
I heard only irresponsible people are on natural hair. How do people have an issue with bleaching creams, plastic surgeries, yet embrace relaxers? Albeit I don't care, I want to ask these people: "Is everything alright at home?" Do they know how harmful relaxers are to the hair? Are they saying God made a mistake for making our hair the way it is? It is internalised racism when Black people believe Caucasian hair is superior to Negro hair. No shade, but it's dumb to imitate people who are not imitating you. "I love to make my hair into an afro puff," said no white woman ev-ver. Except Rachel Dolezal. (And maybe Kylie Jenner?)
Nose piercings and tattoos
How do you claim to be a part of Bad Gang without, at least, one of these two essentials?
Be a slay queen
If you are not a slay queen, you are doing life wrongly, and you need to fix that like yesterday, because today might be too late. A slay queen, according to Urban Dictionary, is "someone who can slay any given person by simply stating their opinion". I define "Slay Queen" as a person who is so good at whatever he/she does. You have to be so good at whatever harmless hustle you are engaged in to the point your name rings a bell among people you do not know. Of course, your success, with time, will intimidate some people. Fret not! It is not your fault they are insecure, with low self-esteem. You are not allowed to be average like Tuesday that comes and goes without anyone noticing it. Nah-uh!
Be unbothered
Ego is an illusion, sweetheart. Nothing should get to you. Most battles, catfights, and shade-slings start when people let dumb things prick their egos. As I always say, "Emotions are for ugly people." Stop having "irrelevant" emotions. Being bothered over irrelevant things and people has become so blasé. So average. Average is disgusting. In all these, remember silence is the meanest shade of shade. When you play with a pig, you get stained with filth. You have to remain unbothered.
Nevertheless, clap back… occasionally. When you clap back, clap that person back into oblivion, where they belong. Let that clap back be epic and resounding, so they don't come misbehaving around you ever again. Drag them across the Milky Way. That is what I call "Galactic Drag".
Have sexual agency
If you have sex, you are a slut. If you don't have sex, you are a prig. Some people will judge you for anything. Nothing you do will ever be enough for them. But you can't be bothered. All that matters is that you are enough for yourself. Have sex if you want. Don't have sex if you want. No one should shame you for do whatever you want to do with your snatch. As I always say, "To be immune to shame, claim shame. Be shameless ".
Be assertive and fierce
When a man is assertive and fierce, they say he is strong. When a woman is assertive and fierce, they say she is stubborn. Thank you, Patriarchy… for double standards. If you are going to be a member of Bad Gang, you have to be assertive. Learn how to state what you want. No passive-aggressive behaviour; that shii is weak AF. When you are assertive, people say you're a b*tch, but did you know that "b*tch" is an acronym for "Being In Total Control of Herself"? Just had to state that for the… "sorority". Thanks to Latrice Royale of "Rupaul's Drag Race".
Don't do religion
For you to be a part of Bad Gang, you must be eff-ing brilliant. This means you do not believe anything ridiculous. Who believes a whole human was made out of a rib? Like seriously, though. I mean, you can believe anything, but if your belief is predicated on a talking and walking snake… well, as they say, if you have nothing nice to say (or write) just stop; so, I will stop here. For now.
If you tick at least six of the boxes, sweetheart, you are in "Bad Gang" already, and you have done well for yourself. This means you do not just exist; you are living. You have gotten people angry, and more people will get mad at you for being daring enough to live your life to the fullest. When you die, you're likely leaving without any song trapped inside you. You are doing ah-may-zing, boo. How do you go through life without causing a tempest?
P.S. Umm… I don't know, but this – all you just read – is as valid as snow melting on an iroko. Then again… oh, well.
Photo Credit: Felix Mizioznikov | Dreamstime.com