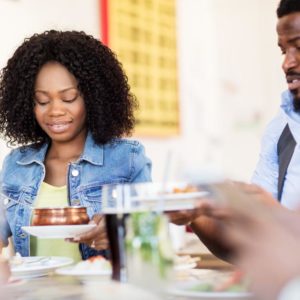 Going Dutch is that situation where everyone pays for themselves during a group activity, rather than one person footing the bill.  For this discussion, we shall confine it to dating periods between people in steady relationships.
I have had the privilege of mingling with people of diverse nationalities and stayed for extended periods at various locations around the world. When you manage to rise above the initial culture shock, going Dutch during outings can be beautiful. It takes away the burden of sinking holes in your pockets, in a bid to have an enjoyable outing.
Bringing it back to people in relationships, if you tried that joke with your girlfriend in Africa, you risk being alone for a long time to come. Guys, it's a no brainer that we must have some financial capabilities to be in a relationship. I would have loved to tell every guy: repeat after me, "relationships cost money".
It cannot be over emphasised that there is no free lunch… not even in Freetown.
We all remember that song by Gwen Guthrie:
 '…no romance without finance…
Boy, nothin' in life is free
That's why I'm askin' you what can you do for me
I've got responsibilities
So I'm lookin' for a man whose got money in his hands…'
The amount of money required, and the courage to stay on your financial capability lane is a whole different conversation. It is a conversation that I believe we need to begin to have more seriously with our partners.
From observation, I noticed most guys get stuck in a 'financial make believe' situation. In the bid to get and keep the attention of ladies, many guys go overboard in spending. They frequent that A-list restaurant and other places that are unsustainable in the long run, thereby putting themselves under immense pressure.
It's okay to give her a treat every now and then; but I think it is wisdom to take on what one can handle financially. There is no need to go to Yellow Chili every weekend, if you cannot afford it – especially if the regular eatery would do just fine. The operative word here is 'affordability'.
It is not a rule either, that both of you must frequently have those classic rendezvous. Reasonability requires you both get creative and switch things around a bit. We can surely have a great time without going into debt. There is no shame in sticking with what your resources can handle. There is always the option of cooking and staying indoors, packing your own lunch from home, and heading to the beach or going to the movies occasionally. That is keeping it real.
Personally, I am for 'living the great life'. If I have the resources, I can expend it on many wow moments. But when the days of low funds come, I am sufficiently balanced to evaluate the situation and adjust accordingly.
I think part of the financial crises in marriages begin from this desire to impress during dating and courtship. Ladies get 'spoilt' those times such that, later in the marriage; it becomes difficult to explain that things were not always upbeat financially.  This may explain their inability to adjust if life changes for them negatively later on.
Ladies should also keep it real. You all deserve the royalty treatment; we get that. But it would be nice to drag 'Mr. Impress You' to reality every now and then. Surely, you can tell if that expenditure is a sustainable lifestyle, or if he is just putting up appearances. We already agreed the guy must 'man up' and confront expenditures. Can you please contribute once in a while? It will not kill you… believe me. While going Dutch may not be African, loosening your belt and ordering what your generation ordinarily don't eat, is not virtuous.
When some people place their order for food and drinks, you will know they have acquired the finer tastes – as long as they are not paying!
When considered carefully, it would appear we have economic/socio-cultural conflicts that need a resolution quickly.  Ladies have their own war stories to tell on this subject. Some said they offered to pay, the guys claimed they could handle it alone. Others said they paid a few times; only for guys to get laid back and allowed them to keep paying.  Some guys even took it a step further and began to borrow money without repaying such ladies who were supportive.
As such, ladies have become guarded regarding future dates; they are ready to draw blood.  These days, some ladies just show up on dates and don't care when the bill comes.
It appears we may need to have that conversation now, on what we really want. Is it that guys should increase their hustle, make more money and pick up every bill forever? Ladies, would you all like to contribute from time to time without any pressure? Or should we just go Dutch during dating and courtship, while we try to figure out our financial compatibility before further entanglement?
Whichever method we adopt, can we have more open conversations about finances; seeing its number one factor in the collapse of marriages? Can we stop sizing each other up and speculating or laying expenditure entrapments about our partner's conducts?
In the end, I think there is no one rule fits every relationship when it comes to finances. A couple should adopt what works for them. Dropping the biases from previous experiences and seeking to understand the other person, will help greatly. And for heaven's sake, can we keep it real all the way, please?
It would be enlightening to hear various opinions and experiences from you all.
Photo Credit: Dreamstime | Syda Productions