From Drug Abuse to Blatant Cheating… The A to Z Breakdown of Rob Kardashian and Blac Chyna's Social Media Drama
American television personality Robert Kardashian this evening took to his Instagram page in a series of rants directed at his ex-fiancee Blac Chyna accusing her of cheating on him with another guy. The couple have been on and off for a few years and have a child together, a daughter named Dream Renee Kardashian, while Chyna has another child, a son King Cairo from her relationship with  Tyga who happens to be the ex-boyfriend of Rob's sister Kylie Jenner.
From the cheating/drug addiction allegations to Blac Chyna's reply, here are the main points of the story
The cheating allegations
Rob accused Chyna of cheating on him with another man in their house even with their daughter and her son present. He also claimed to have paid 100k for the surgery needed for her to slim down after giving birth.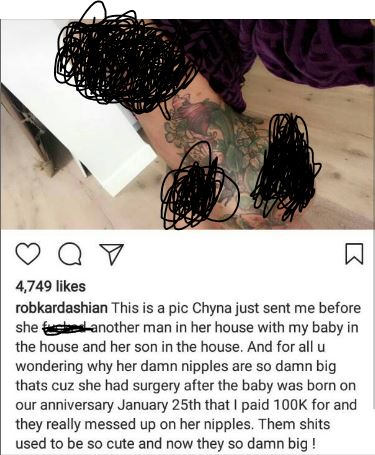 According to Rob, the guy with whom she was cheating with reached out to him to request for money to pay Chyna's bills. He shared screenshots from their chats: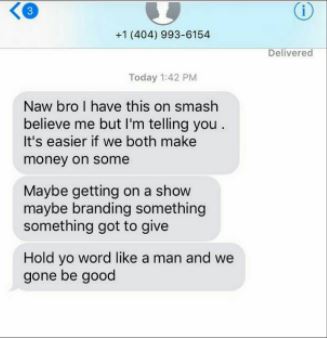 The drug abuse allegations
He also explained how Blac Chyna was deeply addicted to alcohol and drugs and he was the one providing her with whatever she needed to get high: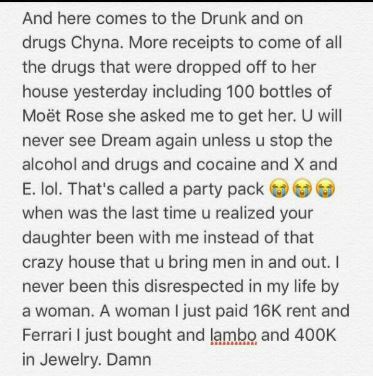 The claims of disrespect:
In another post, he explains how Blac Chyna disrespected him by bringing different men into his home. Not stopping there, she allegedly sent him a video of her and the said man kissing in her bed.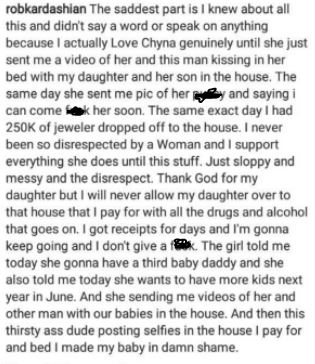 The domestic violence allegations
Blac Chyna on her part responded to the claims on her Snapchat account accusing Rob of battery as well as cheating: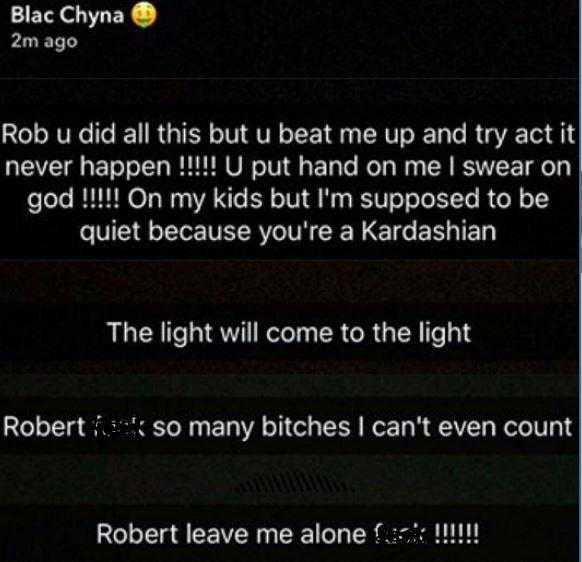 The summary
As a result of the explicit nature of Rob's posts, Instagram decided to shut down his account and he went ahead to vent on Twitter explaining the whole situation in detail: