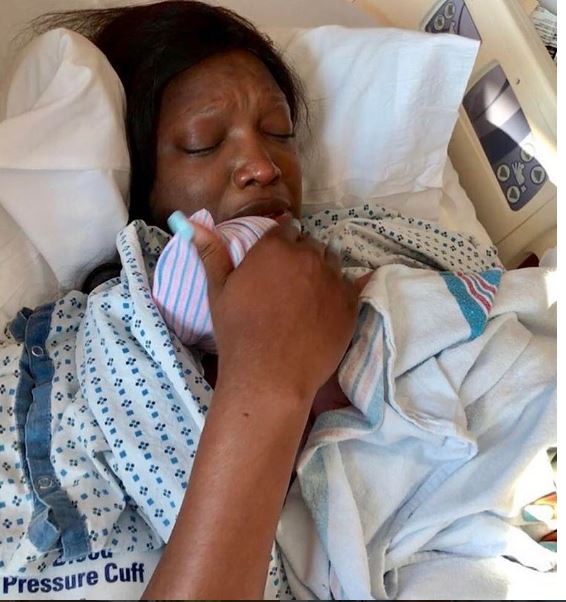 Tanzanian supermodel, Millen Magese has welcomed a son.
After years of battling & overcoming endometriosis- a gynaecological condition which can cause severe pain and infertility, Millen's doctors confirmed that her IVF procedure was successful and that she was pregnant in October 2016.
The model revealed via her Instagram page that she welcomed her son on July 13 at a hospital in Columbia, New York as she shared an emotional post.
She wrote:
It's a week since I first hold you in my arms. I'm still trying to absorb the whole thing. This will probably be the longest caption I ever written but please bare with me ?. Through my scars you brought me a Star ⭐️ Jehova you lifted me higher today .
Father Lord , I'm acknowledging you for who you're and for what you've done in my life .

You Must want to change your story for miracles to work. Miracles happens in such a mysterious way . I wanted my story to change so I prayed harder , i took risks ,bold steps with no fear and sympathy. I kept my faith higher than just HOPE . I believed He would hear me out.

Father I thank you ,through me you showed your Power . I'm grateful .
Last year around this time I lost an embryo #ZoeKhloe . June 30th 2016 . It was so painful to bare but father Lord you had a plan , you're again showing all of us that ,you're a living God and nothing is permanent. Thank you father Lord for changing my story which you let it happened on the 13th July 2017 ,the same number that have been my history but now you change it with a different story . Thank you for giving me this miracle Boy ?? I have been writing this note since two months before your arrival because I was scared and nervous that I won't have words to say today as I'm holding you in my arms .
Dear My little Prince Kairo Magese Michael My Miracle Son) You mean the world to me just like your names .
Today the 20th of July , you're exactly a one week old baby and mama is grateful.

Without God's plan ,Faith and perseverance I wouldn't be holding you today.
As rough as this journey has been , it was all worth it to fight for you ,to cry for you to pray for you ,to go through Hundreds and hundreds of injections,humiliations , pain ,emotions breakdown ,loss , Scars but you chose me to be your mother and God chose me to be your mother. You're truly A child we all prayed for . Im not sure If i deserve to be your mother but all I know it was worth for me to fight to be your mother ,so I will forever be there for you . You're my Son .
Am blessed to be your Mother?….Part1
She went on to add:
May you bring Hope ,faith and Miracles to millions women out there who wishes to hold their children just the way I wished to hold you.
May you grow to change the world and be there for others .
May you believe in God and own his miracles .
As much as life can be tough ,may you learn to be patient, work hard and knowing that ,everything always happens for a reason and every human being has their own path and plans from God for them.
Don't ever loose hope .
And no matter what happens in your life remember,you have our God Almighty and I will be here always .

Father I thank you for making me A Woman and Finally A mother .
Father I thank you for bringing my dad back What a gift .jina Lako Lihimidiwe ???
I love you my Son ❤️ And to you godmother @funminewyork . I believed you had a good heart you have been with me for 13 years but Gosh what you have done through out my pregnancy journey is unexplainable. God bless you sis I can't say more . ?????
Prince Kairo Michael Magese was born
Time :6 .58 am
Weight :9 pounds 2 oz
Date :July 13 th 2017 . You're my Victorious just like the meaning of your name "Kairo"#AChildWePrayedFor?

Glory to God . Dansaki . Asante Mungu Many thanks to Dr Seckin @endofound , Dr Lobo,Dr Gyamfi and the whole team from Columbia Doctors . Many thanks to all my friends and family oooh you guys tried @theojinika@lebogangm@samanthajansen@jimi_mugul .Special thanks to all Endometriosis groups World wide for all you do . We will raise awareness till we find Cure ??.And to you all my supporters thank you , Don't stop supporting us. I believe A cure for Endometriosis is almost here . Support Us???? To Everyone don't you ever forget ,If you knew who walked beside you, at all times, on the path that u have chose, you could never experience fear or doubt again,Have Faith ??Stand on Your Faith ??Change Your Story ??You Can Do It??
Millen Magese ?#PrinceKairo?
Her best friend & godmother to her son Funmi Alaiyemola, who was present through out the delivery process also took to her Instagram to show how overjoyed and happy she was,
She wrote:
Part 1: On Thursday July 13th at 6:58am i witnessed a beautiful baby being born, and I have to say it was one of the most beautiful things I have ever seen. I wish I could explain it in words but it's not something that can be explained! I was overwhelmed with joy seeing baby Kairo for the first time. I decided to sing happy birthday to him and it was definitely a precious moment worth waiting for; since I felt like I had been pregnant too since october ?? as I had been there from IVF injections days, to egg retrival day, waiting for 4days after that to know if the eggs fertilized, to transfer of embryo day, then waiting 10days after to know if it had implanted in the uterus. Those were the longest 10days of our life. It felt like a 100 days.

On the 10th day, Oct 26 2016, before that call came in at 11:56am my God….So much anxiety. How would i handle my sister if the outcome were negative after coming this far in the process. We got that call that said "You are pregnant" We screamed and cried for hours. Phewww… The emotions were insane. So i'm really pregnant she says…. for almost 2 months she would ask me sis am I pregnant? Im like yeahhhh there's a baby in there. The 1st ultrasound was just too emotional for us.We left the hospital crying like 2 idiots on the street of New York with a picture of the scan in hands.

Everything became more real after the maternity tour of the labour room and hospital, baby shopping, hosting a baby shower and being at the lamazze class. I'm now a pro at these things ?. The cravings Oooh my God. Sis i want puff puff. Ive never made puff puff before but i had to.I got it wrong every time but i would say Oooh sorry its not round, its too hard, it 's the same thing Just eat it like that.Thank you for not saying my puff puff was bad ?. Lol the Tanzanian foods I watched numerous youtube videos to cook. Sis i want that fish u made that day. Ermmm what day? But it was all worth it. So well worth it and i would do it over and over again for you …..#part 1

Part 2:- A few days before her birthday, i was the only one besides her doctor who knew the gender of the baby and I decided I wasn't going to reveal it to her or her family untill her birthday(Dec 31st). They begged me but I didn't budge. Nope I wasn't telling anyone ?.I decided to turn her birthday brunch into a baby gender reveal party. How exciting for us starting the new year with a baby on board and now at 41weeks and 2days our baby arrived. Oh baby, we prayed for you, we dreamed of you, we imagined you and now we welcome you. Congratulations to the newest mummy @Ladivamillen ?❤️. Gosh you are now a mum? Somebody pinch me.

The next few years are going to be the best years of your life and as a new mum, may you be filled with so much joy and happiness.I trust you will be a fantastic mum Millen. God heard and he came through for us. God heard when you said 13 endometriosis surgeries were enough ??……I share in your joy and i'm so happy to have been a part of this incredible journey with you from begining to end. To everyone who has followed her journey, supported her, prayed for her and those suffering from infertility and waiting on God's blessings, May you all receive your blessings soon in Jesus name. I love you Kairo and you will forever be my baby ??
……Ok bye. Godmother duties has begun ??
#MyGodSonIsHere?
#TheChildWePrayedFor
#ThePrinceIsHere #PrinceKairo?
#2017blessings #Miracles #07/13/17
#WeHaveAbaby #BabyBoy #Kairo'sAunty #MummyMillen #MamaKairo ??.
Watch