Freelance Photographer Tiwa Olowu Captures the Joys of Academic Victory with Class of 2017 UK Summer Grads

Thousands of students graduated from UK universities this summer; and a significant proportion are Nigerians. Regardless of the economic situation that threatens any country, education is a powerful tool that underpins the development of the country. Nigerians realise this, and continue to invest in educating their dependants both at home and abroad. Notably, the investment in university education abroad keeps rising. Last year about 35,000 Nigerians studied in UK universities (UKCISA, 2017).
Tiwa Photography started the Summer Graduation Series in 2016. Our main goal was to capture the beautiful moments when education investments pay off. Those candid scenes when Mrs Ojo fans herself with Bayo's certificate, or when Mr Eze gifts Adaeze a car at her graduation dinner, all in one collection! Nothing but absolute bliss. This year, we are back at it again and it never gets old. So, we thought to share some of those beautiful moments with you. Of course, with the consent of our clients.
We are pretty good at what we do. Last year we covered graduations in 2 cities. This year we did 10. Next year it will be your city and we look forward to your smile.
Tiwa Photography says congratulations to the Class of 2017!
Laju Mosan, Beng Software Engineering
Meet Laju! Another Engineering graduate of ours but of a different field; he proudly graduated with a Bachelors degree in Software Engineering. Bradford is small city with one university and a football club.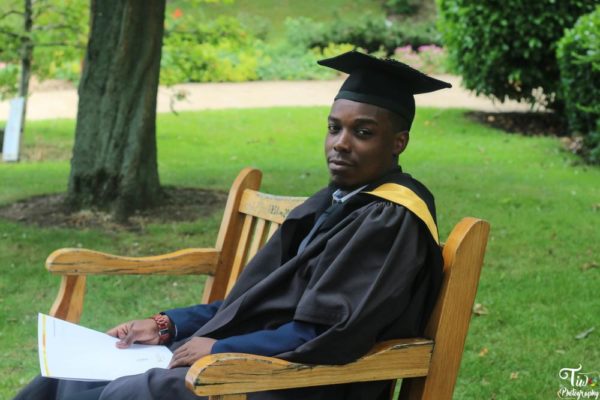 Laju had quite a number of highlights he shared with us as he was very social during his university days. Here are a few of them: he was voted as the best student representative, captain of the African Caribbean Society(ACS) football team winning an award as the best international team and had a first class in his final year project (entailed creating a software application for liver transplant). Surely, Nigeria needs brains like this soonest, however we would not be seeing Laju back this 2017 but I am sure in the near future.
Oluchi Emenike, MSc Chemical Engineering
Meet Oluchi! She graduated from the University of Sheffield with a joint Bachelors and Masters in Chemical Engineering.
Her family came all the way to celebrate this great achievement with her. The day was colourful and full of cheer. Everyone looked stunning and you could feel the love through the lens. We loved every bit of working with her and her family to create these memories.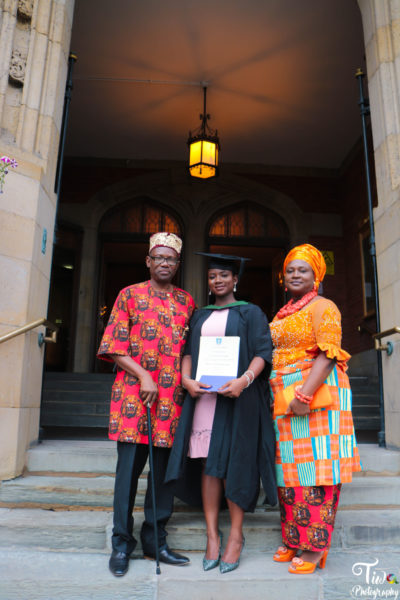 One of the highlights of her university experience was that she was an Outreach officer for the Women in Engineering society where she successfully organised events in the community. This enabled her build vital soft skills and improve her personal development.
Surely, we need such knowledge and skills in our workforce. However, Oluchi is still undecided about moving back to Nigeria in 2017, but we still look forward to seeing her!
Tuale Ajuyah, LL.B Law
It was great taking photos of Tuale. The camera loved him, we loved him. Hull is a lovely city. The university is located right in the city centre. The exit speech of the graduates was quite hilarious as the new graduates could not wait to do the traditional hat throw.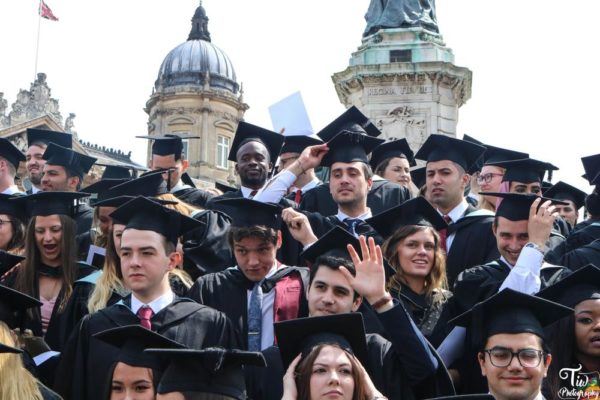 Studying law in Hull, Tuale improved his communication skills and expanded his circle of friends. He surely saw his university life as a blessing as he grew and developed himself as a person every step of the way.
With most law students, there is the mandatory law school, Tuale is beginning this journey in the Nigerian Law school as he is coming back to Nigeria in 2017. We wish you the best in all your academic pursuits.
Olusola Adebayo, BA Economics and Social Studies
Sola elegantly strutted to collect her certificate. Sola was simply beautiful and quite receptive to sliding into the shoes of a model. Her graduation was the first ceremony of the day, everyone excitedly filled the hall to happily cheer the graduates of the day and so did the Adebayo family. Manchester was rather warm that morning which made the weather perfect for some outdoor photos.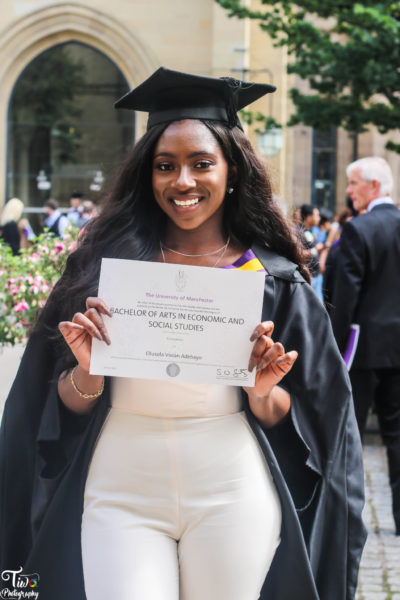 Sola considers her main highlight of her time in the University of Manchester to be the great friends she has made. Her new friendships and ever-present family made the otherwise gruesome three years more bearable and fun. We would love to have another internationally exposed Economist in our midst to help build different recovery models for the country. However Sola would not be moving back in 2017. She is off to gather more invaluable knowledge and exposure.
Wishing you all the best in your life after your undergraduate degree.
Asmau Salihijo, BSc Economics
Beautiful Asmau. It was lovely working with her. The city of Manchester has always had our soft spot so it was an amazing experience and weirdly enough a bright and sunny day. Mancunians are extremely happy when this happens. Also, Asmau is very good friends with Sola Adebayo, it was great capturing this genuine friendship bond.
Second year was a tough year for Asmar as she was overwhelmed with the workload and increased responsibility. However, people she met and relationships she built provided a good balance for her in terms of her work and social life. Asmau would not be moving back this 2017, we look forward to seeing you and we wish you success in your future endeavours.
Goodness George, LL.B Law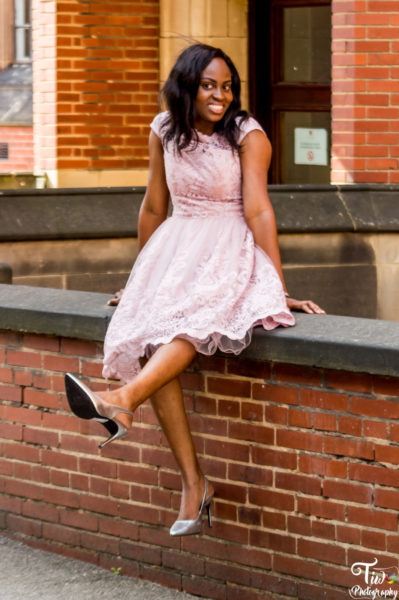 Meet Goodness George! She graduated from the university of Birmingham with an LLB. Goodness was rather excited and overjoyed to be done with her undergraduate degree. We would not expect less from anyone who has had to study the Law for even a day.
Some of the highlights of her university experience asides the invaluable knowledge she gained was that she could engage in different charity organisations events as well fundraising schemes. Surely no law firm or organisation she works in will ever go bankrupt.
Goodness will be moving back to Nigeria this year, we cannot wait for what she has to offer. Congratulations on your achievement!
***
About Tiwa Photography
Tiwa Photography is a photography service company founded by Tiwa Olowu.
Tiwa Olowu always had the burning desire to help people relive their special moments, and so armed with a camera, she decided to pursue her dreams. Tiwa Photography started business in 2016 with the goal to be different in what we do.  Our clients' deepest desires are always at the forefront in our mind.
Although we do not believe in classification of photography – Art is art – we are majorly into Freelance photography. Our services range from graduations, birthdays, private parties, to portraits, wildlife, and weddings.
Last year, Tiwa Photography started a Summer Graduation Series. This was targeted at celebrating Nigerian students that excelled in their academics abroad. However, our future series will be open to all students from different nationalities and different universities, in different countries, in line with our goal to help them freeze that special moment.
Follow us for regular updates on Instagram @tiwaphotography, Twitter @teewafotography and on Facebook Tiwa Photography.