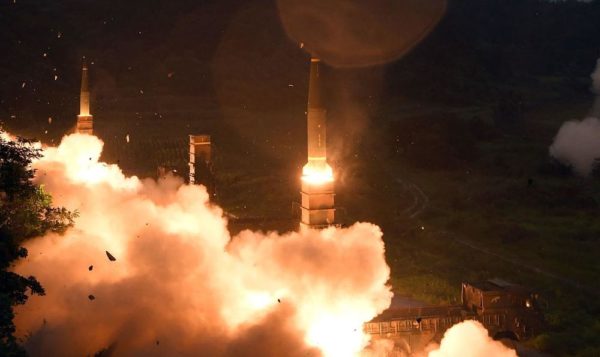 North Korea has launched a missile over Japan early Tuesday morning Korean-time.
Japanese Prime Minister Shinzo Abe has described the launch as an "unprecedented" and a "most serious and grave" threat.
The missile flew over Hokkaido Island, broke into three pieces, before landing harmlessly into the Pacific Ocean, BBC reports.
Abe said he had a 40-minute phone call with the United States president Donald Trump and they agreed to call an emergency UN security council meeting.
According to Guardian, the missile is thought to be a new intermediate-range Hwasong-12, the same type North Korea threatened to launch toward the US military base in Guam.
Japan's alert system warned people to seek shelter in a "strong structure or basement."
I woke up with a Siren and an announcement that North Korea launched a missile that would possibly hit cities within Hokkaido. pic.twitter.com/RGiflzTqJT

— Joe (@jtnarsico) August 28, 2017
According to CNN, South Korea responded by conducting a bombing drill to test its "capability to destroy the North Korean leadership."
North Korea's missile launch is seen as a show of defiance in response to military drills by US and South Korean troops.
Both South Korea and the US say the drills are intended for allies to improve their defense, but North Korea insists they are war rehearsals.
North Korea had on Monday said they would take their complaints to the UN Security Council, and described the drills as "provocative and aggressive."
This missile launch by the state is in violation of the UN Security Council's stipulations.
Photo Credit: South Korean Defense Ministry via Getty Images