The fourth session of TED Global 2017 had speakers dishing out hard truths that Africa must learn from if it wants to advance.
"Africa does not have a water crisis; it has a knowledge crisis regarding its water, where and what type it is, how it can be tapped and made available where and when needed to all and sundry," said Olufemi Taiwo, a professor of African political thought.
"We must find a way to make knowledge and its production sexy and rewarding. Rewarding not in the crass sense of money-making but in terms of making it worthwhile to indulge in the pursuit of knowledge, support the existence of knowledge-producing groups and intellectuals, ensuring that the continent is the immediate locus of knowledge production, distribution, and consumption and that instead of having its depositories beyond Africa's boundaries, people once more from the rest of the world, even if in virtual space, come to learn from us. All this we do as custodians on behalf of common humanity," he added.
The informal sector is the source of more than half of Africa's economic activity creating four times the pace of the formal sector, said Niti Bhan.
She argued that the sector however, gets no applause for its work, instead it is being punished or even criminalised because Africa's government take no time to distinguish between undocumented and illegal trade.
"This criminalization of the informal sector can easily cost each African economy between 60% to 80% addition to the annual GDP growth rate," she opined.
She asserted that this sector contributes a whole lot to economic development and should be included to harness its true potential, as well as lift the continent out of poverty.
At this point, Kora player Tunde Jegede and dancer Qudus Onikeku collaborated to deliver a somber, reflective performance.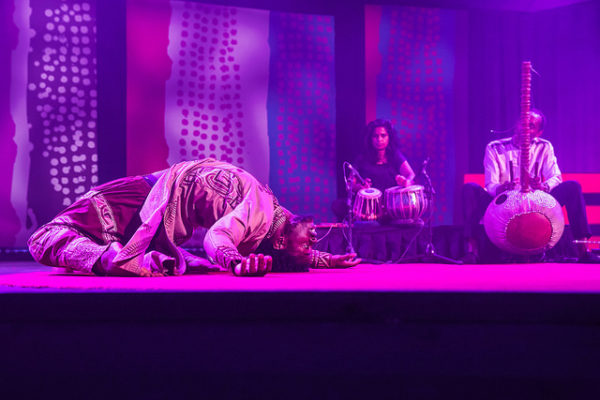 Leo Igwe, in his speech relayed a message of hope and faith in Africa's ability to rise above hate, fear and superstition.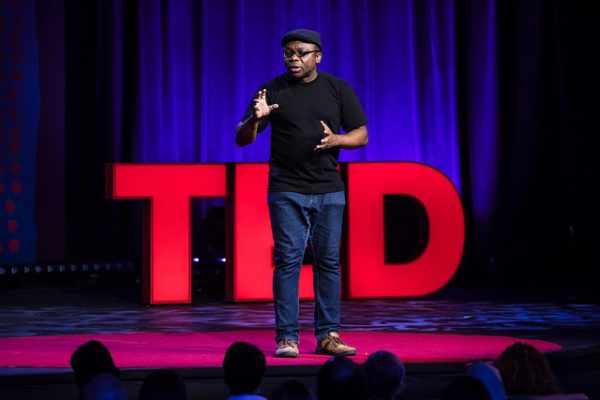 "In Africa, superstition is widespread, with people too often believing in witchcraft, something that has no basis in reason or science. Yet alleged witches, usually women, children or elderly persons, are still routinely attacked, banished or killed. And I have made it part of my life's mission to eradicate witch persecution in Africa," he said.
Ndidi Nwuneli founder of LEAP Africa called on Africans who believe in God and those who do not, to come together to drive the needed social change in the continent.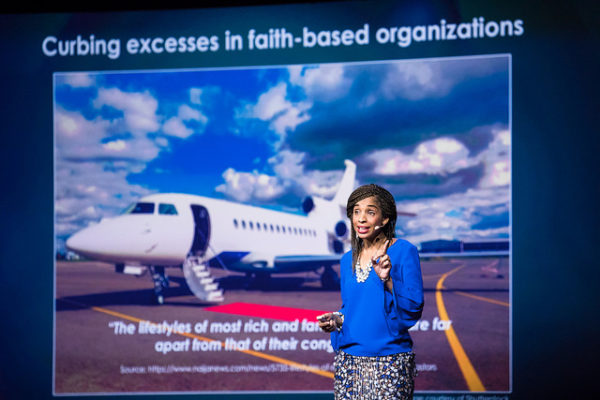 "By claiming we have no power over past, present or future, we give too much authority to the wicked, who steal funds and ask God for forgiveness," she said, arguing that while she believes in the divinity and omnipotence of God, she does not believe God should bear the responsibility of securing Africa's future.
Faith-based organisations have a large influence on Africans, and instead of antagonising them, Ndidi believes those who do not believe in God, should collaborate with them on issues of maternal mortality, healthcare and education to achieve incredible results.
Nabila Alibhai and her friends had an idea "to unite people of different faith by getting them to paint each other's house of worship … churches, mosques, synagogues … yellow, in the name of love."
25 houses of worship participated, and according to Nabila, this proves that "the human family can come together and send a message far brighter and more powerful than the voices of those who would wish to do us harm."
She added: "Fear is infectious but we're showing that so is hope."
Photo Credit: Ryan Lash/Bret Hartman/TED
Curated from TED Blog.