Ifeanyi Adefarasin reveals TD Jakes is of Igbo Descent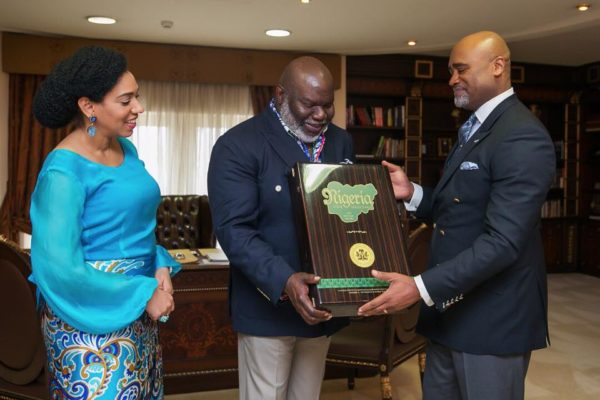 Bishop TD Jakes recently visited Nigeria and was in House on the Rock to preach the gospel.
There, he was presented with the National Souvenir "Nigeria: Our Heritage" by the senior pastor of HotR Paul Adefarasin and his wife Ifeanyi.
Ifeanyi, on her Facebook on Friday, revealed that TD Jakes had traced his roots back to Nigeria – the Igbo, to be precise.
She shared a photo of herself and her husband presenting the bishop with the book, and wrote:
Since tracing his roots back to the Igbo land in Nigeria, it was Bishop T.D. Jakes' first time stepping on the Nigerian soil, with the knowledge that this is where he truly comes from. It was a special honour for me in particular, as a native sister, to present TD Jakes with a copy of NIGERIA, OUR HERITAGE…OUR COMMONWEALTH. Welcome home!
OKEOSISI – Umunne gi na asi gi nno
See the post below: