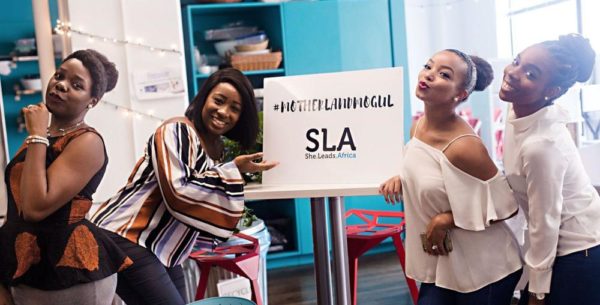 Returning​​ to ​​Lagos ​​for ​​the ​​third ​​year​​ in ​​a ​​row ​​is ​​the ​​​SheHive​​ boot camp​​ hosted ​​by​​ She​​ Leads​​ Africa.​​ The SheHive​​ is​​a ​​learning ​​and ​​networking ​​experience​​ for​​ women ​​looking​​ to​​ learn​​ about​​ new​​ career opportunities,​​ get ​​advice​​ on ​​their​​businesses ​​and ​​network​​ with ​​other​​ professionals.
Date: Thursday, ​​October 19th ​​and ​​Friday, ​​October, 20th.
Time:
Venue: Ovation ​​Hall,​​ No.3​​ Idowu ​​Martins​​ Street,​​ Victoria​​ Island.
SheHive​​ Lagos​​ will​​ kick​​ off ​​with ​​the​​ private​​ All ​​Access​​ Sessions​​ for​​ entrepreneurs​​ who ​​want​​ to ​​receive ​​intensive​​ business​​ advice​​ and​​ training ​​on ​​topics ​​such ​​as ​​business development, ​​social​​ media ​​marketing​​ and ​​operations.​​ These​​ sessions​​ are ​​limited ​​to ​​just​​ 20 ​​entrepreneurs.

For​​ professionals,​​ students​​ and ​​side​​ hustlers,​​ the​​ Saturday​​ and​​ Sunday​​ sessions​​ will​​ bring​​ inspirational speakers,​​ fantastic​​ networking ​​opportunities, ​​and​​ access​​ to​​ potential​​ mentors.
Some ​​of ​​the ​​expert ​​speakers​​ sessions​​ include:
How​​ to ​​fund ​​your​​ I.G ​​dream ​​presented​​ by​​ Derin ​​Adeyokunnu​​-​​ Co-Founder,​​ Nemsia Studios​​ and Executive​​Producer,​​ Banana​​ Island ​​Ghost.
Do ​​you​​ really​​ need ​​a ​​Master's ​​Degree ​​to​​ be​​successful​​ in ​​Nigeria​​ presented​​ by​​ Kemi Onabanjo​​​– Engagement​​Manager,​​ McKinsey​​ & ​​Company.
How​​ to​​ take​​ your​​ designs​​ from​​ Africa ​​to ​​the​​ world ​​presented​​ by​​ Jane ​​Michael​​ Ekanem​​- Celebrity​​stylist ​​and​​ fashion ​​entrepreneur.
What​​ HR ​​really ​​thinks​​ of​​ your​​ CV​​ presented​​ by​​ Lola ​​Coker​​-​​ Founder,​​ Resource​​Nigeria.
Becoming​​ a​​ super star ​​in ​​the ​​office ​​presented​​ by​​ Hilda​​ Awomolo​​-​​ Social ​​Media​​ Manager,​​ She Leads​​Africa
She Hive ​​boot camps ​​have​​ sold​​ out ​​in​​ Lagos,​​ Nairobi,​​ and​​Washington ​​DC ​​so ​​get​​your​​ tickets ​​early​​ so​​ you don't​​ miss​​out!
The​​ boot camp​​ will ​​be ​​held ​​at ​​​​​ Our​​ full​​ schedule, more​​information​​ and​​ tickets ​​can​​ be​​ found​​ at ​​​SheLeadsAfrica.org/SheHiveLagos2017​.
**Special​​ thanks ​​to ​​our ​​event​​ partners ​​including ​​Bella​​Naija,​​ our​​ official​​ media​​sponsor, ​​and​​ Maggi,​​ our official​​catering​​ sponsor**