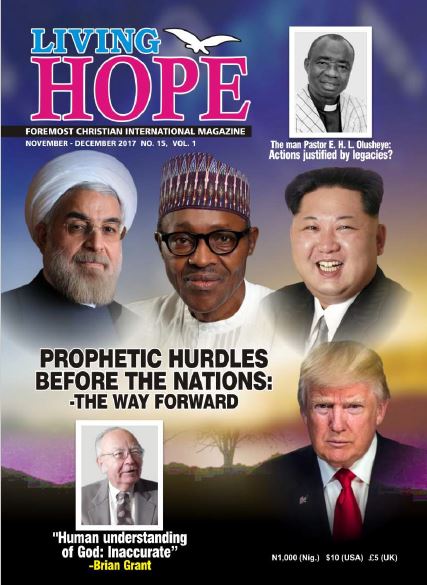 Livinghope Magazine, is a foremost Christian International Magazine established in 1997 and with a total of 14 editions published and the latest being the 15th.
The purpose of the magazine is to serve as a channel for spiritual education and information which digresses from the conventional method of accessing spiritual information from the four walls of our church buildings.
It serves as a bridge between denominationalism and non-denominationalism christian settings which was the result of a quest to eradicate the effects of denominationalism prominent among which is a division in the body of Christ and selfish accumulation of wealth and people.
This magazine believes strongly in the enthronement of charismatic leadership regardless of their religious, tribal and political affiliation, for with love there is no place for barriers.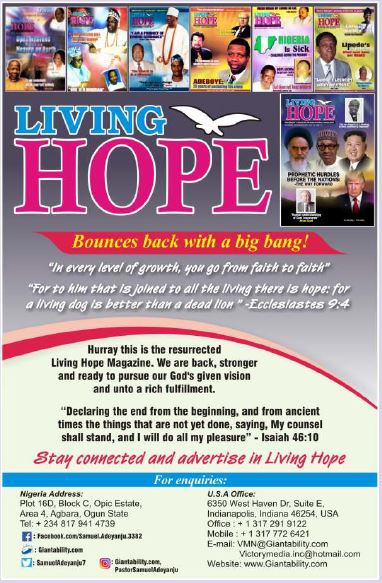 So far between the time of establishment of the magazine and now, several Christian personalities both in Nigeria and in the United States have been interviewed on one-on-one basis and prominent among them include General Oladipo Diya (RTD), Kofoworola Bucknor, Otunba (Dr) Micheal Subomi Baloqun, Oba (Dr) Adedapo Tejuoso, Professor Fola Aboaba, Evangelist D.O. Babajide (Late), Pastor A.O. Akinosun, Pastor Ademola Wemimo Odunaiya, Pastor E.H.L Oluseye (Late), John Whitaker Jr, John Dara, Dr Brian Grant (HSPP) and a host of others.
The magazine has its advisory Council Chairman as Professor Fola Aaboaba of the Redeemed Christian Chruch of God, Victoria Island, Lagos.
The magazine is published bi-monthly, electronically and in print by Giantability Media Network Ltd with offices in both Nigeria and the United States.

Samuel Tunji Adeyanju who is the CEO of the publishing company is also the Chief Executive Officer of Livinghope Counseling and Consulting Inc. Indianapolis, Indiana, USA. He is an ordained pastor at the Christ Apostolic Church Worldwide, graduate of the Word of Faith Bible Institute (WOFBI) of the Living Faith Church (aka Winners Chapel) Nigeria.
He holds a Bachelor of Science degree from the Lagos State University (LASU) Lagos Nigeria in Physical & Health Education, Master of Science degree in Community Psychology (Mental Health Counseling) from Martin University Indianapolis, Indiana, USA, as well as the State of Indiana professional educator's license in Health and Physical Education.
Married to Deaconess Bukola F. Adeyanju, they are both blessed with Joseph and Mabel to the glory of God.
Contact Information:
Email: [email protected]
[email protected]
Website: Www.Giantability.com
Facebook: Samuel.Adeyanju.3382
Instagram: Giantability
PastorSamuelAdeyanju
Office Number:
+ 234 817 941 4739 (Nigeria)
+ 1 317 291 9122 (U.S.A)
+ 1 317 772 6421 (U.S.A)
——————————————————————————————————————Sponsored Content