#MusicallyWithMichael: Songwriting in Nigerian Music – Yay or Nay?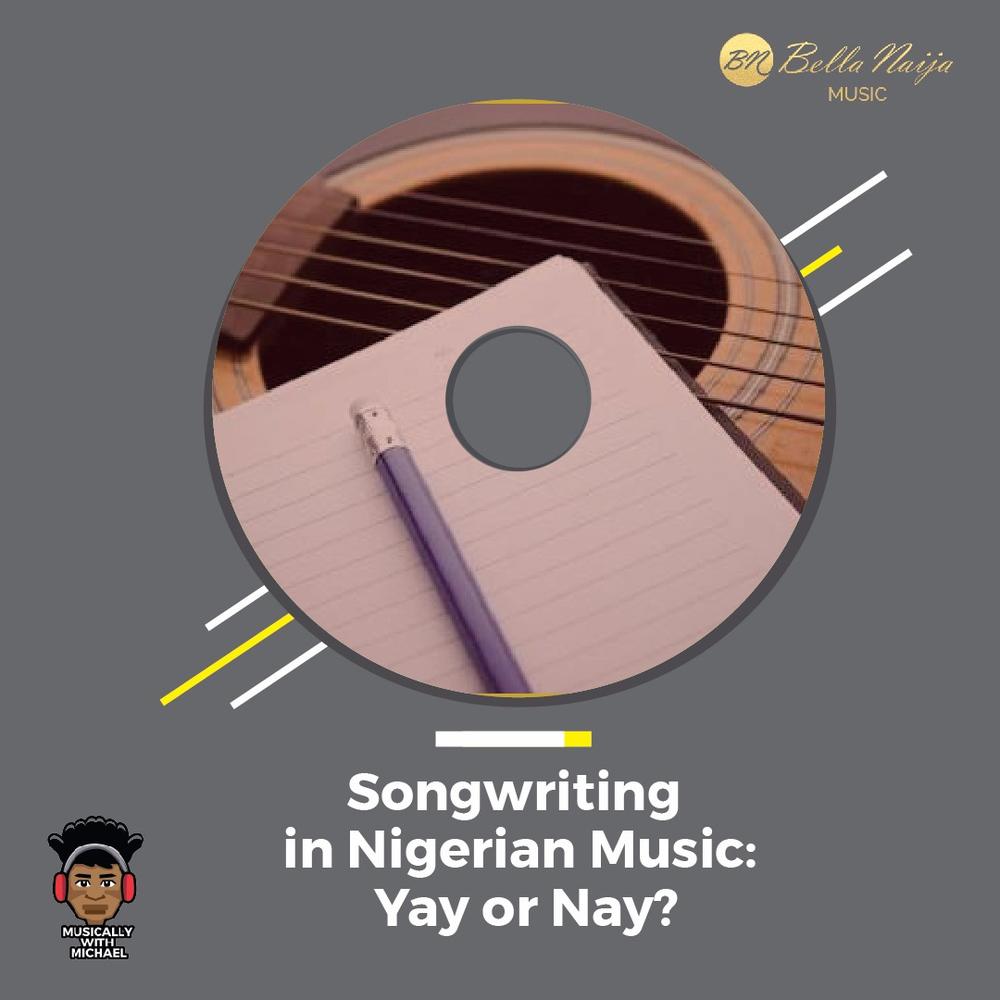 One of the biggest problems people have is admitting to have gotten help from an external source. This is true in so many societal strata and is much more evident in the music sector. Most artists find it hard to get someone to write for them because they feel like they would sooner or later have to admit to having their songs written by someone else.
My problem here is, how is that a bad thing? The greatest music legends, present and past have all had people write or lay backup vocals for them on one song or another. Yes, even the great Michael Jackson has songwriters. Even Beyoncé. It does not necessarily mean you are a terrible artist, it just shows you put enough thought into the stuff you are putting out for your fans' consumption.
Over the past week, I have had two similar and brief discussions that funny enough, ended the same way.  On Twitter, someone obviously in an attempt at making a joke had asked why Nonso Amadi would be having a concert when he has just a couple songs. I quickly retorted that he obviously was not a fan of the guy and would do well to check his SoundCloud. He stated that why would he be singing songs that were not hits at a concert or to put it as he said "if many people don't know his songs, how will they sing along". That actually brought a chuckle when I got the notification because I don't understand why I would go to a concert and start singing the artist's songs? Was that why I paid?
I know some people do that but really? You might be wondering where I'm going with this. Well, I'll say exactly what I told him. We all go on social media and troll Yemi Alade, Flavour, Timaya et al for releasing songs with questionable lyrics and we're still the same set of people who go to their concerts and strain our lungs shouting "kporopokontom migidi figidi sigidi"
Let's pause for a bit and figure out why these artists keep dishing out the same trashy lyrics now and again despite criticisms from the media. The same people who criticize them are the same ones who go around and buy the same songs later. Let's cultivate the habit of supporting good music or at least request for that from out favorite acts. The "sigidi figidi migidi" will not get anybody a Grammy award. We need to challenge our musicians to do better. Better means putting out better lyrics or at least getting someone to compose the lyrics for them.
I decided to write on this as a result of happenings recently after Davido's latest single which singer Teni claimed to have written. People were of the opinion that even if she really wrote it, she shouldn't have said. My take is what is wrong with owning up to writing a song? She did not accuse Davido of stealing it. I really think we need to need a change of orientation concerning songwriting as it pertains to Nigerian music. Do you agree or disagree? Let me know in the comment section.
Yours Musically,
Michael