As a mum, I already feel like a superhero with my kids, thanks to breakfast with Milo.
My husband? He hasn't quite achieved the superhero status yet, especially when he tries to make breakfast or look after the kids.
Our kids are energetic, strong, and confident. You know, the ones that will innocently call you out and give you instant feedback.
Dad, this is not how mummy makes it!
Why does yours taste different!
Can mummy always make our Milo drink?
I loved those comments at first, but he started withdrawing from helping out with the kids in the morning.
You see, my husband is my hero but now he has to become OUR hero, plus every once in a while, I want to put my feet up too.
I tried everything. The midnight talk, the loving peck, the standing up for him in front of the kids, even passing my drink off as his.
The funny part? He told the kids the truth. You loved this one because your mum made it. Tomorrow, I am making your breakfast and you will eat and drink your Milo whichever way I give you!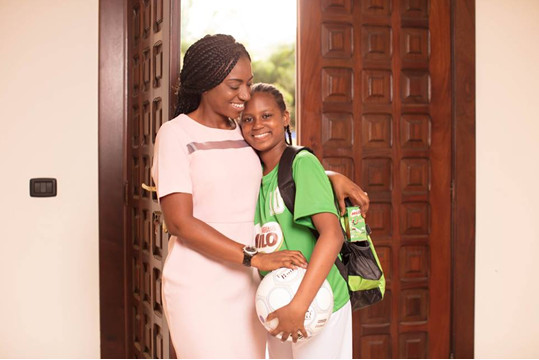 That was a head of house (HOH) speech and I had 24 hours to avert the chaos and tears. I had 24 hours to perform a miracle, so I prayed.
I can't even remember the last time I prayed on my way to work, not alone expect the answer to come immediately.
I follow MILO on Facebook (if you are not a #MILOMum yet, you are wrong. Click here to follow Milo Nigeria).
As I got to work, I checked my social to catch up on life before I got busy and in my Newsfeed was a post from MILO showing Lagos Mums talking about the new MILO RTD. How it comes in a ready to drink format, easy to pack and convenient.
My eyes lit up! Here's the first thing I saw on the MILO page.
I didn't think prayer get answered that fast! I immediately went to buy packs of MILO RTD.
On my way home that night, I was so excited because somehow, I just knew this is the solution to this one challenge. As we went to bed I told my husband, tomorrow, I will make you a superhero with the kids. I have a surprise for you. Sleep over it and I will show you tomorrow. Of course, he didn't sleep very well.
The next morning and before he burns his hands in the kitchen, I showed him the new MILO RTD, he hugged me tightly, ran into the living room and gave another mini head of house speech.
"Ladies and gentlemen, boys and girls I present to you daddy's version of your favourite Milo drink, now ready to drink. And I will be giving you an extra one in your lunch box."
I laughed so hard, I can't believe he took credit for MILO RTD. But eh, who am I to stop him. The kids loved their drink and he became a superhero!
The part I loved the most? I now hang out with my friends and even attend 'owambes' while he joyfully looks after the kids.
Watch Ufuoma McDermott unbox the new MILO RTD

---
Sponsored Content