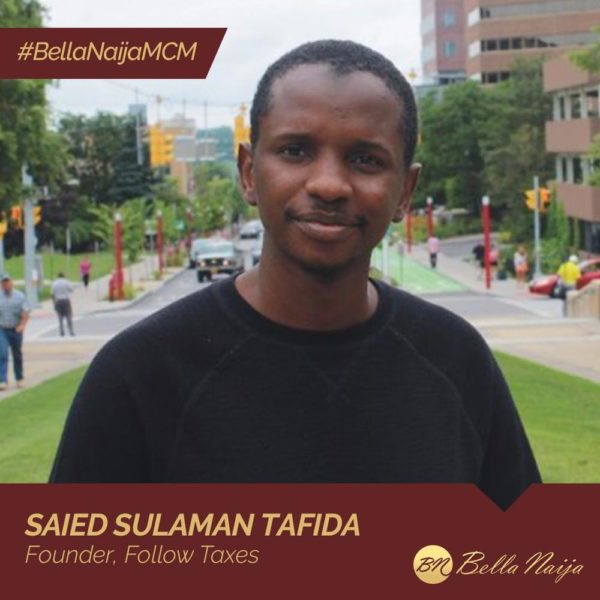 Relevant information is the most formidable adversary against any obstacle – if you know what to do, you've solve an important aspect of any problem. Our #BellaNaijaMCM this week Saied Sulaman Tafida is one who is helping people "know what to do" as regards taxation.
Saied started Follow Taxes in 2016 with the aim of tackling "the opaque circle and the lack of simplicity in legal terms that guide budgeting, and taxation and other fiscal process which makes it alien to a common man."
When people do not understand taxation laws and policies, they can be taken advantage of by corrupt tax officials, quacks and tax fraudsters, a sad phenomenon in the tax bodies in Nigeria today.
Follow Taxes works to enhance tax knowledge as a weapon against bribery and corruption; train entrepreneurs on basic financial literacy, record keeping, and taxation; provide tax guide to a start-up business that cannot afford a professional and follow the taxes collected and ask questions.
The platform, according to its website, runs two courses – Financial Management and Record Keeping & Taxation; provides tax consultancy for entrepreneurs who cannot afford it; and also helps citizens follow taxes collected by the government.
From the age of 18, Saied has been involved in social impact initiatives. Poverty, is believed to be the root cause of conflict in the North eastern region of Nigeria where Saied grew up and he wanted to contribute his quota to changing that narrative. After his secondary education, he began to volunteer with an NGO – Community Based Poverty Reduction Project (CBPRP). CBPRP offers micro-loans to rural women so they can start small businesses and get out of poverty.
Two years later, Saied became CBPRP's secretary, while he was a student at Usmanu Danfodiyo University, Sokoto. After his studies, during his mandatory National Youth Service Corps (NYSC) programme, Saied worked with a UNICEF team, and was an Orientation Camp Trainer, giving instruction to more than 3,000 youths and peer educators and reaching out to more than 5,000 adolescent peer educators. During this time also, he created people focused media reports, conducted monitoring and evaluation of society development programs, and raised awareness on reproductive health and HIV/AIDS prevention. All these earned him the NYSC's Chairman's Award.
In 2010, Saied began working at Nigeria's tax body, the Federal Inland Revenue Service (FIRS), Nigeria's central tax administration body, where he kickstarted the work that soon culminated into Follow Taxes.
Saied also has a masters degree (international relations and diplomacy) and is a fellow at Syracuse University's Maxwell School of Citizenship and Public Affairs.
In 2014, Saied was selected to be part of 500 Africans for the Mandela Washington Fellowship. In 2015, Saied spoke at the 3rd International Open Data Conference a platform which seeks to improve public accountability and responsibility around elections.
Saied is currently studying for his Ph.D in International Development. Today, we celebrate Saied, a public servant who set himself apart as a youth worth emulating.
Merry Christmas BellaNaijarians!