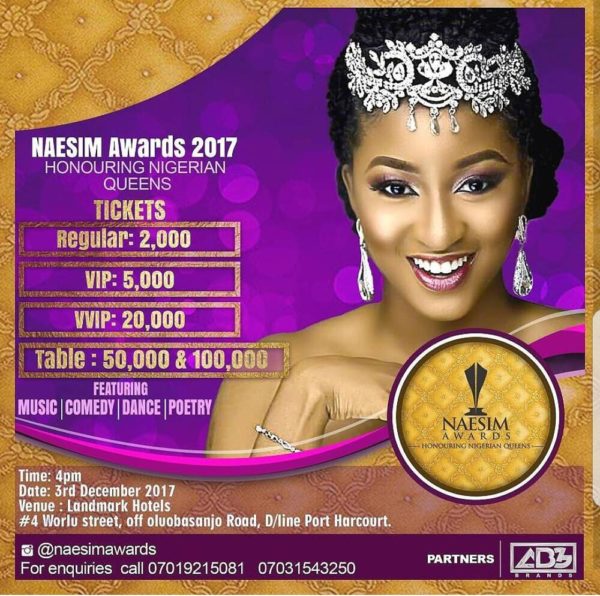 The name NAESIM was culled from the first two letters of the phrase "Thank You" in the three major Nigerian languages; 'NAgode'-Hausa, 'ESe'-Yoruba, 'IMela'-Igbo. The underlying principle emanates from a management technique; "commend effort and reward performance". As a mark of honour NAESIM says 'Thank You' to the Nigerian Queens who have carried out pet projects and initiatives aimed at improving their immediate society, by giving them a prestigious award as a reward for their performance.
Date: Sunday, December 3rd, 2017.
Time: 4 pm Prompt.
Venue: Landmark Hotels , Port Harcourt.
NAESIM Award holds the highest standards of integrity as her awardees are carefully selected based on merit.
The NAESIM awards is scheduled to hold,
Enlisted performing artists:
@debie_rise @richassani @deehumorous @kimoprah @legendarysuni @idandizy @iambukwild @advisercomedian @arinzebaba @kobabaunlimited @femikamoru @pastortalkingdrum @mcjpcomedian @naesimawards
Tickets are currently on sale at the following out lets: Landmark hotels || Eden Kingdom Lounge || Pepperoni Restaurants & Film House Cinema PHC
#naesimawards2017, #December3rd, #Landmarkhotels PHC
For more information please follow @naesimaward or search the hashtag #NaesimAwards2017
You can visit our website.
—————————————————————————————————————-Sponsored Content