At BN HQ, we started the year fully pumped to lend our voices to things we are passionate about. While we love to remain behind the scenes, we acknowledge the need to speak out –  individually and collectively – against things that we want to put an end to.
Female Genital Mutilation is one of those things which we are determined to quash. In our own little way, we have decided to continually speak against evil practices in Nigeria.
We seek to inform, educate and bring awareness to Nigerians, using our platform. Together with BellaNaijarians, the BN team says #StopFGMNow. End the cutting of girls, stop harmful practices.
Here's how you can join the campaign:
Read up on female genital mutilation.
Educate someone around you on the ills of female genital mutilation.
Report any one around you found practicing female genital mutilation.
Support and love victims of female genital Mutilation.
Take a picture of yourself, with personalized quote on why and how you think we can stop FGM.
Use the hash tag #StopFGMNow #EndCuttingGirls, #EndFGM #SayNoToFGM to bring attention to this cause.
Here's is what some of the BN team members have to say: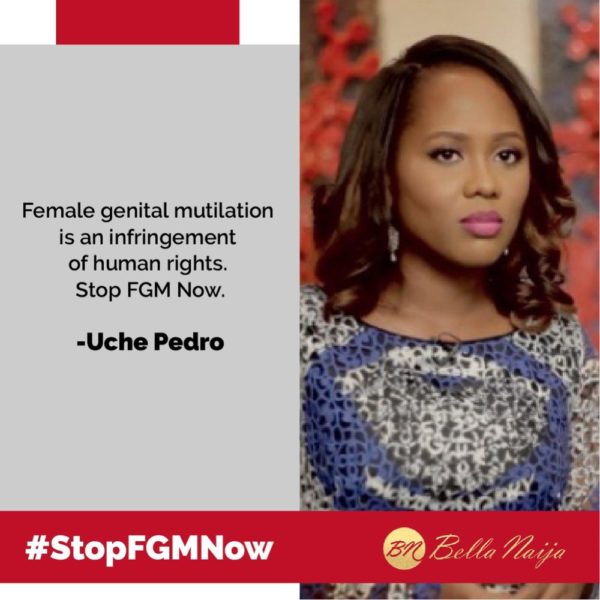 Uche:
Female Genital Mutilation is an infringement of  basic rights. Stop FGM now.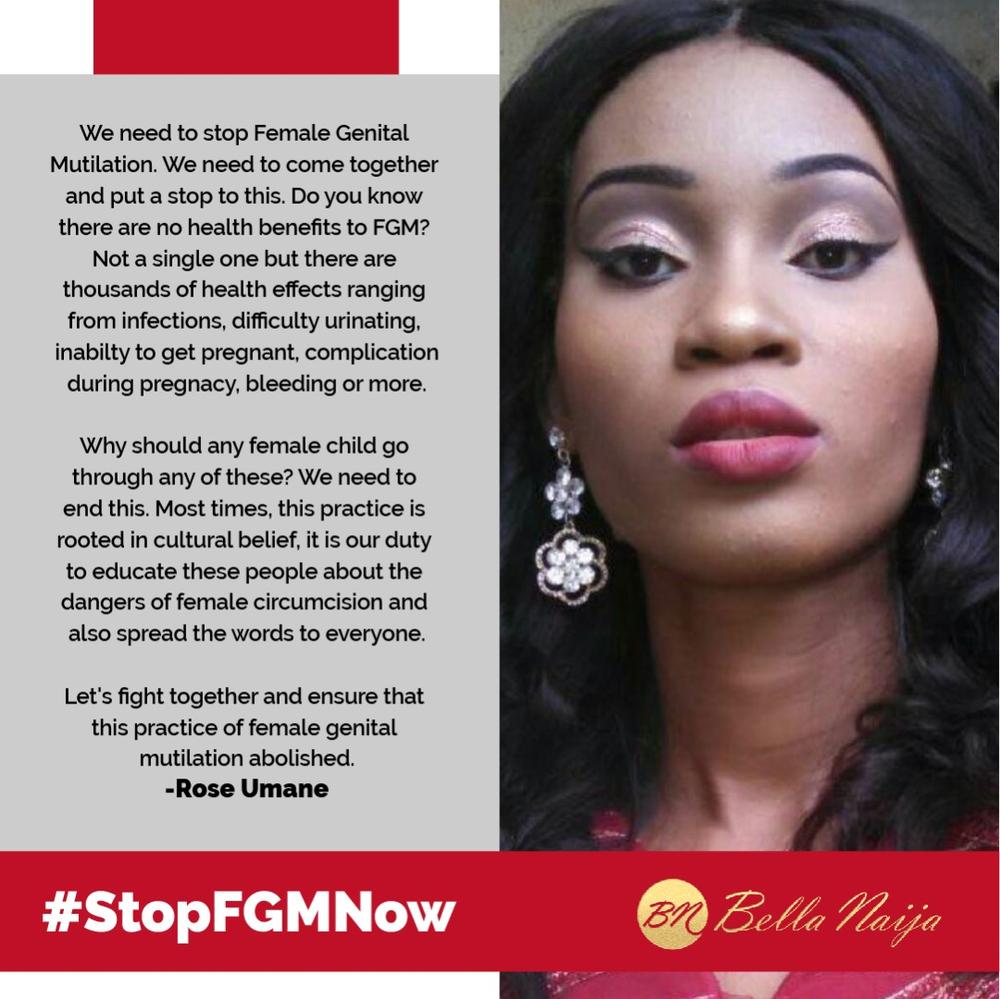 Rose:
We need to stop Female Genital Mutilation. We need to come together and put a stop to this. Do you know there are no health benefits to FGM? Not a single one but there are thousands of health effects ranging from infections, difficulty urinating, inabilty to get pregnant, complication during pregnacy, bleeding or more.

Why should any female child go through any of these? We need to end this. Most times, this practice is rooted in cultural belief, it is our duty to educate these people about the dangers of female circumcision and also spread the words to everyone.

Let's fight together and ensure that this practice of female genital mutilation abolished.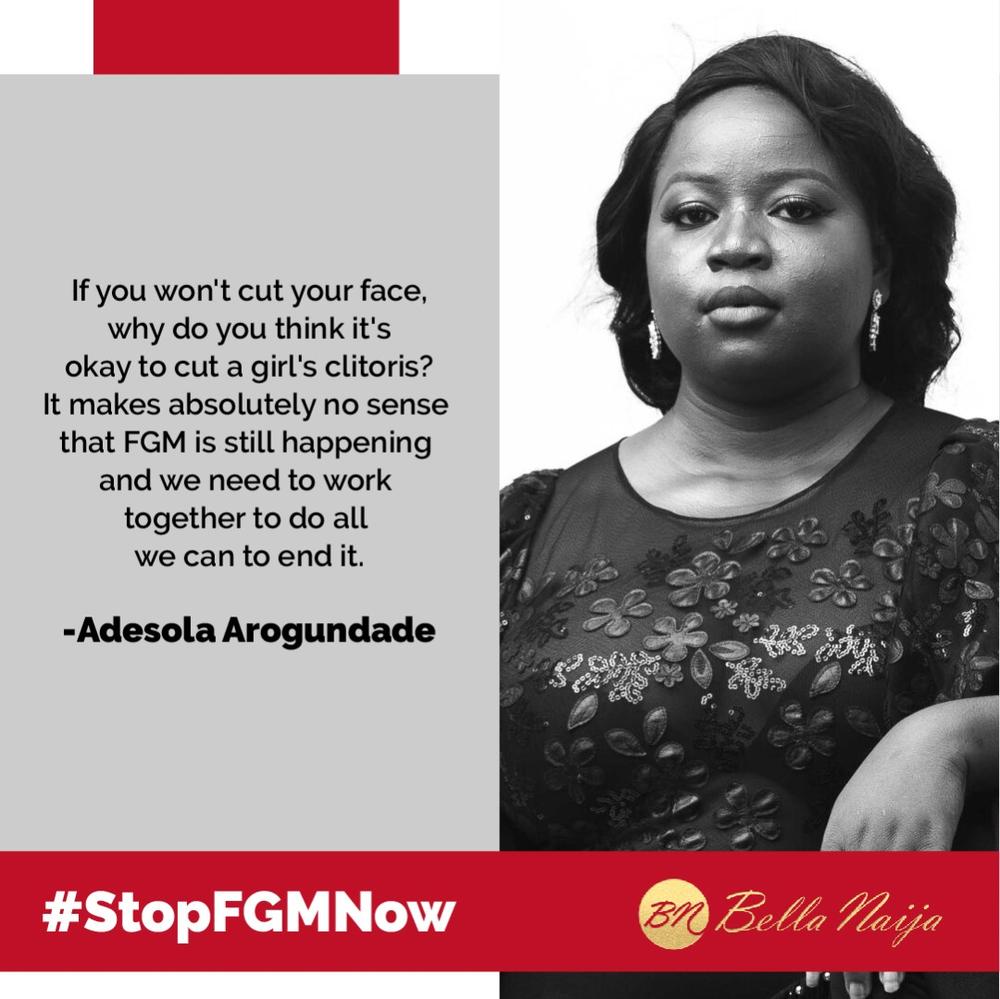 Adesola:
If you won't cut your face, why do you think it's okay to cut a girl's clitoris? It makes absolutely no sense that FGM is still happening and we need to work together to do all we can to end it.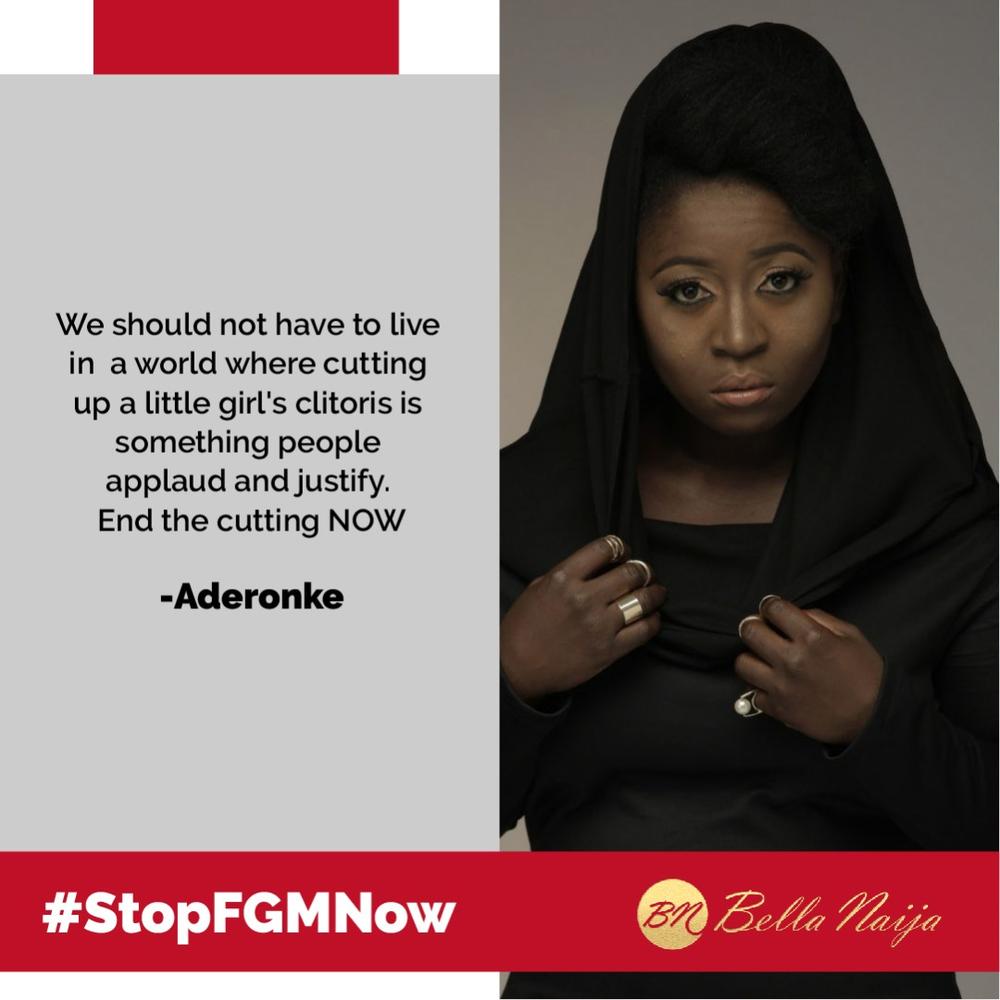 Aderonke:
We should not have to live in a world where cutting up a little girl's clitoris is something people applaud and justify. End the cutting NOW.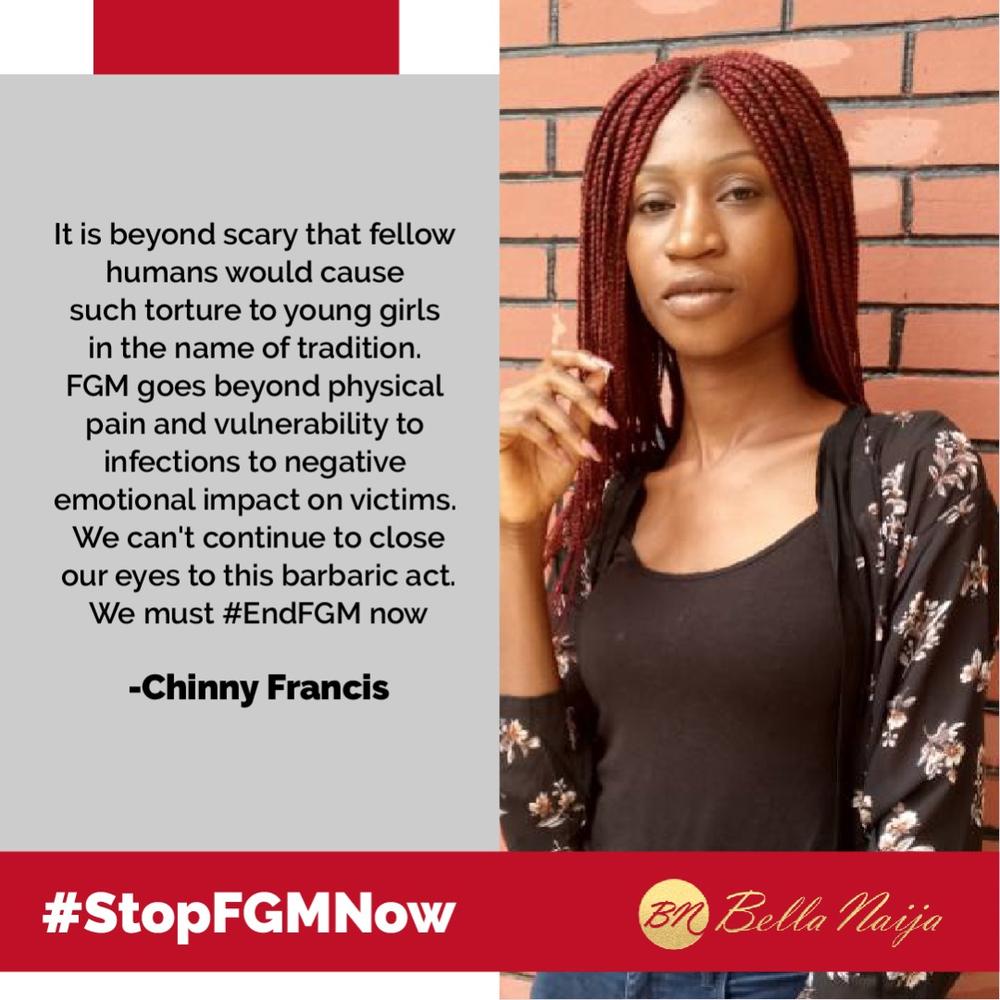 Chinny:
It is beyond scary that fellow humans would cause such torture to young girls in the name of tradition. FGM goes beyond physical pain and vulnerability to infections to negative emotional impact on victims. We can't continue to close our eyes to this barbaric act. We must #EndFGM now.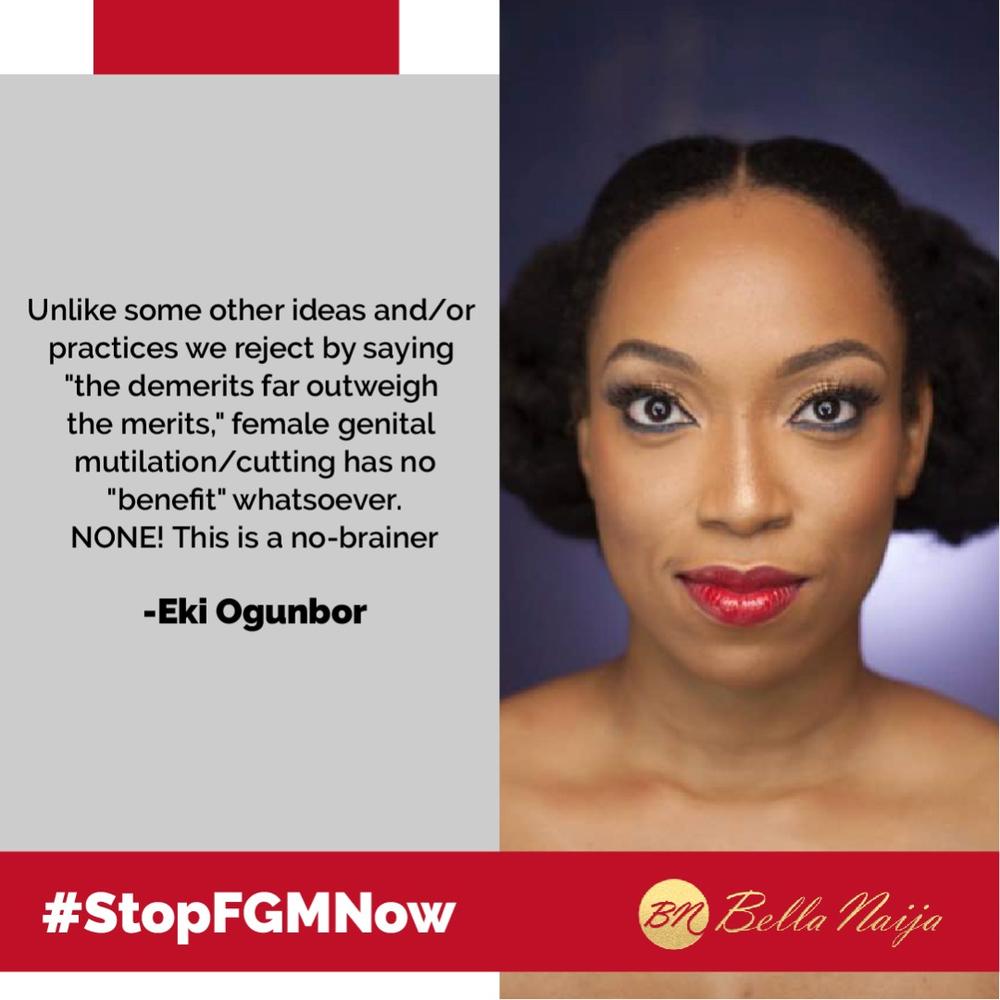 Eki:
Unlike some other ideas and/or practices we reject by saying "the demerits far outweigh the merits," female genital mutilation/cutting has no "benefit" whatsoever. NONE! This is a no-brainer.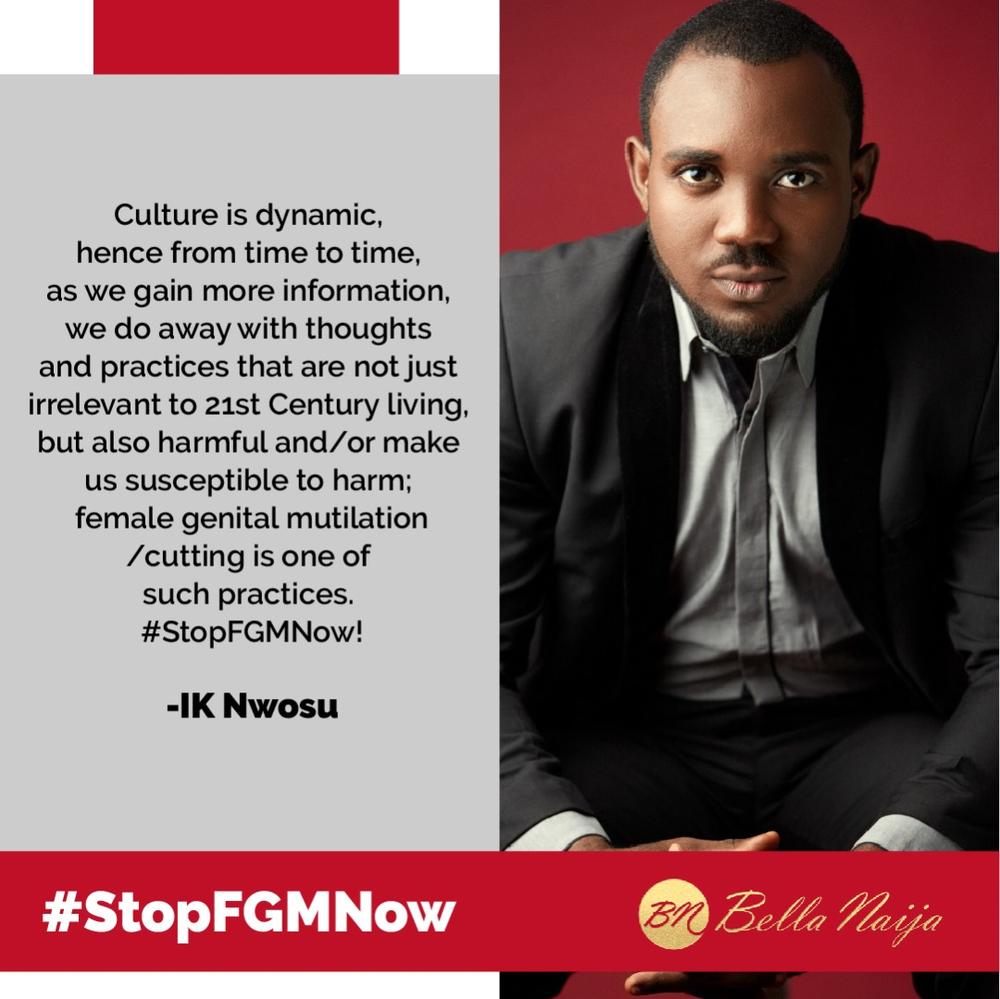 IK:
Culture is dynamic, hence from time to time, as we gain more information, we do away with thoughts and practices that are not just irrelevant to 21st Century living, but also harmful and/or make us susceptible to harm; female genital mutilation/cutting is one of such practices. #StopFGMNow!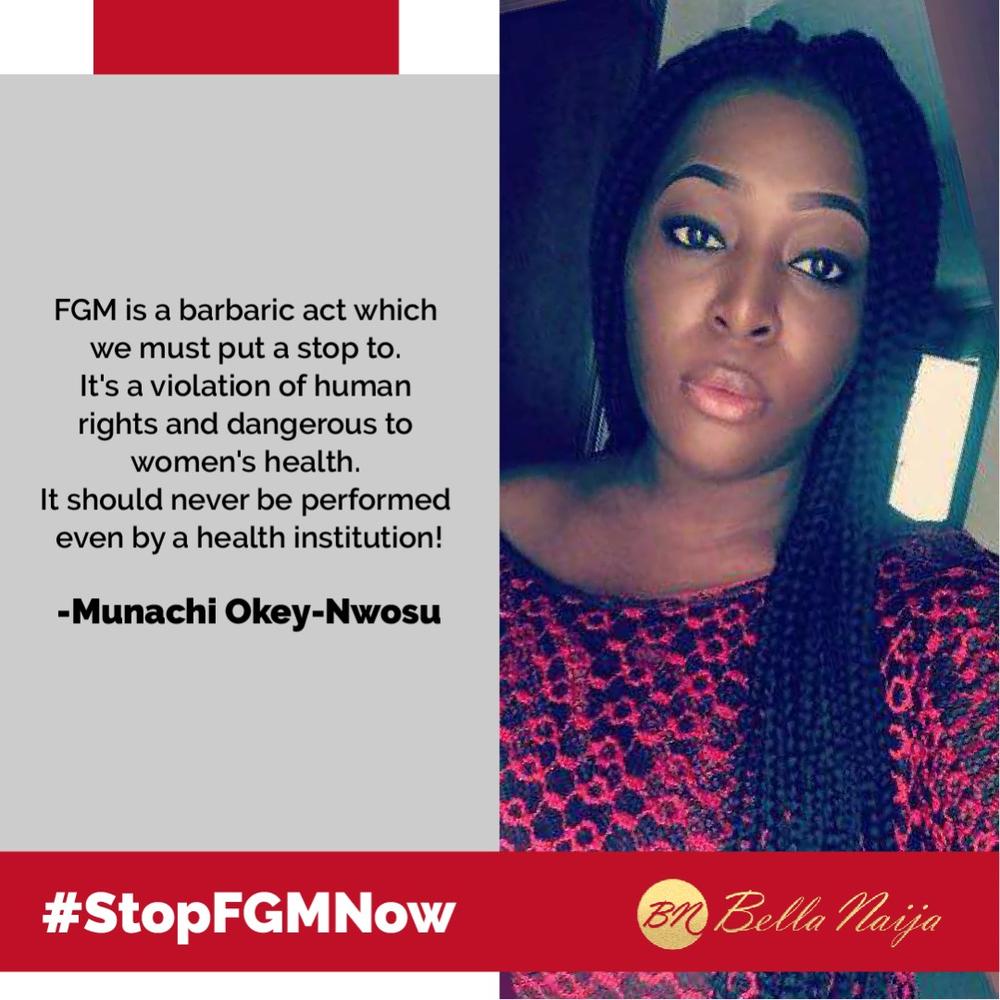 Munachi:
FGM is a barbaric act which we must put a stop to. It's a violation of human rights and dangerous to women's health. It should never be performed even by a a health institution.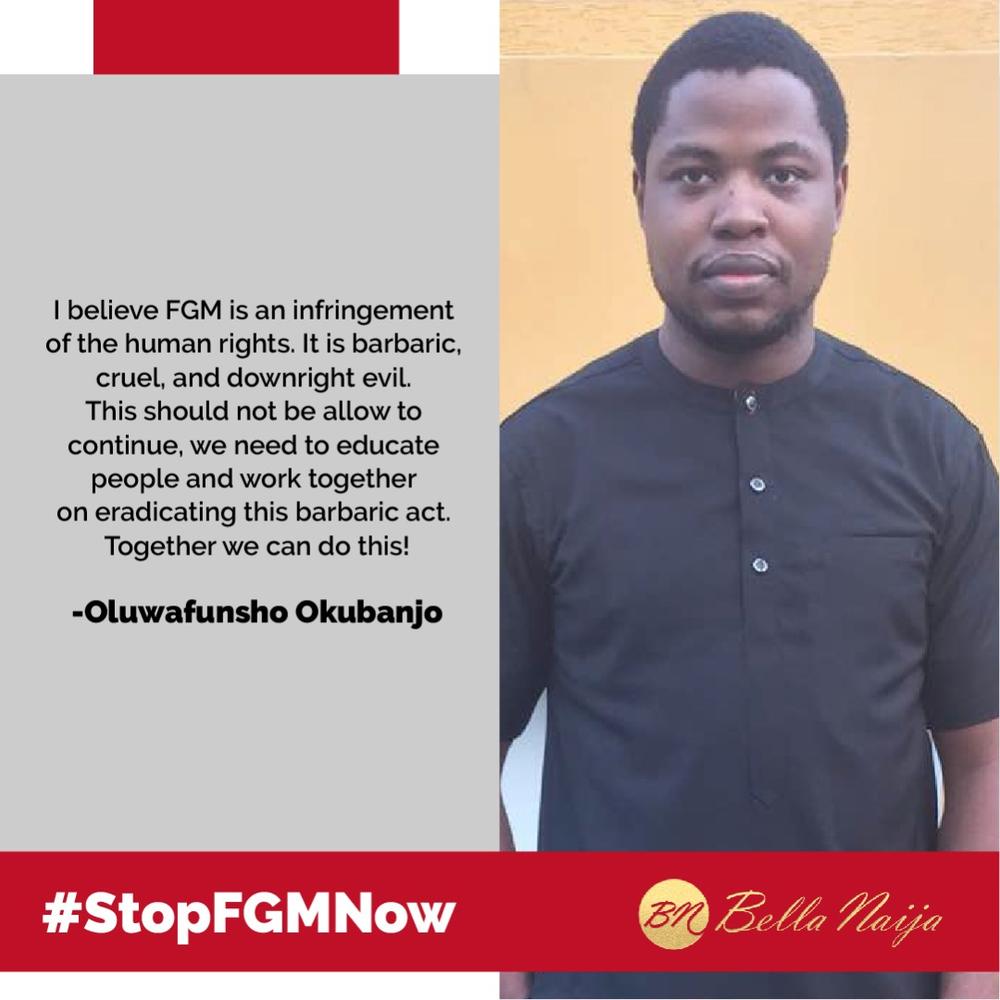 Funsho:
I believe FGM is an infringement of the human rights. It is barbaric, cruel, and downright evil. This should not be allow to continue. We need to educate people and work together on eradicating this barbaric act. Together, we can do this!
SPREAD THE WORD.
We want our lawmakers and law enforcement agents to be aware that we will no longer allow harmful practices to be meted out to Nigerian children.
Stand with BellaNaija. Let's#StopFGMNow