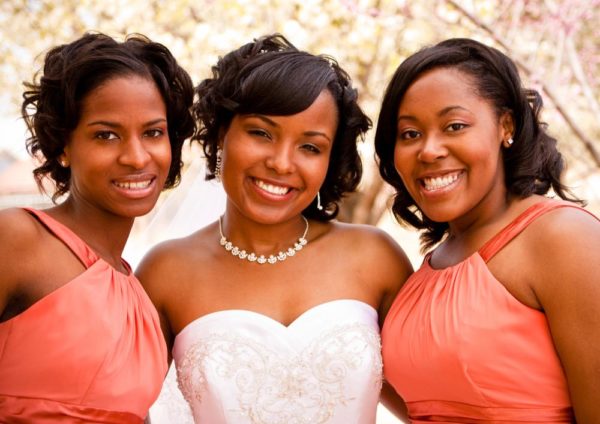 In the spirit of the past holiday and all the weddings and engagements that took place, once again, I had this conversation which I have had several times with some friends. The question is "should bridesmaids pay for the dresses they wear on the wedding day?" As we know, there are the bridesmaids for the "white" or church wedding and the asoebi girls for the traditional wedding; some people also have asoebi girls for their white wedding.
Everyone knows that weddings cost a lot, including financially, energy- and time-wise, and that bridesmaids are typically friends of the bride who are there to support her on her wedding day. Although, contributing money is a way of showing support, I do not think that bridesmaids (not asoebi girls) should pay for their dresses and I will give you some reasons why.
First of all, 90% of the bridesmaid dresses that I have seen are ugly! Yes, I said it. Don't be deceived by the photography edit or the picture background; many of those dresses are not well sewn and have poor finishing and fitting, including the "ready-made" ones. Majority of the times, the wedding venue, picture arrangement, colours and the accessories, all add up to make everything look better than they actually are on the wedding day. So basically, the pop of colours standing next to groomsmen wearing black or the bride wearing a sparkling wedding dress, the hairbands and the dangling earrings, the flowers, the extra makeup and hairstyling specially done for the day, and just the excitement of the day, would make the bridesmaids and pictures look beautiful. However, after the wedding day has gone by and you bring out that dress that you paid $100 or more for, you start to question whether you can actually wear the dress again regardless of the colour: rose-gold, "pepper-'em-red", "cockroach-brown", "yellow-fever" or "ghost-white".
The reality for most people is that they end up never wearing the dress again, because they find out that the dress is not appropriate for work, or church, as oftentimes the dresses are too revealing; nor is it suitable to wear for another wedding because you might end up looking like a bridesmaid there, when you're not. You might also not be able to wear it out for dates because let's face facts, you're not going be wearing glittery hairbands and holding flowers on your date to help the dress look better. I know some brides will tell you that you can wear the dress for a dinner party but even if the dress is among the 10% of pretty dresses, you have to ask yourself – how many dinner parties do you actually go for? And that is when you end up having one more piece of un-useful item in your suitcase.
Secondly, I think bridesmaids already do a lot for the bride and are not as appreciated as they should be. As bridesmaids, you will most likely be added to annoying WhatsApp group chats to help with the wedding planning. I say 'annoying' because just like many WhatsApp groups, some people post random, irrelevant things in the group that drain your phone battery and take up memory space.
Also, this often means that your phone number will be exposed to strangers; of course you might end up making new friends or in some cases, stalkers. As a bridesmaid, you will also most likely contribute financially to the bridal shower planning and buying her gifts. In addition, most brides would want you to be in the wedding area at least a night before the wedding, which means that you have to forfeit whatever you have to do, whether work or personal, and be there in time for the rehearsal. Let us also remember that bridesmaids have to be up very early in the morning of the wedding day to get themselves and the brides ready. As a bridesmaid, you might not get the time to rest or socialize on the wedding day except for being stuck with a groomsman that you might not care for, who you are also expected to hold hands with to walk down the aisle and dance into the hall with. Lest I forget, some bridesmaids fly in from far and wide to attend the wedding and transportation may be expensive. These are sacrifices that bridesmaid make to make a bride happy, to name a few.
Finally, even if you, as a bride, think that the dress is cheap, it might not be cheap to your bridesmaids. You might not know the financial situation of your friend and just because they are in your social circle does not mean that they earn as much as you do or have the same "money providers" e.g. father, boyfriends, sugar-daddies. I have heard of people borrowing money to pay for such matters just because they feel too embarrassed to tell the bride, and I think it is foolish.
Inasmuch as bridesmaids want to be there to support you on your special day, try to make things easier for them as a bride. So when I hear of brides make such demands of their bridesmaids such as asking them to pay for ugly dresses (which if you ask me, I would say that some brides pick on purpose to prevent the others from outshining them) or specific shoes, I viciously shake my head. Even though I am more likely to pay for my pair of shoes, why not be considerate and just pick a similar colour and style for everyone, so that the bridesmaids don't have to buy a new pair if they already have something that matches? After all, most times the dresses are too long and nobody gets to see them.
Personally, I think that these costs should be added to the wedding budget instead of putting financial burden on your bridesmaids; after all, it is your wedding, not theirs! In the case of asoebi, I think the bride's friends can pay for them although at a fair price i.e., the fabric should be at a reasonable cost. Some brides try to use their asoebi to offset other wedding costs or as a business avenue by multiplying the actual cost of fabric or by adding an extra zero (you know yourselves!). This reminds me of a time my friend paid for asoebi and the bride ended up not sending the fabric to her because she said she had run out of them. After the wedding, my friend asked for her money to be transferred back but the bride said she was going to buy another type of fabric to send to my friend. My friend was genuinely confused; the wedding had gone past so why would the bride think she needed a new fabric? Anyway, I'm sure we have heard these types of stories many times.
In conclusion, plan a wedding that you can afford. It is not compulsory to have bridesmaids if you cannot pay for your bridesmaid dresses, unless the bridesmaids contacted you themselves and told you that they wanted to pay for dresses. If you require donations, you can put out clearly labelled boxes in your wedding parties but please do not try to be cunny by extorting people. Having said these, I am not yet married so when it is my time, if I ask you to pay for bridesmaid dresses, please feel free to forward this article to me.
Photo Credit: © Noriko Cooper | Dreamstime.com