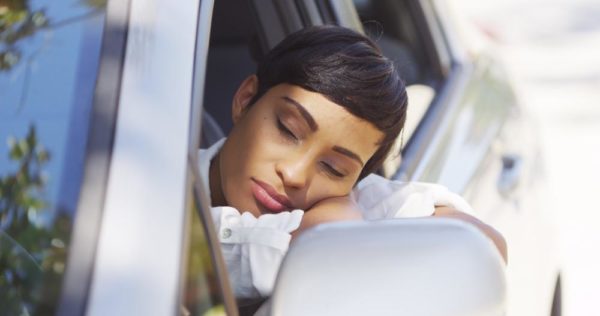 On February 9th, 2018 at about 8.30pm, I was in really heavy traffic in Apongbon and I immediately regretted taking that route. I noticed two men leaning against the bridge rail and immediately I got to them, the older of the two men crossed in front of my car, our eyes interlocking for a second. It felt weird but I waved it aside. Retrospectively, I believe I was being profiled; a young lady alone in the car, distracted by a phone call. I continued my call and at 8.51pm, I heard a voice screaming "I will kill you" and then I found myself covered in shattered glass. He took my phone, charging cable, and earphones. I wrestled for my charger and he tried to stab me twice, missing both times. He immediately sauntered off like nothing happened.
I got out of the car and started to scream. Sadly, nobody reacted in any way.
Getting back into my car, I asked GOD, why? I didn't get an answer, but I got the conviction that I was going to get my phone back. Immediately, I was at peace and my faith was activated, propelling me into GOD- inspired actions. "Go home to Surulere and buy airtime on your back up phone". I could have taken the bridge to inner Marina to get airtime but I knew that wasn't what God wanted me to do. I went to Surulere and God directed me to an airtime vendor. I loaded the airtime, and then called my phone. Someone picked it (the thief, I believe) and told me that he found the phone. He asked how much I was going to give him and I threw the question back at him. We went back and forth for a few minutes.
He then said he had just finished praying and swore by his holy book that he was going to return my phone without collecting one naira. He asked me to come to Tinubu roundabout and told me that even if I brought 500 policemen with me, I would not see him nor my phone. I called a "street smart colleague" who told me to get a bearded guy to accompany me (team beard gang for the win!)
I drove home, called out to my mum, told her what had happened, and requested that she come along. Normally, she would have told me to not to risk my life, but that day, she willing went with me.
The next action was to get a bearded man to come on this adventure. By now it was 10pm, I didn't know who to call, so I eventually called my brother who coincidentally was with a friend, not far from where I parked. I spent another 20 minutes convincing him it was not a set- up. When you receive a word from GOD, the prerogative is on you to keep believing, because the people around you may not believe. My brother drove my mum and I in my car, while his driver and friend drove along, in his car.
When we arrived at CMS, I got on a bike with the two cars trailing me. I called 6 times, but the guy didn't pick. I was already losing faith when he picked on the 7th call around 10.49pm, I guess he needed to isolate me from the teeming numbers at Tinubu. Then. the wild goose chase began.
He sent me to Tinubu Methodist, then from there he sent me towards Idumota, and then finally told me that my phone was in a flower pot at the junction of Tinubu Square on the way to Bamgbose street (by a dump site).
At this point, I honestly felt I was going to see a camera crew and my favorite director Steven Spielberg, but this was real life at 11.51pm and I was rummaging through a flower pot in search of my phone which he had placed there. He then called me (he had placed my sim in another phone) and told me he was going to put my sim in the same flower pot where he had left my phone by Saturday morning. I went to run the Marathon on Saturday and by the time I got to the flower pot, LAWMA had already emptied it.
I thank GOD for life and that the guy returned my phone without me having to pay a dime, but I know I must do something to ensure that younger generations need not worry about safety in Lagos. Yes, I am aware that security of life and property is the government's prerogative, but we all know that we are our own government here.
I have started an initiative on Instagram via the handle @weownthenightlagos to promote a safer Lagos and ultimately a safer Lagos nightlife.
This initiative is a two- pronged; the preventive, which is solely what the social media page would concentrate on, and the reactive angle which would be in conjunction with the Nigerian Police Force and the Lagos State Neighbourhood safety corps.
We would be taken on various safety advocacy campaigns in the ensuing weeks to ensure that the city of Lagos becomes a safe haven.
Paramount for now is the " light up lagos" project . Research has shown that there is a relationship between street lighting and crime. Low luminance engenders street crime the world over.
We would be partnering with the Lagos State Neighborhod safety corps and the Nigerian Police force. We would get them to deploy more men on the Apongbon and Costain end of the bridge and other areas notorious for night robberies.
We would get their emergency numbers and ensure that citizens have them as well.
We would also be having a we own the night lagos walk to sensitize lagosians about our initiative. We would partner with celebrities to also create an awareness about the we own the night lagos initiative.
Lagosians will not have to live in fear in this city.
Photo Credit: Mark Adams | Dreamstime.com