"Can I give my baby Tiger Nut milk with Dates?" This is a question that I was asked on either Instagram or MOMY while interacting with mums, so I decided to write more on the only milk suitable for babies especially when another mum didn't know that there are different types of baby formula.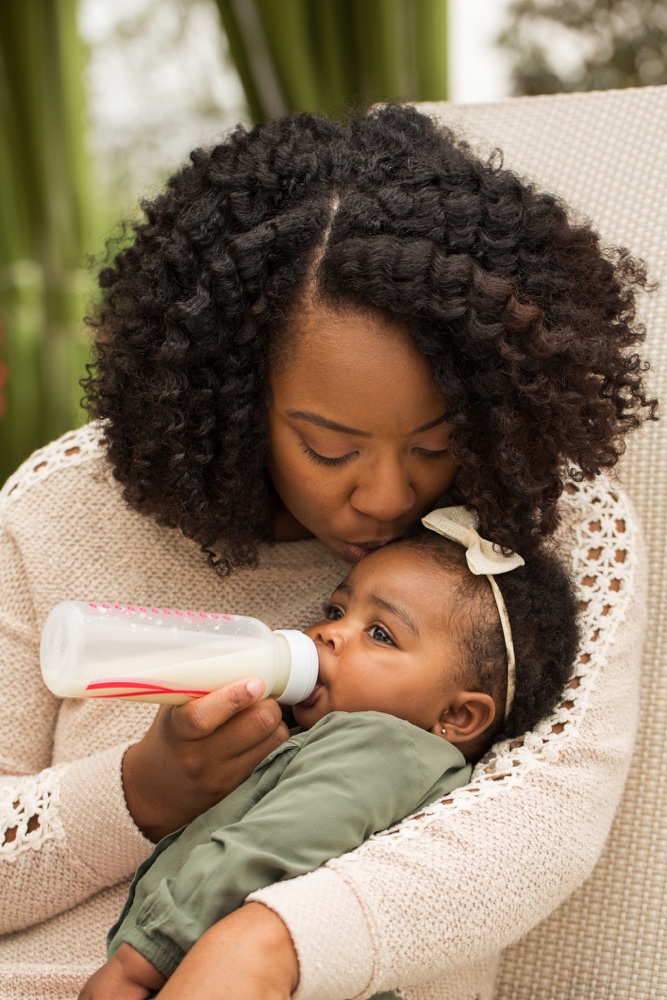 The main drink for baby from birth to 12 months is MILK. Apart from breastmilk which is the best milk for your baby from birth, the only other milk that you can give your baby is formula milk (also called baby formula). This type of milk is specially formulated for babies from birth to twelve months and no other type of milk should be given to your baby during this time as a feed.
Cow's milk (ie, our normal powdered milk or any whole liquid milk) should never be given to babies until they are one year of age. The reasons for this are as follows;
Cow's milk contains a high amount of Protein and Minerals which are difficult for babies to digest and it, therefore, can overwork their maturing kidneys. This can cause severe illness, fever and diarrhoea.
Cow's milk does not contain the right amount of nutrients including Vitamin C and Iron for babies.
The Protein in cow's milk can cause some irritation in the stomach lining of a baby's digestive system, thus leading to blood in the stool.
Cow's milk also lacks the healthiest types of fat for growing babies.
However, you can cook your baby's food with cow milk when he or she 6 months old but never ever give it as a drink. Other kinds of milk that are a no-no for babies are in the picture below.
Formula Milk is made from cow's milk which has especially been treated to make it digestible for babies. They provide the nutrients that babies need to grow and develop well, thus making it almost perfect but not exactly like breast milk which can protect baby from some diseases.
There are different types of formula milk. By this, I don't mean brands names but the different types of formulations (for lack of a better word) made to suit babies who may have one reason or the other, mostly intolerance and allergies and thus requires an extra-special formula for them. The most important reason I want you to know these types of milk is to be informed whenever you are in the shops so that you won't be deceived into buying any formula milk displayed just because it says 'Formula'. All types of formula milk are especially for babies from either birth or from 6 months to 12 months but always consult your doctor before going for the specialised formula milk. Let's look at types of formula milk.
Baby's First Milk (First Infant Formula)
This is the first milk given to a baby and it is suitable from birth. There are two types of Protein known as 'Whey' and 'Casein' which are found in formula milk, as well as breastmilk too. Whey Protein is believed to be an easier one for babies to digest than the Casein which takes a longer time, so a baby's first formula normally contains more Whey.
Your baby can take this formula until you introduce solid food at 6 months and also continue with it till one year.
There are some first formulas that contain more Casein than Whey and it is normally called Hungrier Baby Formula or Baby's Hungry Milk. This type of milk is harder for babies to digest and it is believed that it keeps babies fuller for longer.
Anti-Reflux Formula
This is also known as 'stay down' milk and is specifically made to prevent reflux in babies. Reflux happens when a baby consistently brings up milk when taking a feed or after a feed. The anti-reflux milk is thickened to prevent this and you can find them with the label 'anti-reflux' on any baby milk brand.
Lactose-Free Formula
This type of baby milk is formulated for babies that are unable to digest Lactose ie, they are Lactose Intolerant. Lactose is a type of sugar found in milk (including breast milk, other kinds of milk and dairy too), which needs an enzyme called Lactase to enable it to be broken down by the body. Some babies may not have enough of this Lactase enzyme to help them absorb the Lactose in milk and it then makes them uncomfortable by causing wind, bloating, diarrhoea and abdominal pain.
Babies are given this milk formula that the Lactose has been broken down already to ease their discomfort. Some of the milk brands usually denote this formula with the acronym 'LF' which simply means 'Lactose Free'.
Hypoallergenic Formula
This type of formula is sometimes denoted as 'HA' (Hypoallergenic) in some brands and it is made for babies that cannot digest or are allergic to the Protein in cow's milk. They are fully hydrolysed, meaning that the Protein in the milk has been fully broken down making it 'non-existent'. Hypoallergenic milk is suitable for most babies that are allergic to cow's milk.
Please note that there is a difference between being Lactose intolerant and being allergic to cow's milk, though they may sometimes exhibit the same symptoms. Lactose intolerance means that the body does not have enough of the
Lactase enzyme to absorb or digest milk or other dairies, while cow's milk allergy means that the body reacts to the protein in milk. So, while intolerance involves the digestive system, allergy is of the immune system and thus more dangerous.
Breastmilk also contains milk protein, so while it may still be okay for babies with lactose intolerance to take it, it is no so for babies that have milk allergy. In all of these, your doctor is the best person to check, diagnose and advise you on the best formula.
Comfort Formula
Comfort formula contains partly broken down proteins, also called partially hydrolysed milk protein. It is believed to make it easier for babies to digest and reduces or prevents digestive problems like constipation and colic. Note that this formula cannot be given to babies that are allergic to milk.
Baby Formulas Suitable from 6 Months Old
The types of formula milk earlier mentioned are those that are made to be given to babies from birth and note that apart from the first infant milk, you should always seek medical advice before switching your baby to any of the specially formulated milks.
Follow-On Formula
This formula is marketed as a specially designed milk that will aid your child's rapid growth and development between 6 to 12 months. They are mostly enriched with essential Vitamins which your child can richly get better by eating nutritious solid food.
At 6 months, you can introduce homemade food for your baby and the baby weaning guide is a good information guide that new mums who are not sure of how to start the weaning journey can invest in. Your baby does not really need follow-on milk and can continue with first milk as a main drink if you start making homemade solid food from 6 months.
Soy Formula
Soy formula is made from Soya Beans as against cow's milk. It is normally given to babies that are allergic to cow's milk.
Goodnight Milk Formula
Goodnight formula is a special one that has cereal added to it and it is believed to make babies sleep well.
After 12 months, you can switch your baby to our normal powdered or whole milk which is good and as well in giving your child healthy meals. If you have extra cash or you don't feed your children a balanced meal rich in essential Vitamins and Minerals, then you may be buy the Growing-up or Toddler Milk that is targeted at children aged over one year. Growing-up milk is fortified with essential Vitamins and Minerals necessary for the proper growth and development of kids.
Always remember to seek medical advice if you have concerns about your baby's feeding or you feel you need to switch to another formula.
Credit: nhs.uk, mayoclinic.org