Hi, BellaNaijarians!
Have you been on BellaNaija Style today or in the past week? No? OK!
Now let's get you up to speed with all you've missed over there on the BellaNaija Style! Go through this post and click on the title links for more.
Don't forget to visit the site, share the links and subscribe to our newsletter as well!
---
BellaStylista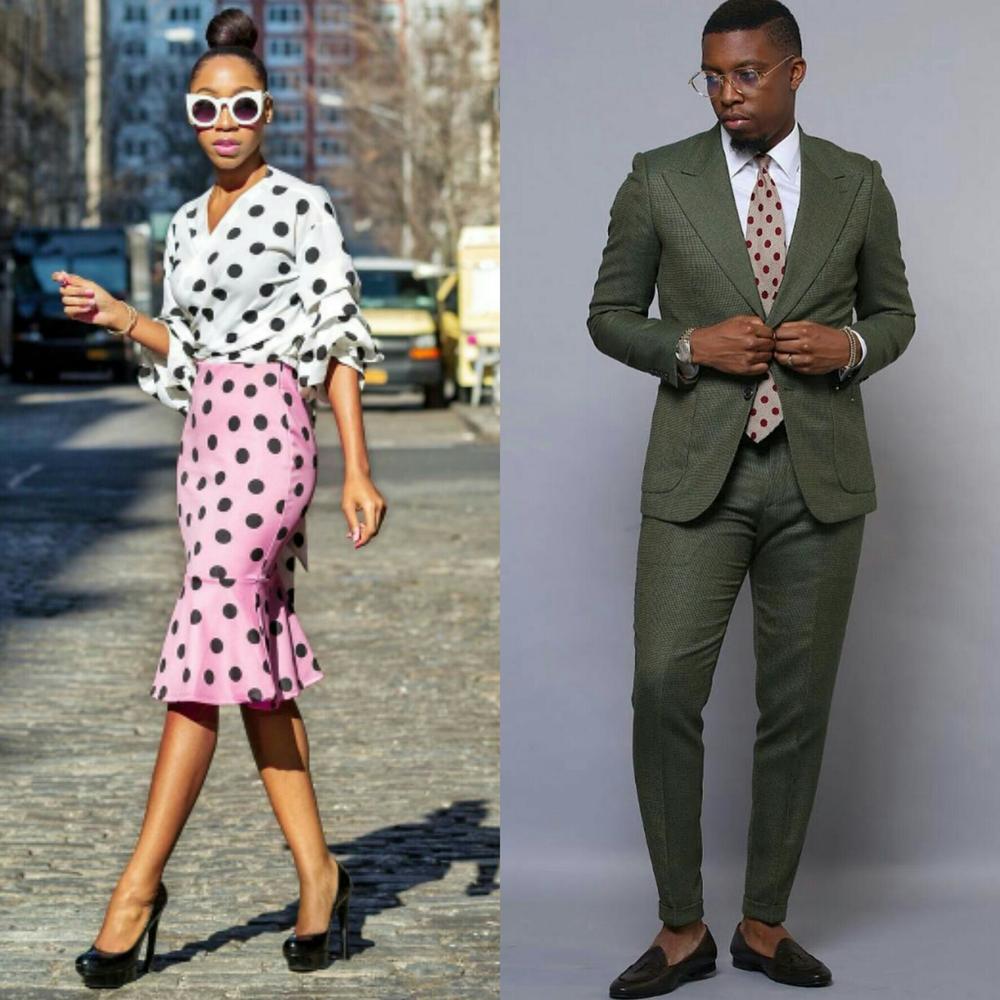 #BellaStylista: Issue 22 | Polka Dot It!
Best Dressed of the Week, March 18th: Who Killed It In The Style Stakes?
With the advent of Instagram and social media in general, it's easy to tune out all the content we consume on a daily basis, celebrity stories, fashion, makeup all become an endless blur of stuff. Which is why when we come across celebrity fashion and makeup moments – you have to double-tap and save that Insta. It's those extraordinary, stare at it forever, because-this-must-be-magic looks that serve us endless inspo. So when we came across this Ugandan beauty Bettinah Tianah – NTv Presenter of Uganda's most watched fashion tv show 'The Style Project' we couldn't help ourselves.  Scroll to see some of our favourite looks from her – #BlackGirlMagic awaits.
This Ugandan Style Star Brings Us Some Of The Best Insta-Moments
Sunglasses are undoubtedly a key asset when one needs to up the ante of an outfit without doing too much.  And our favourite celebrities and influencers rarely give up opportunities to do just that. Adding an extra dose of fabulous with statement sunglasses is par for the course and this year we've been seeing a particular pair we are enamoured of.
These may look familiar not just because of the ubiquitous bedazzled 'DG'; Rihanna wore the very same sunnies last season to tease the debut of her much beloved 'Stunna' liquid lip paint. 
Toke Makinwa: On a casual lunch date, Toke paired her Dolce & Gabbana's Spring 2018 sunglasses with a loose pink top, hot pink mules and a Givenchy Antigona in metallic textured-leather for a cute yet casual look.
Fashion Girls Love These Insta-Worthy Dolce & Gabbana Sunglasses
Dear BellaStylista
Vanessa Banigo Be Your Own #WCW: Busting Fit Frauds – Forget Everything You Think You Know
News
Africa's premier fashion show, ARISE Fashion Week (AFW), is set to deliver one of its most exciting line-ups to date, when it returns to Lagos on March 30th to April 2nd at the Lagos Continental Hotel (formerly Intercontinental Hotel).
The organisers hosted members of the press to an afternoon of cocktails and canapes to reveal the designers that will be showcasing this year as well as the full event schedule. In attendance were designers, models, stylists, media personalities and fashion enthusiasts.
ARISE Fashion Week Unveils 2018 Showcasing Designers at Exclusive Press Party
From the 23rd to the 25th March 2018, Lagos Fashion Week #LFWNG formerly known as Lagos Fashion and Design Week LFDW, in partnership with Heineken Nigeria, FETS Wallet, Nigerian Export Promotion Council (NEPC), Garment Care and Style House Files (SHF) will host a 3-Day Series of Fashion Presentations at The Wings – Oando. #LFWNG will also launch Fashion Focus Fund x Fets Wallet to support emerging designers.
Lagos Fashion Week Returns for Autumn/Winter 2018 Presentations
Bonang Matheba shows off her slender frame on the cover of Schick Magazine's latest issue tagged The Love Issue.
We Can't Take Our Eyes Off Bonang Matheba's Cover for Schick Magazine
We called it! This delectable 2-piece had a starring role in our Editor's Picks piece back in February, and we'd already spotted it on Bolanle Olukanni a few weeks prior. Now we've had a rash of sightings this week alone and we may be even more obsessed!
The Stylish Set Can't Get Enough Of This J Label Co-ord
Fashion
In the spirit of Fashion Week (both the newly re-branded Lagos Fashion Week and Arise Fashion Week are fast approaching) we decided to throw it back to some super fun backstage action at Lagos Fashion & Design Week in 2017. Watch some of our favourite models and #BellaStylistas strut or dance around in their highest heels (or coolest kicks) and get prepped for their runway debut.
Farah Ouediat's The Up Market is the Lagos Stylish Yummy Mummy's best kept secret, and we are about to blow it's cover, call it civic duty to all our Bella Stylistas, including those who have been blessed with a little person or two! The chic boutique in the heart of Victoria Island has, by word of mouth garnered a following of fashion conscious mothers who are not willing to diminish their style game due to having a growing family.
Farah Ouediat is solving Yummy Mummy Style Dilemmas
Shekudo's founder Akudo Iheakanwa has taken a considered approach to building her brand, and it seems to be paying off. Very much on the lips (and ears, and shoulders and feet, oh yes, feet) of the cool kids – Shekudo has become the destination for those who want pieces that straddle multiple locations and occasions much like Akudo herself who's mixed Nigerian and Australian heritage has informed both ideation and design process as well as her aims and ambitions for the luxury accessories brand.
Shekudo is the It Accessories Brand to rock Right Now
Zara Odu is an undeniably powerful and ubiquitous force behind the scenes in the Nigerian fashion industry. And no, I am not just saying that because the fashion branding, communications and strategy supremo with off-duty supermodel looks and a wardrobe to match is my sister-in-law, which she is ( I am all about full disclosure and journalistic integrity here people). Hers is a story of tenacity, focus and drive to not only assist brands in charting the best course for long term growth, but also participating in the development in the Nigerian and African fashion industry. Catching a moment with the talented and super-busy multi-tasker and mother of one was a challenge, but this is only reflective of her growing portfolio of clients and the recent launch of her own organisation, Designers Consociate.
The Girl Behind the Brands: Talking Fashion with Zara Odu
New designers pop up everyday and quite a few of them are undoubtedly talented
. We've had our eyes on quite a few up and coming brands and we will be highlighting some of the major on-the rise- brands you need to know in the
Discover
series.
We both have always been creatively inclined and had a love for fashion

On why they started their line 
We both have always been creatively inclined and had a love for fashion. We started a fashion blog in university which made us realise that we wanted to work in the fashion industry but it wasn't until we saw a lack of things we loved in the stores, alongside the fact that there was still a gap for stylish, good quality & affordable ready-to-wear clothing that we decided to birth MARYMAII. We wanted to create affordable luxury clothing. We believe customers shouldn't have to choose between avant-garde luxury clothing and retail clothing. There should be a middle ground which is affordable luxury.
Witnessed on off-duty fashionistas the world over , the athleisure phenomenon is still going strong and the ultimate formula keeps getting re-invented – from sport-inspired pieces to sleek wardrobe staples to stylised sneakers and fashion forward tees and 'fashion joggers'. The major key to making it super chic and taking it completely out of  sloppy ' I just rolled off my sofa' territory? Strategically pair the activewear with key fashion pieces, and keep the outfit coordinated and polished. After all there's nothing more annoying than hearing someone ask  'Are you going to the gym?' when you're well, not.
These Styling Tricks Are Perfect For #BellaStylistas Who Love To Dress Down
Lookbook
Womenswear brand Nola Black has unveiled its Spring 2018 collection titled Òlókun. The designer pays homage to the shapes found in nature, like batwings and butterfly flares in neutral colours.
Using soft fabrics including sheer and velvet, the designs include dresses and chic sets with edgy cuts. Nola Black expresses femininity while retaining a balance between the fragile and something more severe.
Every Look From Nola Black's "Òlókun" Collection
Amede, a brand known for its dexterous use of colour and print released its new collection, featuring its signature adire fabrication and flattering easy, breezy silhouettes. The Unhindered Hues collection is a chic reworking of traditional tie-dye, perfect for the fashion girl on the go and is as unfussy as occasion and casual wear can be.
You'll Love This Bold, Bright and Unapologetic New Collection by Amede
Fast rising womenswear brand Zarabella has released its latest campaign inspired by Lagos street style titled My Lagos.
Known for its hustle and bustle spirit, Lagos' fashion conscious occupants make the city their runway. No matter where a Lagosian lives in, they are always inspired to dress their best.
Lagos street style is bright, edgy, modern and trend setting as seen in these fun and chic pieces created by the Zarabellla brand. With the infusion of chiffon, organza, silk, cotton, crepe and ankara – the brand put into consideration the hot weather condition of Lagos.
Zarabella caters to the everyday woman – from the working class woman to the fashionable lady who is classy and stylish irrespective of her social background
Lagos Street Style According to Zarabella
Eponymous menswear brand T.I Nathan recently unveiled its latest collection titled August.
Adekunle Gold Shows Off his Gentlemanly Side for T.I Nathan's "August" Lookbook
Beauty
This week, these 10 women put their best face forward, delivering hair and makeup looks that gave us major inspo. From the continent and the diaspora (via Instagram) and in no particular order, see our top beauty looks this week.
PS:Don't forget to vote for your faves in the poll below!
Our Top Beauty Instagrams This Week: Who Was Your Fave
Michelle Dede's look to the Black Panther premiere in Lagos was head-turning in more ways than one.
Doranne Beauty Is Basically Michelle Dede's Beauty Secret Weapon
Culture
I was first introduced to Tomi Agape by one of her debut songs – La La La featuring Poe and produced by Juls. The sexy song loosely interpolates dancehall with a Nigerian vibe, creating such a distinct sound that I knew immediately that this was just a glimpse of what's to come for the 24-year-old artiste, and as she is gearing up to release her debut EP we expect to hear far more from her. Especially as she's backed by rising music business maestro's The Plug (The Plug is an entertainment management, music publishing and licensing company founded by Asa Asika & Bizzle Osikoya) .
She's been on the scene for a relatively short time but has quickly racked up interesting collaborations, opened for huge African acts like Davido and strong newcomers like Mr Eazi.
A budding artist, Agape has lent her lilting, almost smokey voice to dark, sultry R&B style songs with a strong Caribbean flavour. "In the Night" the newest song (released in February and with a video release in the works) is incredible: the Spax -produced track is a liquid, dancehall infused jam punctuated by the mesmerising vocals of another promising Nigerian artiste – Nonso Amadi.
BellaNaijaStyle recently caught up with Tomi during an exclusive interview. She opened up about everything including her new single and the entrancing visuals behind "In the Night," what inspires her, what fans can expect from her new projects including who she's been working with, how fashion influences her, and she explains what goes into crafting the perfect image. Read on below.
I'm unapologetic with my style and with my music. I think that's the way it should be.
Tinashe's new album Joyride, the long awaited follow up to 2014's Aquarius is almost here – the date has been confirmed for April 13th.  With 2 already stellar singles out, Tinashe fans are more than ready for this release, but what else is enjoying a renaissance? Not just her musical artistry folks, but her overall aesthetic seems to be taking a more artsy approach, with heavily referential contemporary style images on her Instagram, we are curious and excited to see where she heads with this.
Zimbabwean-American Tinashe's Art Inspired Instagram
June Ubi is a classic case of triple threat the remix: the girl taking listeners through the midnight hour and beyond on Cool FM is one part dulcet tones on the radio, another part a serious musician in her own right and for extra measure an edgy fashionista with serious style credentials. As said before, she's a triple threat. We decided there was nothing for it but to sit her down and get the skinny on all of it and devised a special Bella Stylista Q&A for her, after all, why scratch the surface when we really want to go deep?
Introducing June Ubi: The Broadcaster With Style Game
I usually don't like to use the word "trends" as it evokes the idea of something transient and fleeting which I consciously disassociate my work from; this is one of the reasons we find it hard to do events décor as it all comes down in a matter of hours…anyway, I digress.
Trends in interior design have a way of coming in the door as a temporary visitor but then if you truly fall in love then you can keep them as a long-term houseguest (see what I did there?)
Here are a few of the ones I already have my eye on as of the first quarter of this year:
Bold Colours: It seems Pantone's 2018 pick of ultraviolet (a very strong purple) has been seen as something of a licence for even wilder colour choices. Designers are ready to boldly go where some colours have never gone before by making very brave choices on walls, ceilings and furniture pieces. Think daring blues, emerald green and ultraviolet of course.
Fabrics and textures: The focus is returning also to texture, texture, texture. Fabrics are more than just a source of colour but the interesting texture and sometimes come with amazing stories to boot. Plush velvets take their place next to contrasting mudcloth which is a handmade Malian cotton fabric traditionally dyed with fermented mud (mudcloth has an important place in traditional Malian culture).
Black: Having talked about bold colours, black surfaces are coming in for a strong look-in this year and bringing all the moody drama with them. Play with the surface textures where this powerful non-colour shows up as well: matte floor surfaces; glossy wall tiles; textured wallpaper…as with all colours, it reads differently on different surfaces/finishes. Using black wood panelling on walls or black marble in your kitchen would be a way of using two other trends at the same time: how's that for scoring design points?
Wall to Wall: 2018 Interior Design Trends
Watch