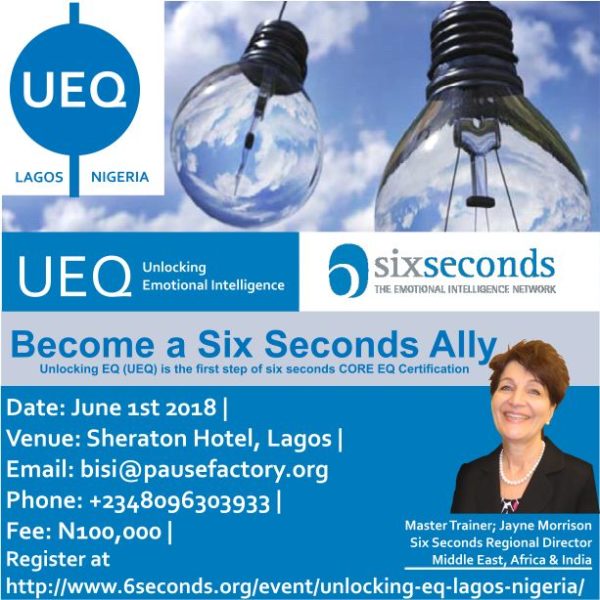 6Second USA; The largest Emotional Intelligence Network in the World Starts Certification Path in Nigeria
Earn the title "6 SECONDS ALLY" as you dive into Six Seconds' powerful methodology and learn why, what and how emotional intelligence works. This is the only course of its kind– ideal for people seeking to incorporate emotional intelligence (EQ) into their work and life. Unlocking EQ (UEQ) is the first step of Six Seconds' CORE EQ Certification.
Immerse yourself in Six Seconds' unique approach to create value with emotional intelligence and see how this method works for you. You will also begin to receive Emotional Intelligence packages and tools to empower people around you with Emotional Intelligence.
Visit http://www.6seconds.org/events/unlocking-eq-lagos-nigeria/ to read more.
In this course, you will…
Develop a clear "case" for emotional intelligence.

Explore the Six Seconds Model, a process framework for making emotional intelligence practical.

Review some of the latest research on the brain, emotions, and performance.

Clarify your vision and define key goals for your own EQ development.

Learn to use the TFA Cards to introduce EQ.
Emotional intelligence is the ability to use emotions effectively, and it's the foundation for life success… and one of the World Economic Forum's top skills for the 21st Century. This course builds your capacity to develop this core capacity.
"Excellent 'hands-on', experimental course to improve your EQ and that of people you impact. Must-do workshop for all leaders as the journey begins from the top."
Sarojini Rao, Principal, Indus Int'l School, Bangalore, India
Date: Friday, June 1st, 2018
Time: 9:00 AM – 4:00 PM
Venue: Sheraton Hotel, Ikeja Lagos.
Registration fee is NGN 100,000
Register here http://pausefactory.org/event-register/
Why join UEQ?
Research indicates that increased Emotional Intelligence leads to improved effectiveness, relationships, wellbeing & quality of life. These learnable, measurable, scientifically-grounded skills help us…
Navigate increasing complexity and stress

Foster positive, healthy relationships

Spark innovation and resilience

Nourish compassion and inner peace

Grow as a positive change-maker
The skills of emotional intelligence are learned, and we can teach these life-changing, world-changing skills.
————————————————————————————————————————————————————————————-
Sponsored Content