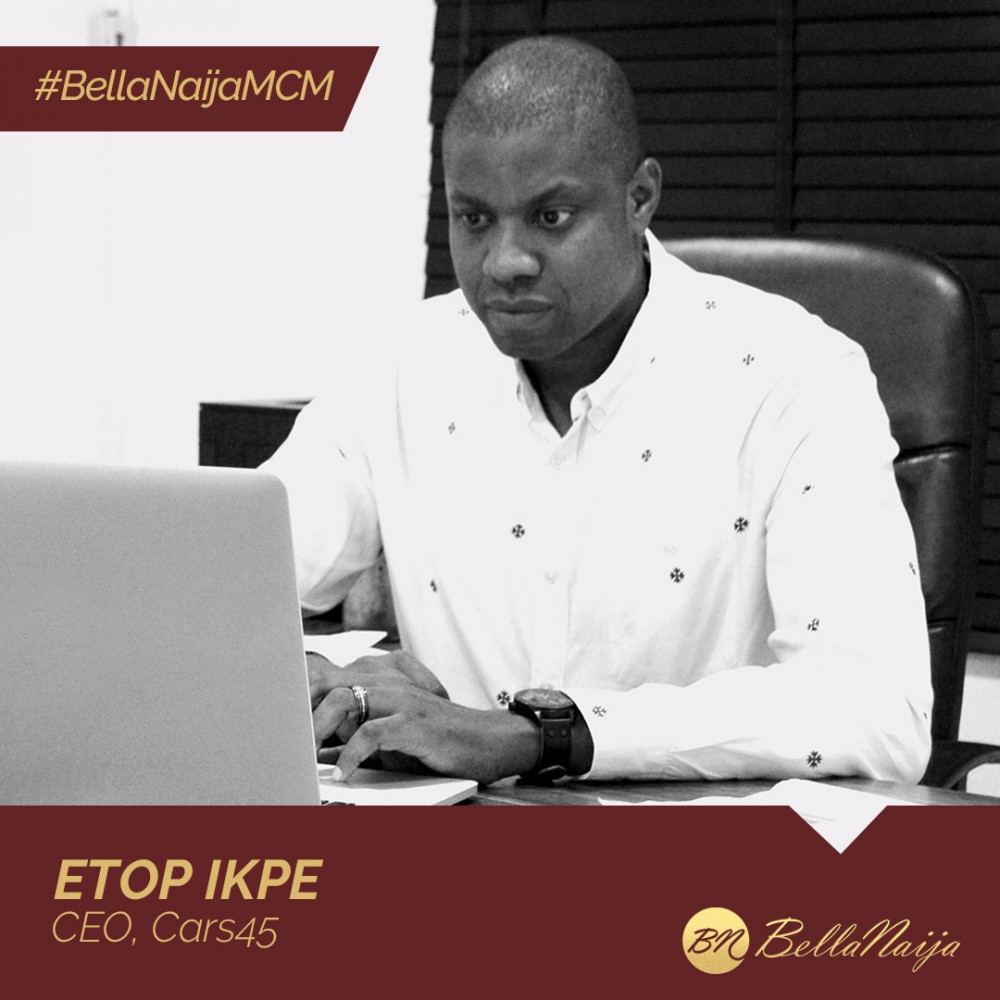 Selling used property in Nigeria, or anywhere else in the world is a hassle. There's the issue of trust. What if the property is no longer in good shape, or a much more terrible state than the seller claims? What if it was stolen? What if the expiry date is closer than expected? So many "what ifs".
Our #BellaNaijaMCM this week Etop Ikpe wanted to deal with the "trust issue" in the sale of used cars in Nigeria and he founded Cars45 with Iyamu Mohammed, Sujay Tyle, and Peter Lindholm. Cars45 is a "car buying service with the goal of helping hundreds of customers to sell their cars."
The platform says its "passion is to build the infrastructure for commerce that allows sellers and buyers of Nigerian used cars to exchange value quickly, cheaply and with unhindered access to independent relevant information required for decision making."
Cars45, apart from its online valuation service, also has inspection centres in certain locations in the country to help sellers know their (used) car's technical status and current market value. It also gives buyers the market value of the car they intend to buy.
Ikpe, who has a B.Sc (Actuarial Science) from the University of Lagos is not a newcomer in Nigeria's entrepreneurial, tech, or e-commerce space. In 2006, he started ClickMobile Communications, an IT solution for computers and mobile applications.
Two years later, he moved on to start Tinker Bell Media Ltd which produced We Run The Game, a syndicated sports programme broadcast terrestrially across 12 Broadcast Networks.
In 2009, Ikpe started Three Stitches, an online fashion store, regarded as the first in Nigeria. He joined e-commerce giant DealDey as vice president and rose to the rank of Chief Operating Officer and co-MD.
Following the acquisition of DealDey, Ikpe moved on another e-commerce heavyweight Konga as Director, Marketplace operations.
He left Konga in 2016 to start Cars45 and in one year, raised $5 million in a Series A funding round from the Frontier Cars Group supported by Balderton Capital, EchoVC, and TPG Growth.
In 2018, Ikpe was named in Forbes' "30 Most Promising Young Entrepreneurs In Africa 2018" list.