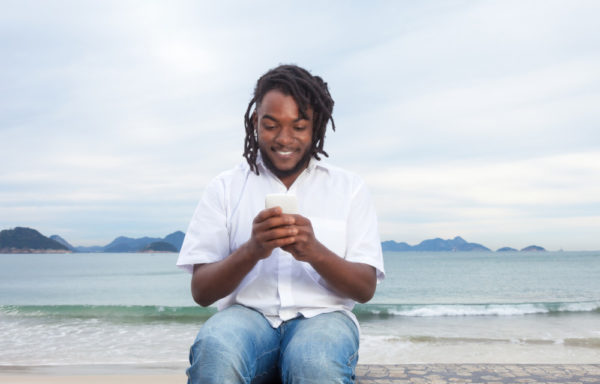 Recently something happened to me. I almost saw my life go down the toilet…but then it bounced off the toilet bowl and hit the floor instead. Its screen cracked, green lights flashed vividly, it was over.
I, of course, am speaking about my phone.
I'm an avid fan of mobile dating apps and make use of both Bumble and Tinder. I like writing a lot and pretending I'm not socially awkward even more, and dating apps are perfect for that.
My profile tries to stand out by mentioning my love of shortbread and the fact that I play the guitar. There are many people who like shortbread and even a few who play the guitar, but I aim to hit that sweet spot on the Shortbread/Indie Artist Venn Diagram. It's all about the hybrids on dating sites #DoubleThreat
I'd say I have a niche market profile with a mass market communication strategy.
However, the loss of my phone meant the loss of potential dates from which I was hoping for at least the spark (or tinder if you will) of a long-term relationship.
Outside of MSN messenger or Skype, I don't really know how I used to hit on people. MSN messenger is no more and I've forgot my Skype login details, so I'm now considering an arranged marriage. I'm trying OK Cupid and its fancy algorithms again, but the problem with all of these algorithms is that they only do half the job.
Algorithms should answer the question not create a series of maybes. Now, agreed, I'd like to see their working (as any Mathematician would) but I would also like a clear answer hence why I've considered an arranged marriage. What could be clearer than that apart from the transparency of the conditions of our Prenup agreement?
Perhaps this isn't the way though. Maybe I should give going to bars a go? The problem with a bar though is that it creates both an opportunity to find your inner strength but also potentially exposes all of your vulnerabilities too.
I can do a mean crip walk…meaner than Suge Knight giving Tupac a limp by stepping on his toe in a crowded club and then blaming Biggie for it in an attempt to start an East Coast/West Coast feud (look it up!). My crip walk is an obvious strength, but in a club, everything that doesn't involve my sweet sweet dance moves are conspiring against me.
What if I drink too much? What if my friend, who's there for morale support because I haven't hit on anyone in a club ever, tells embarrassing stories about me? What if consumption tax provides a nasty surprise when I try to buy a girl a drink? These are all very likely scenarios. Also, the queues for the bathroom are massive. How long would love be willing to wait for me?
Bars are out!
I don't really know what my other options are. Can anyone offer some tips?
Photo Credit: © Kadettmann | Dreamstime.com