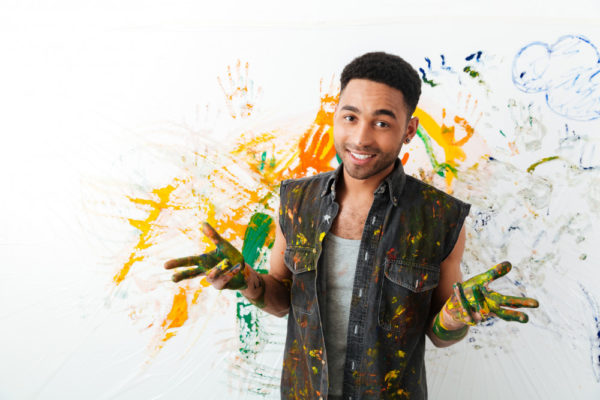 A lover of art – a kind that wouldn't mind paying much more than the usual admirer of beauty – who decides on a journey to Akure/Idanre axis, who would want a passionate painter, one who takes the craft seriously with seemingly religious devotion; that seeker of an excellent painter in the capital city of the sunshine state, would definitely find Genko in the corner of Loveday and Oba Adesida.
Genko, tall, dark, and slim; a basketball fan with all the kits of a pro, a fan who also plays well, is the only one in town who would proudly call himself a painter without calling up an image of a sweaty, ragged loser stained with paint, walking around, looking for a house to paint for a pittance.
This is his story.
As a teen about twenty-five years ago when Genko told his friends of his plan to study fine art at OAU, he became the big fool.
Who feeds his family with art these days? Are you going to eat art? Why don't you use your number six on this thing? Your mates are choosing medicine, law, geology and mining; banking and finance. How about something that would give you a real chance in the oil sector?
Fine art, of all courses out there? There is nothing fine about that! Dude, don't be a fool.
He heard a lot of that sort of talk; he was just the stubborn type.
During his university days at Ife, specifically after his second semester examination in the third year, he met one young blonde woman from Ontario who was in the country for the Oshun Oshogbo Festival; an art enthusiast who was collecting works by African painters.
"Tracey Giggs." She said, offering her hand. He said his name before he shook her hand.
She said he was talented; she loved his rococo-style works. She ran her hand over the canvas and told him about the art movement.
"Impressionism" Tracey said with a smile. She promised to tell somebody about him. He showed his cream coloured teeth and offered to show her more of the works if she would follow him to his room. He was nice to her; they were nice to each other.
Before she left she gave him one big thick colourful book on world art; when he opened it – right there before she left – he was delighted by the variety of beautiful images expressing a variety of art movements. It was inspiring; the creativity expressed in the book seemed to be nudging him to try harder, he told her about it.
She adores the book too, she told him with her eyes on him, she said it was her only copy; but she added with a shrug and a smile that it is not a big deal; she would just get another one when she gets back to Canada.
Without Tracey he wouldn't have been admitted to The Royal Danish Academy. After his degree at OAU she had introduced him to the man who paid for his scholarship.
When he came back from Copenhagen,  he hated Lagos as if he had never been there. He marvelled at the chaos and the seeming casualness of the people living in its midst. The concept of a city had been redefined in his mind and the coastal city that was supposed to be the nation's commercial heartbeat seemed more like an urban jungle.
Genko noted black fumes from vehicles and generators, he complained about the humid air, he hated the company of the crowds in the streets.
Drivers would drive like maniacs, like stunts men; sometimes the road would seem like a stretch of parking lot. Hawkers loved the stand-still. You could buy rat poison, candies, handkerchiefs; you could buy bloody meat, fried meat, roasted meat, meats and their assembly of flies; you could buy shoes, watches, perfumes, okpa, newspapers, akara, and those books that announce on their covers their New York Times bestsellers' status. Once in a while you would see one hungry-looking man offering you bottles with a mix of herbs; you would need that to satisfy your woman in bed. There would be one for you if you want your thing to be bigger.
You could get just about anything if you can just roll down the glass.
It is also a risk. You could lose your car if you roll down, or your phone, or your wallet. If you prove to be too stubborn, if you are looking too smug with a gun or a knife in your face, you could lose your life.
Genko decided to settle down in the serene city of Akure. Three years in Denmark had not changed his love for his place of birth. He loved the hills and the lush green bushes; he loved the view like something new.
His gallery was in Alagbaka GRA, a few minutes' walk to the state government house, a few minutes' walk from the shopping mall that was just behind the state secretariat; that area of the city that seemed a bit like Copenhagen.
It was as if he was living in his gallery. Neighbours hated his reclusive lifestyle; they talked about his afro that stayed on his head like a wig; they talk about his white pit bull that would be in the backseat of his car. The pitta delivery man and the Chicken Republic delivery girl would talk about his absent-minded conversations with them when they bring his orders to him. He would fix his eyes on the canvas and tell them where to put the food pack.
Neighbours knew most of the things they knew from gossips; they hated the mystery. The weirdness was uncommon.
He got commissions to paint from all over the world; he was always busy. He got an interview on Art Monthly after they had reviewed three of his paintings; he described himself as the twenty-first-century John the Baptist.
"That man was in the wilderness," said Genko in the interview. "He was just doing his thing and the crowds came for him. He didn't have a twitter account or a multimillion dollar media campaign. That is what excellence can do."
His house was on the hill near the federal government's forest reserve. He had a large bedroom with his king-sized bed in the middle.
One day after a phone call birthed the possibility of hosting someone special he entered his room and saw a heap of clothes on his bed. He had not even slept in this room for about a month, even the rug could be sold for new. There was no space in the closet. He had new-looking clothes that could fill three small-town boutiques; and he was not even a pop star.
He folded his arms and paced around leisurely, thinking of a future of love and colours; then he had this idea:
He would fold every one of them – the outfits. He would put the short-sleeved shirts in a corner and call it the S corner; he would fold all the long-sleeved shirts in a corner and call it the L corner; he thought the trousers should be in the T corner.
He had thought he had more short-sleeved shirts. He realised he had more long-sleeved ones.
He was undecided on the fourth corner- on what should be there- he did not want to leave it empty; so he decided to divide T into T1 and T2. He wanted to separate trousers from trousers. He had about two dozen jeans, mostly blue and black; he had trousers of other materials which were carton colour, light brown, grey and its many shades. T1, T2. Genko wanted the jeans in a corner; he wanted other materials in another corner.
When he had brought his idea to life – when the space had been transformed from the disorder – he was impressed by the art; he was sure Tracey would love the concept if she would prefer the house to the gallery.
Good art. That was the way he wanted the four corners of his room to be.
Photo Credit: Vadymvdrobot | Dreamstime.com