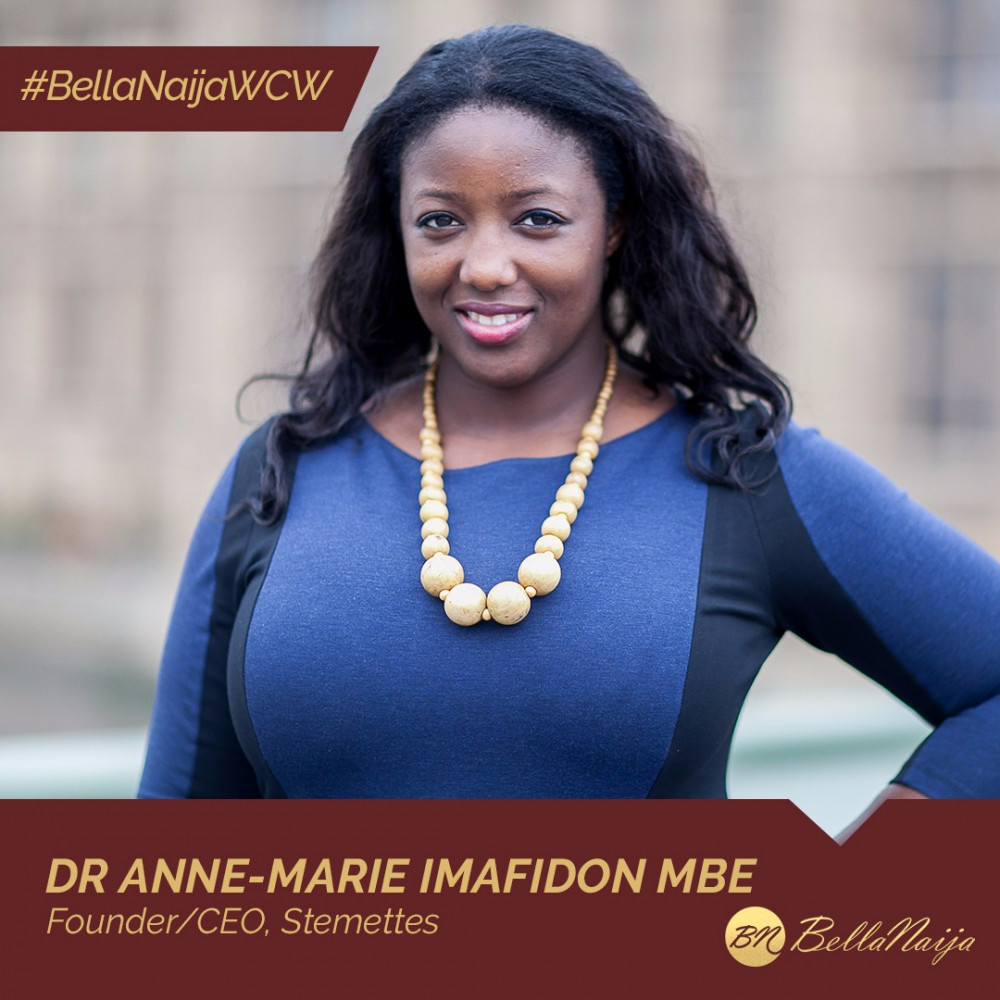 This week, we are celebrating Nigerians in diaspora in our #BellaNaijaMCM and #BellaNaijaWCW features, and today, we are shining the spotlight on Dr. Anne-Marie Osawemwemze Imafidon MBE.
Anne-Marie is the founder of Stemettes, a social enterprise which inspires the next generation of women into pursuing careers in
science, technology, engineering, and mathematics with an objective to break barriers women who pursue a career in the field.
Stemettes, which grants awards to young women, have programs workshops and events designed to introduce young women to STEM careers, concepts, and role models, have 40,000 girls realize their STEM potential through hundreds of events across Europe.
Anne-Marie, 28, holds the record of being the youngest girl to ever pass two GCSE examinations — for Mathematics and Information Technology – aged 10 and A-level computing at the age of 11 in Britain.
Due to her high exceptional brilliance, she received a British Scholarship to study Mathematics at John Hopkins University at the
age of 13 in 2003. Two years later, she commenced a degree at Oxford University after which she enrolled for her Masters degree, setting another record of the youngest Masters degree holder from the university.
Imafidon speaks six languages and has worked with Goldman Sachs, Hewlett-Packard, Deutsche Bank, and Lehman
Brothers.
She founded Stemettes in 2013, and in 2015, she co-founded Outbox incubator: the world's first tech incubator for teenage girls.
With £30,000 worth of funding behind it, Outbox saw the launch of 29 ideas. Anne-Marie is in the process of securing partners to relaunch the program in 2018.
Anne-Marie founded Stemettes after listening to Nora Denzel's keynote address at the Grace Hopper Celebration of Women in Computing in 2012. It made her reflect on the lack on women in STEM, and she decided to combat this.
The organisation wants to "inspire the next generation of females into STEM fields by showing them the amazing women already in STEM via a series of panel events, hackathons, exhibitions, and mentoring schemes."
In May 2017, she was decorated with the prestigious honour of Member of the Order of the British Empire (MBE) for her services to young women with specialty in Sciences, Technology, Engineering and Mathematics (STEM).
Imafidon's rather unique achievements at a young age has stood her out as a person to watch out for by the British press; she was named on Evening Standard's list of '25 under 25s' and a Guardian 'Top 10 women in tech you need to know' as well as being the UK IT Industry & British Computer Society's Young IT Professional of the Year in 2013.
Anne-Marie is listed as one of the BBC's 100 inspirational and innovative women and is a Marie Claire Future Shaper. She was also named in Forbes' 30 Under 30 list of 2017.