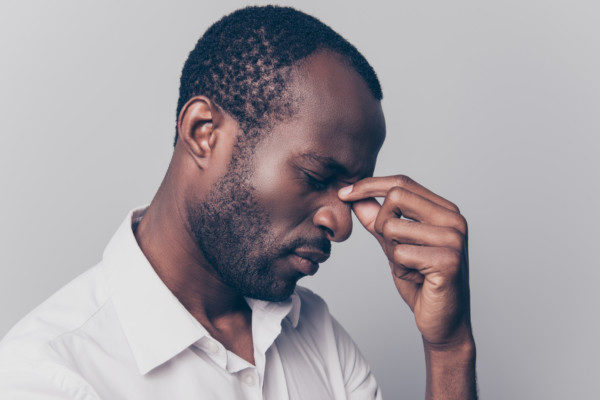 I was recently introduced to a man in his 60s to help him conduct research on his disease condition and build a community for him. The man, Mr. Segun Arowolo, is a 63-year-old Nigerian man who has been living with a rare neurological disease called benign essential blepharospasm (BEB) for more than ten years.
Blepharospasm is derived from the Greek word "blepharo" which means "eyelid" and "spasm" which means "an uncontrolled muscle contraction." When put together, BEB can be defined as the involuntary twitching of the eyelids. These spasms come and go, intermittent. Symptoms may begin as eye twitching, blinking, and there may be eye irritation. Eventually, BEB causes involuntary closure of the eyes. The exact cause of BEB is unknown. Benign essential blepharospasm affects women more often than men. The average age of onset is 56. While there are no data for its prevalence (how common it is) in Nigeria, it affects 5 in 100,000 persons in the US with an estimate of 2,000 newly diagnosed cases (incidence rates). By this property, it is defined as a rare disease meaning that it does not occur in large numbers. The cause of the disease has been speculated to be due to genetic, environmental, or medications.
I have experience working with rare diseases, as I have been working with patients with lupus since 2014. And if there is one thing I have learned from my work with patients with rare diseases, it is that they need a good source of social support. As with lupus, BEB is easily misunderstood especially due to its physical manifestations. Due to the prolonged spasms, especially in Mr. Arowolo's case as he has had it for years, he has to cope with ptosis (drooping of the eyelids) which makes his eyes look like they are permanently closed. To cope with this, Mr. Arowolo has had to use one of his hands to pry his eyes open while he engages in his activities of daily living. He has also had to withstand probing questions from people asking him every time what is wrong with his eyes while others make assumptions that he is not taking care of his health. The spasm also affected the phenotypic presentation of his face, so he looks older than he really is.
Unlike most rare diseases, Mr. Arowolo was able to arrive at a diagnosis early. Though he has been to several teaching hospitals and medical centers in Nigeria, he affirms that the ECWA eye center in Kano has had the most impact on his treatment and symptoms. The treatment of BEB has proven generally short lasting and largely ineffective. The most commonly used medication is botulinum toxin (Botox) which is used to induce paralysis to reduce the spasms. Mr. Arowolo has been on Botox injection for quite a while but without any significant improvement in the disease. There is also the problem of access as the drug is not available in Nigeria and so has to be sourced from India. The cost for a yearly dose (six doses) runs him a hefty cost of ₦480,000 (~$1,400) every year. Drug discovery and development for BEB is still lagging behind as the therapies being used currently are the ones that have been used for many decades. Surgery is also an option to remove the muscles responsible for eyelid closure, but this is based on strict inclusion criteria, and its effectiveness has not been proven. Supportive therapy, in the way of custom-fitted lid crutches to the eyeglasses, can help in propping the eyelids open. Currently, there is nowhere in Nigeria where this can be done, so that restricts the access to this cheap option. It is even the more puzzling as this mechanism (which costs less than $200, yeah, I made the inquiries) can significantly improve the quality of life in patients living with BEB.
The burden of living with BEB can also be economical, humanistic, and clinical. The financial cost of managing the disease is astronomical; according to his estimate, he has spent more than 7 million Naira until date. Once he was diagnosed ten years ago, and until now, he has had to make huge changes to his daily activities. He no longer can drive very long distances, and having BEB makes it difficult for him to read, watch TV, walk around. The poor health care infrastructure we have in Nigeria, coupled with BEB being a rare disease, means that Mr. Arowolo is not getting the quality care he deserves.
Pending when we fix these huge issues in our system, we can begin with the simplest solution, per Occam's razor. What Mr. Arowolo needs now is a community of other patients like him. Despite still being saddled with this disease, he says he does not want others to silently suffer as he did and he would love to champion that cause of building a community. He is willing to put himself and his story out there, so others like him do not have to feel like they are alone.
As with my experience with lupus patients (which also does not have a cure currently), patients with rare diseases like BEB do need that connection to exchange self-management tips, concerns, needs, and experiences. It is why I am this story is shared on such a platform as BellaNajia; building a community of those living with BEB can also help reduce the isolation. Mr. Arowolo's doctor told him he is the second patient he has seen in Nigeria living with BEB. Mr. Arowolo, however, believes there could be others with the condition that might not have had a diagnosis so easy. If you know of anyone with a similar presentation and would like to connect, please send those recommendations to me, and I will gladly pass them to Mr. Arowolo. The overarching goal is to equip others like Mr. Arowolo to be more self-efficacious so as to rise above this disease. While this is about BEB, we can make the same argument for patients with other rare diseases. Rather than make assumptions about patients with rare diseases, let us be more compassionate towards them by asking meaningful questions.
PS: I asked Mr. Arowolo to shoot a video to show his activities of daily living with blepharospasm. That video can be viewed here:

Additional Reading
Understanding the disease burden and unmet needs among patients with cutaneous lupus erythematosus: A qualitative study Ogunsanya ME, Brown CM, Lin D, Imarhia F, Maxey C, Chong BF. Understanding the disease burden and unmet needs among patients with cutaneous lupus erythematosus: A qualitative study. International Journal of Women's Dermatology.
**
Editor's note:
After we published this article on July 25, 2018 we reached out to find out how we could help Mr. Arowolo. Mo' informed us that "he is a man of modest means and a private one at that. He would need help with ensuring his continuity of care and in his quest to find the treatment for his condition, given how costly these can be."
We received a lot of questions asking how to be of help and where donations could be sent to for Mr. Arowolo.
Please see his details below, if needed:
Name: Arowolo, Jimo Segun
Bank: First Bank
Acc. No: 3016276100
Please do not hesitate to reach out to Mo' directly if you have further questions on her work with people living with benign essential blepharospasm.
Photo Credit: Dreamstime