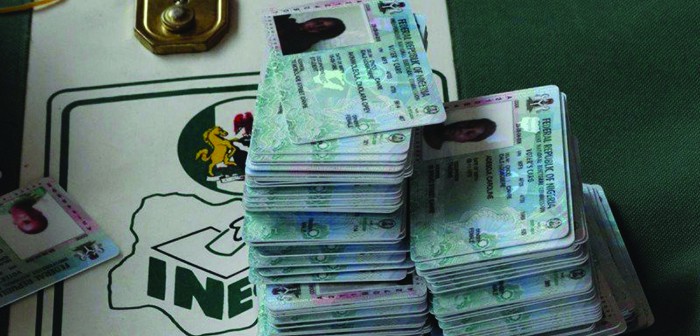 The Continuous Voter Registration (CVR) exercise by the Independent National Electoral Commission (INEC) is ongoing and will end 9 days from today (August 17th 2018) by 5pm.
An important thing you need to note is that if you have previously registered to get your Permanent Voter's Card (PVC), that registration may still be valid and you don't have to register again.
How do you know if your registration is valid? Head over to voters.inecnigeria.org and fill your name and date of birth in the spaces provided. Your details will come up if your registration is still valid, and if not, you'll be informed.
Please note: If your status is VALID, you should pick up your PVC at your Local Government Secretariat before December 18th, 2018.
**
Secondly, if you have your PVC but have moved locations, you can transfer your existing registration to your new location. Also, check you registration status too on voters.inecnigeria.org.
What do you need to do? First of all, go to he nearest registration centre to you (All local government secretariats are registration centres).
Apply to INEC's Resident Electoral Commissioner of the state where you are currently residing through your Electoral Officer (EO). You'll also be given a form to fill at the centre.
Attach a photocopy of your Permanent Voter's Card (PVC) to the application and submit at the centre closest to you
If satisfied that the you are currently resident in the area, the Resident Electoral Commissioner shall approve the application and direct that your details be transferred to your new location.
You'll pick up your new PVC at the centre you made the application for transfer.
Note: You must apply well before 60 days to the election. INEC may require evidence such as Utility Bill for confirmation of your residency.
**
Thirdly, if you've lost your PVC, you need to first, check your registration status on voters.inecnigeria.org. If your registration is still valid, then:
Visit the registration centre located closer to where you will like to vote.
You will need to attach an affidavit or police report to the form.
You'll be given a form to fill and also given a Temporary Voter's Card (TVC) upon completion of registration.
You'll be notified when the PVC is ready.
Note: You must apply 30 days before the election.
If it's not valid, then you have to register again.
Find more information on the above on inecnigeria.org or HERE & HERE
**
Finally, if you haven't registered at all, do this:
Take just one day off work and arrive at your centre by 5:30 AM.
Maybe you're looking at it like that's too early. But it really isn't. You can go to the one nearest to your house. Wake up 5 AM and take a quick shower. No need to make-up or anything, just throw that shirt and shorts on.
If you can't take time off work, that's perfectly fine; starting August 1, you can register on weekends!
Have a valid ID card with you and that's really all.
Also important is that you do not sell your votes. It's too important a thing to sell. It's priceless! It's literally your future.