Awala-Ale Mofe: I Drank Apple Cider Vinegar Everyday For 30 Days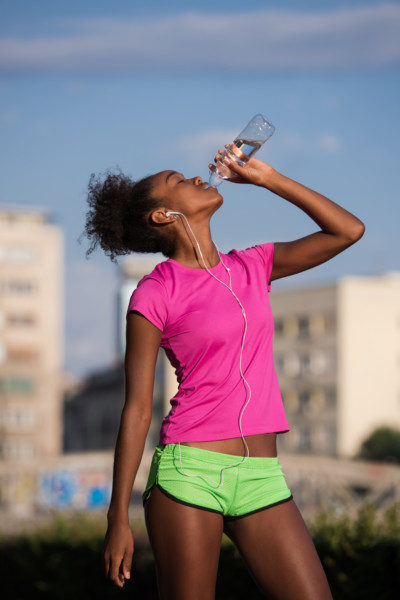 Every few months, a new health trend arises and is peddled as a solution to all your problems. These trends include consumption of moringa, aloe vera, lemon detox, and Apple Cider Vinegar (ACV) – the subject today.
For the last few years, the wonders of apple cider vinegar have been talked about everywhere (TV shows, blogs, and YouTube channels). Articles written on ACV support the claim that it can reduce food cravings, aid weight loss, reduce stomach bloating, reduce heartburn occurrences, regulate bowel movements, regulate blood sugar and improve digestion. Apple cider vinegar has been called everything but the solution to life's problems.
I am sure that the ACV makers stock prices blew up because of this hype. After reading the benefits of ACV, I decided to try drinking 1-2 tablespoons of apple cider vinegar every day for one month to see what the outcome would be. I did some research to ensure that I knew what to expect.
I bought a bottle of apple cider vinegar and started the challenge. I did experience some benefits but at the same time, there were some disadvantages as well.
Pros of drinking apple cider vinegar for a month
1. Better digestion: For the period I drank ACV, I had better bowel movements (I know it is TMI, Sorry!)
2. Less bloating: I was also less bloated while drinking ACV everyday. I think this had to do with the better digestion and eating a better diet.
3. Weight loss: I checked my weight before and after I started the ACV challenge and I lost two pounds after one month of drinking ACV. However, I was eating a healthier diet at that time as well. For this reason I cannot conclusively attribute the weight loss to drinking ACV.
4. Radiant skin: After drinking apple cider vinegar daily for 3 weeks, someone told me I was looking radiant. I had not changed my skincare routine, so I guess the apple cider vinegar helped.
Cons of drinking apple cider vinegar for 1 month
1. Heartburn: I noticed that after I started the ACV challenge, I began to experience heartburn more often than usual. I found it strange because some people who tried it said improved their gas and relieved their heartburn.
2. Delayed period: With all the research I did before beginning the ACV challenge, I did not find any information on this issue. Three weeks after I started drinking ACV, I noted that Aunt Flo was missing. I checked the internet for more information and saw women comment on some online forums that drinking ACV delayed their period. I checked for scientific proof that this was the case but I could not find any. Aunt Flo came a week after I stopped the ACV challenge.
Was I happy with the results of drinking apple cider vinegar every day for one month? Yes, but I  feel that the benefits of ACV have been exaggerated. Is it a good supplement? Yes, but it is not a miracle drug for effortless weight loss, self-control or better skin.
Will I continue to drink ACV daily? NO. I might drink ACV routinely but will not include this among my daily supplements. Some people have had better outcomes so you may have better results drinking ACV for 30 days.
Below are some tips for doing the ACV Challenge
– Stick to 1-2 tablespoons a day. Ingesting more than that in one day could have more side effects than desired.
– Dilute the apple cider vinegar before drinking it. Throwing down apple cider vinegar like a shot of vodka could cause a throat burn.
– Use a straw. After diluting your ACV, drink it with a straw to prevent the erosion of the enamel of your teeth. To reduce the risk of damaging your teeth, rinse your mouth after drinking ACV.
– Read about the benefits and risks of drinking ACV daily before doing it.
In conclusion, AVC has many benefits, but it is not a miracle health or weight loss supplement.