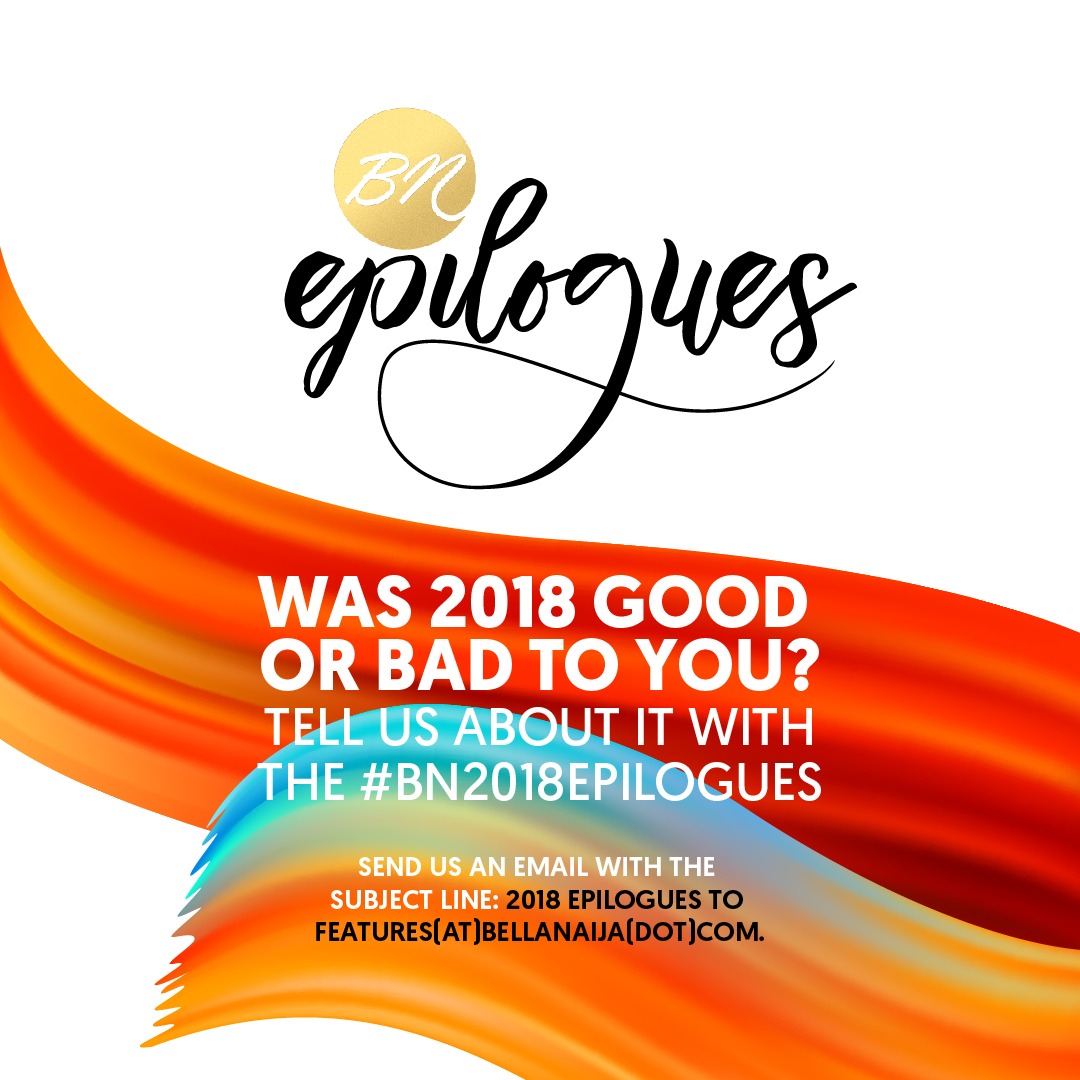 Remember when we asked you to send in essays discussing how 2018 was for you? Because, you know, writing can be the best therapy. And sharing your joy and pain and all the emotions you've felt through the year can only be a good thing.
****
Last year was the year that I officially became an orphan with a capital 'O'. That was my greatest fear in life after my mum left suddenly about three years ago. My dad was my world. I wrote an article to that effect which was published on BellaNaija
Thankfully this year, I have so many things to be grateful for. I am happy I can finally share how my year went.
2018 took me by surprise. It is the strangest year I have ever seen. Strange because I never saw/imagined all the positive things that happened to me.
2018 was the year when I broke new grounds, faced my fears, lived without the expected family support (moral and financial) and I am still standing tall.
2018 was the year that I realised that sometimes you don't need family, you only need God to bring the right people into your life who would stay strong than family. When you find those people(they could be friends or colleagues) those are your real family. Never let them down. Because, most times, I think family is overrated.
I am that girl who hasn't made a friend in the last five years. I am that girl who lost both parents in quick succession at the point I needed them most. So, I simply thought life was over.
However, I had written and published a book (A Gift of Dreams) which was released around November last year. Despite all the excitement I anticipated, it was all washed down by grief. The book was eventually sold out in 2018. Now, I have plans to reprint while also working on my second book.
January 2018, just 12 days into the new year, I had a bike accident one early morning on my way to work. The bike dragged me on the main road but thankfully no vehicle was coming from behind to have crushed me.
I was home for one week. The same people who commiserated with me after the demise of my dad were the same people calling to say sorry to me. I felt sad all over again. I was tired of hearing sorry.
When I finally resumed work, I had to look for the longest dresses in my wardrobe to conceal the wound. I got an anti-tetanus injection and some drugs. The wound was cleaned everyday for almost two weeks.
Few weeks after that incident, towards the end of January, I got moved from my office department in Asokoro to Garki. I never saw it coming. Till today, everyone believed that I lobbied for it. But, it just happened without me lifting a finger. It took me by surprise too.
I started working with the most amazing set of people. I got busy. The work was much. I forgot my grief which consumed me everyday in Asokoro. Unconsciously, I started looking better and eating better.
Around April, I travelled to Ibadan for my book campaign. I was to have a book reading session on radio and at the Theatre Arts Department, University of Ibadan but the school was on strike.
So I went to Lead Fm, Ibadan where I read my book on air. The book eventually sold out in its entirety before I could have a chance to go back for the book reading which was rescheduled.
God used people I did not imagine to stand up for me and help me. Where I was supposed to face disappointment, God gave me something better. When it clocked one year that my father died, I looked back to how far I had come and I began to shed tears in the middle of the night. Because never in the fullest blaze of history did I imagine that anything good would still come out of my life. Who would support me?
Around July, I got back from church on Sunday and saw a mail sitting pretty in my box. It was from a woman I had admired for so long. The publisher of an online women magazine.
"We currently have the post of a content editor to be filled up. Please send me your number so we can discuss further"
That was another big surprise. I was excited not because of the offer but just because I had admired her for so long. I had read all her personal posts and I was wowed by her strength and courage.
She called me the next day while I was in court. Her voice was so soft and she picked her words carefully. I imagined her to be really fragile and pretty.
We struck the deal. She gave me chances upon chances to improve. She took me through the nitty gritty of the editorial work. I got busy. I never had to remind her to pay me. She not only paid very well but she paid on time too. I learnt a whole lot while working with her briefly. If given the opportunity again, of course, I would jump at it. I read a whole lot of interesting articles before it got published. I cherished that job so much.
In September, I was at Nicon Luxury Hotel, Abuja for a summit where I met the amazing Dr Ezinne Meribe, the host of Zinnyslifestyle on Facebook. Of course, the online women's site where I worked as content editor gave me the opportunity of knowing her.
I met the amazing owner of an Abuja based NGO, Women of Purpose Development Foundation, who invited me to speak at her event in December. That was my first speaking engagement. There were a lot of positive feedback from my personal story after that event.
Over the years, I never really consciously thought of getting married. I never gave it a significant place in my head. Because I was still finding 'me'. Maybe that's why it hasn't yet happened.
But few weeks ago, I had a conversation with my heart, I discovered that I have now become or 'becoming' everything I ever imagined.
I have discovered myself more. I have a picture of what and where I want to be in the next few years. Since my path, vision, directions are now so clear and I've had ample chances to build myself and become a better me, character wise and professionally, I guess I am now finally ready.
I guess I can now imagine myself more as somebody's helpmeet. I feel so much better with myself than in previous years. I am finally at that stage in my life when I know what to let go and what to count. I am happy at how much I have grown this year.
Just when I took back my power from those trying to ride roughshod over me, those who put me in an emotional jail and those whom we were bound by family or sucked the same breast, I finally realised that life is about living on God's terms, trying your best then laying back to see what God would do. Don't ever put yourself in the place of God.
****
Read up on previous editions of BN 2018 Epilogues here and send in your essays to features(at)bellanaija(dot)com. Let us know all the twists and turns and successes 2018 came with. Send your mail with the title "2018 Epilogues."