Ishioma Onyebo is now the lone Nigerian in the Nokia Face of Africa 2006 competition since Aisha Danjuma was eliminated after the last round. Here are some of her recent pictures …….hmmmmm…….My mum says "if you don't have anything nice to say, don't say anything" so…….my lips are sealed! I'm not hating though…..I have to support our naija sista so …I hope she wins…….

ISHIOMA ONYEBO (NIGERIA)
Here are some pics of the other top 10 finalists…..

KEA BASIMA (BOTSWANA)
SANDRA BIRIRIMANA (BURUNDI)

MIRASH DAVIS (GHANA)
CATHERINE HEMANS YANKEY (GHANA/LIBERIA)

ANDENYI ANJALO (KENYA)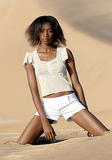 VENANTIA OTTO (NAMIBIA)
MELODY ZULU (SA)
MUNIRA NAMAKULA (UGANDA)
MULENGA MUBANGA (ZAMBIA)
For the Face of Africa Website click HERE
The 2006 Nokia Face of Africa will be announced at a glittering Finale, live on M-Net from Sun City on 13 August. The winner of the 2006 competition will receive a 3 year, US$150,000 modelling contract from Elite Model Management New York. All the best to all the girls!!!
Who is ur fav? Do u think Ishioma will win? Is the competition a good idea? Thoughts…..