Yay! The Fashion Week is over! A big kiss and thank u for all those who dropped by and left comments. I hope you enjoyed what Nigeria had to offer….I tried to feature a range of Nigerian designers with diverse style philosphies. You may have luved it or you may have been bored…..one thing is for sure, you were able to see that the Nigerian Fashion Industry is growing and becoming an influential creative force du jour.
BELLA NAIJA – NIGERIA FASHION WEEK – DEOLA SAGOE

THE DESIGNER – DEOLA SAGOE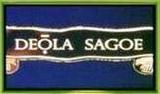 With no formal fashion training, Deola Sagoe has been able to establish herself as Nigeria's most internationally renowned designer. Daughter of Chief Michael Ade-Ojo, Chairman Toyota and Elizade Group Nigeria, she is married to Toyota Nigeria MD, Ayodele Kofi Sagoe (I'm guessing she drives a Toyoya…LOL..I don't know why I am feeling funny today)…Deola apprenticed at her mother's tailoring studio while studying for her Masters degree in Finance at the University of Lagos, Nigeria. Ever since then she has consistently dazzled us with her designs.
Deola has shown collections at the New York Fashion Week, Rome Haute Fashion Week and the Nokia Cape Town Fashion Week. She was the chosen designer for the CatWALK The World – Fashion For Food kickoff event in Lagos and also one of the principal designers for this year's Face of Africa competition.
With a knack for combining unusual fabrics with unique embellishments, Deola delivers showstopping clothing and designs.
Deola Sagoe has definitely solidified her place as an African Fashion Icon.
FUN FACT
The person hugging Deola on the runway (in the last photo) is Nigerian actress/musician, Omotola Jalade. Perhaps she is Deola Sagoe' muse?
On a side note, I can see Health PR, Managing Director – Matthew Mensah in the front row…He conceived the CatWALK The World – Fashion For Food concept which was picked-up by the UN and is now being duplicated all around the World!
I really admire Deola and absolutely love how she combines fabrics and colours…..Whenever I read articles about her the words 'humble' and 'unassuming' are always used to describe her…..that really inspires me because despite all her success she still remains grounded….
What do u guys think of Deola's designs?
*come back later today/tomorrow for our weekly friday entertainment update 🙂