SIKA is a Ghanian clothing brand based in the UK. Designer Phyllis Taylor is the brains behind SIKA and she has been making great strides in the fashion industry by fusing traditional Ghanian fabrics such as tie and dye, batiks and wax prints with contemporary styles.
Her clothes were featured at the CatWalk for World – Fashion For Food event in Ghana and the crowd loved it!
Check out some of the designs!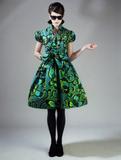 What do u think?
Fiyah or blah?
Are u sick and tired of ankara or do u feel that its still hot?
How are these compared to Nigerian designs?
Let us know!
To order or find out more about Sika Designs – Visit their website – http://www.sikadesigns.co.uk