Wewe, pronounced (weh-weh) means "little ones" in Yoruba. Wewe Clothing was born of our deep love for kids and the inspiration they provide.
Wewe's founder and chief designer, Folake Kuye Huntoon has been a designer and stylist to celebrities, editorial/fashion magazines, and commercials for years, is a Nigerian based in Beverly Hills, California.
Bella Naija interviews Folake and she takes us through the WeWe story…
Tell me about Folake.
My name is Folake Kuye. I was born in Bronx, New York. I grew up in Nigeria and relocated to the States when I was 15. I've been here ever since with frequent visits to Nigeria.
I decided to make Beverly Hills my home 5 years ago when I moved out from DC. I moved out not only to further my career, but because of the great weather, and it was the closest thing to home – specifically Victoria Island/Ikoyi where I grew up.
Background of past work as a designer and stylist?
When I was in Nigeria, I briefly attended a design school in Yaba, Lagos. I can't recollect the name, but my father enrolled me and I studied there for a little over 3 months. That was where I picked up everything from cutting fabrics, using a sewing machine and creating a pattern.
I started designing right after college in '99. I'd collect fabrics from friends, old clothes, denim etc. and piece them together to create a whole new outfit.
That was when the "buzz" started. I had my first fashion show at the University I graduated from University of Maryland, College Park, Maryland.
When I moved out to California, I started designing T-shirts inspired by my Nigerian culture, pictures, artifacts, and slogans. Did that for a few months – then started working as a wardrobe/celebrity fashion stylist. I also obtained a styling certificate from Fred Segal Beauty in Santa Monica, California.
Tell us about your work as a stylist.
Most of my work was for Japanese Production Companies. It was my preference. I'd always admired Japanese fashion…very daring and eclectic. Not to mention that they pay well!
I worked on commercials like Mitsubishi, Mazda, Honda, and Toyota, and in editorials like.."W", "Sweet", "Lemonade", "W+E", Urban Outfitters, Moi, to mention a few. I also worked on some music videos, styled individual celebs for events etc., En Vogue, Britney, Christina, and Charlize Theron.
Fav. celeb to work with – I don't have any. I don't freak out when I meet one, because I see them on a daily basis and I'm there to work, not as a fan. In the same sentence, they have all been very nice and cordial. Britney Spears is actually very sweet and beautiful in person.
Tell me the story of WeWe…
What motivated you to start the label/inspiration? What role did Nigeria/Yoruba culture play.
Any struggling artist or designer will know that it's hard work and sometimes, you have to work other jobs to make ends meet. WeWe came about after I had my second child, whom I stayed home with for 5 months. After 5 months, I went to work in Corporate America as a private investigator – I know, I know, living 2 separate lives. Anyway, I went back and things weren't the same. I could not focus. All I could think of was working for myself as a designer. One day as I sat in my office, something beyond me happened – I started sketching. I dialed my husband, Greg Huntoon, and said, "Babe, I think I want to get back into designing, but this time for kids." All I needed to hear was "OK." (Which is what he says to everything..by the way) And that was how WeWe started. It started March of 2008 and launched May 5th of 2008. I was so inspired by my daughter. Just thinking up designs of little dresses, tops, skirts, etc. gave me a rush. It was a MINI me that I get to play dress up with. Ha! Everyone knew me as the 'stylish, unconventional Folake' and there were already talks about me always styling up my kids, so why not?
It was only second nature for me to be inspired by my Yoruba culture. Not only is Africa not represented enough in the fashion scene, Yoruba culture itself didn't seem to stand a chance. So, I wanted to teach people about this beautiful culture by bringing awareness to the clothes, the food, the language, the music, the general background, the life. I wanted my kids to understand it, embrace it, and be able to teach it too. I love everything about the Yoruba land. I used to love visiting Ibadan as a kid; both my parents are from Ibadan. I loved eating at the 'little hole in the wall restaurants' surrounded by flies. So, I figured what better way to introduce my line, than to go back to my roots – where it all stemmed from? Besides, my house was filled with Yoruba books, tapes, movies because my husband was/is learning about the culture and I was teaching my husband Yoruba at the time, so it all worked out perfect. It became a theme.
Why did you decide to enter the Children's clothing market?
Again, the children market was an inspiration drawn from my kids. What I envision them wearing to school, to the park, on play dates, to parties, for fun. I wanted them to be different – because they are. Yes, we live in Beverly Hills, but when people see them, I wanted them to know that they were cultured.
How did you come up with the name?
About the name WeWe – The same day I called my husband, I called my brother, Lanre. He is always supportive of everything I do, and being an entrepreneur himself, he said, go for it. So, we started to brainstorm names. I was going to name the line 'omode – kids', but my brother came up with 'WeWe' – "the little ones" and I loved everything about it. It was very raw!
What groundwork did you do before you decided to take the plunge? How long did it take to get everything set up?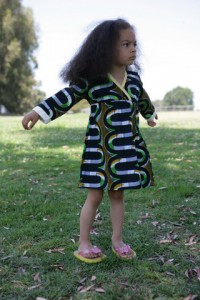 Setting everything up – Bella, I just dove right into it. I'm known to do stuff without researching or doing my homework. That's how I learn. I don't like to prepare myself. There's no 'rush' in doing it that way. I just went for it. I sourced & purchased fabrics before knowing who I was going to source my production work to, my patterns, my grading & marking, etc. There are so many steps you have to go through in the United States if you are getting in this business. It's not like Nigeria where in some cases, you don't have to create a pattern, you don't even have to grade or mark. You have your clients walk in, get measured and you start working on their piece. It doesn't work that way here – at least, not for me. I sketch, I create a sample of the sketch, then take it to the pattern maker, create another sample, make sure I get the sizes right (the hardest part), and take it to the grading & marking folks. From there, take it to the cutter, and finally to the person that puts all the pieces together. That is when you know you are in PRODUCTION. (Some folks will probably hate me for giving out all this info, but I wish someone had shared all these steps with me).
Liya Kebede's children's line LemLem was launched some months ago. I'm sure you have heard some comparisons. What do you feel about this comparison/did she provide any inspiration?
Actually, I haven't heard of any comparisons. Truthfully. And I haven't seen her line. I would love to. I heard that she was coming out with a clothing line a while back, but I didn't know that it was for kids or what it was about. Liya Kebede is a beautiful woman. Very talented, in touch with her culture and always giving back. She is also all about her family, so if I'm being compared to her, that's a nice compliment.
Take me through the design and production process? Do you design yourself or have a team of designers? Where do you source the fabrics?
I don't have a design team. I sketch all my own designs, and source out all my fabrics. WeWe Clothing is my vision.
I purchase all my fabrics in downtown, Los Angeles. I do all my production work from start to finish in downtown, Los Angeles.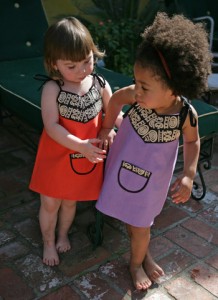 The line strikes me as a 'green'/ 'fairtrade' / 'ethical' line. Tell about the specific actions you have taken regarding this (sourcing decisions, choice of labour etc…)
It's only fair to contribute to the green movement. To try to be organic. It makes perfect sense. I grew up sort of organic in Nigeria. My grand-father had a farm that grew vegetables, fruit etc. We hand-washed our clothes, didn't use microwave to warm our food, walked to a lot of places, didn't eat processed food…you know subconsciously, we were organic. But as time goes on, we rely more and more on what's convenient, but slowly killing the planet. We get lazy by the day and rely on other people or things to do what we used to do and had no problem with. It is important not to forget our upbringing and I try to teach that to my kids and people around me. As far as WeWe Clothing, I take time out to source organic fabrics – I don't care if it takes longer to get them or if they are more expensive. I recycle/re-use our fabrics. We are almost a paperless company. We do not print, unless we really have to (rarely), and if we do, we use recycled paper. I encourage our staff to bike, ride their skate-boards or walk and I compensate them for it. We are constantly looking for ways to reduce our carbon footprint. I recommend old fashioned hand washing for our products. All our products are manufactured and packaged within a 15 mile radius. It is also important to me to make sure that everyone in the process of making these clothes gets paid equally. That's why the pieces are priced the way they are. Being organic is not cheap and being 'fairtrade' is especially expensive, but I will rather that than be one of these big name brands manufacturing children's clothing, yet sourcing it out to third world countries where it is being made by children who are barely of age – for cheap labor. Does that make sense? I can't even approach my production manager with odd/cheap prices – she'll curse me out. Lol. She has no problem charging me what she feels she deserves and I can respect that.
You have recently expanded to the Adult market with a Men's & Women's line with limited pieces – Tunics, Maxi Dresses etc… was this the original plan and what can we expect next?
It definitely wasn't the original plan, but then again, none of this was really planned. Frankly, I started receiving tons of requests about an adult line, so I went for it. Again, no homework, no thinking it through – I called up my sister one day, asked what she thought about it, and she said.."Yes, go for it. I'd wear it." I know what works for me, and so I just go for it without sleeping on it. That way, I don't second guess myself.
I know its early days but what has been the response from the market so far? How and where can we buy WeWe?
You know, I can sit here and tell you that it has been rosy, and it's all good, but I'd be lying to myself and lying to my fans. I have to keep it real – It has been a bitter-sweet journey. I realized that I can't make everyone happy. I have to stick to my vision and my gut. That said, I have been content with the response in the U.S. thus far. They embrace the uniqueness of my line. It hasn't been done much like this before. "It is well thought out and very different from the norm." I love hearing that. I couldn't be happier. Especially in Los Angeles, they love, love the tunics and dresses. Fits right into the ethnic, gypsy, boho, surfer look. Celebrity kids like the Jolie Pitts, Harlow Richie-Madden, Jlo's twins, Halle Berry's Nahla, Tori Spelling's Liam, Christina Aguilera's Max, Jenna Elfman's Story to Salma Hayek's Valentina (to mention a few) all have a piece of WeWe Clothing or more. I owe it all to God! I still don't know how I made it all happen in such short time, but who am I to question God's blessings? I also have to thank people like you, Bella, Ladybrille, and the rest of the bloggers that have and continue to blog about WeWe Clothing. Whether you are being critical or being supportive, I embrace you all and appreciate the fact that you even thought/talked about WeWe. I can only hope that this Ibadan girl is making Nigeria proud.
Is it only available in the US?
We can ship to Nigeria. As long as I know I can rely on DHL to deliver 🙂
Any previous missteps and successes that you have learnt from?
Yup. Like I told my husband. I have been here before. The difference is that I learnt from my mistakes and I am now hoping that I do it right this time. If for some reason I didn't get it right, I will go back, regroup and try again until I perfect myself. This is a labor of love for me. I like to think that I'm good at what I do and I love the adrenalin rush I get from it. Nothing can stop me.
Any advice for the numerous budding designers?
Don't give up. Believe in your talent. When you believe, people can see it, and they believe too. That's the power of energy! Know when to accept 'No' for an answer, be persistent, be aggressive, follow up, ask 'why'  Hey, may be you should try diving into it too – just go for it!
Bella, I thank you for giving me this opportunity. I am humbled by your support. Continue to do what you do – keep up the good work. I look forward to the day you rock WeWe Clothing 🙂
WeWe Children
WeWe Adults