Hey! And welcome to BN Style Spotlight; a periodical feature on the Bella Naija Style page providing detailed fashion analysis of the personal style of a budding fashion star.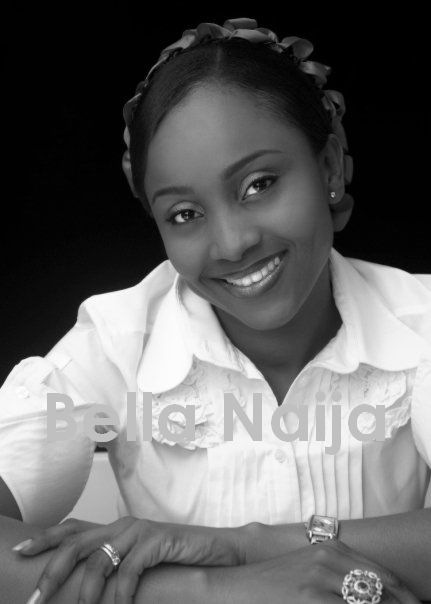 For our premiere feature, we chose Ifeoma Williams. This fashion savvy Style Editor of Genevieve magazine, stylist to Mo' Abudu of Moments with Mo  and Principal Consultant of Fruition is soon becoming an icon to reckon with.
Although, having admitted to being a huge trend follower back in the days, Ifeoma' s style has transcended seasonal trends and caters only to what looks good on her body, a motto she advises all women to style by.
Being an image consultant, she acknowledges the role having a positive image portrayal can play in all spheres of life 'Image is everything' she says, and she keeps hers going strong with the right combination of clothes and a good dose of regular Pilates!
This former Miss LUX and mother of two, is daring in her fashion choices, she is not afraid to show off some skin with short length choices, a no go area for some mums, she treads on it gracefully thanks to those evenly toned legs.
Borrowing the look of the 50's and 60's with a little adrenalin rush of inspiration from her fashion icon Jackie Kennedy; Ifeoma displays impeccable taste and an eye for detail in her clothing pieces.
Read on as I analyse her personal style and determine what indeed makes her a fashion icon!
THE 50'S, 60'S AND JACKIE O:The 50's and 60's offers great inspiration to Ifeoma Williams's sense of style; Bright colours, geometric patterns, retro military, the tentative beginning of the A-line and straight skirts and dresses epitomized the sixties.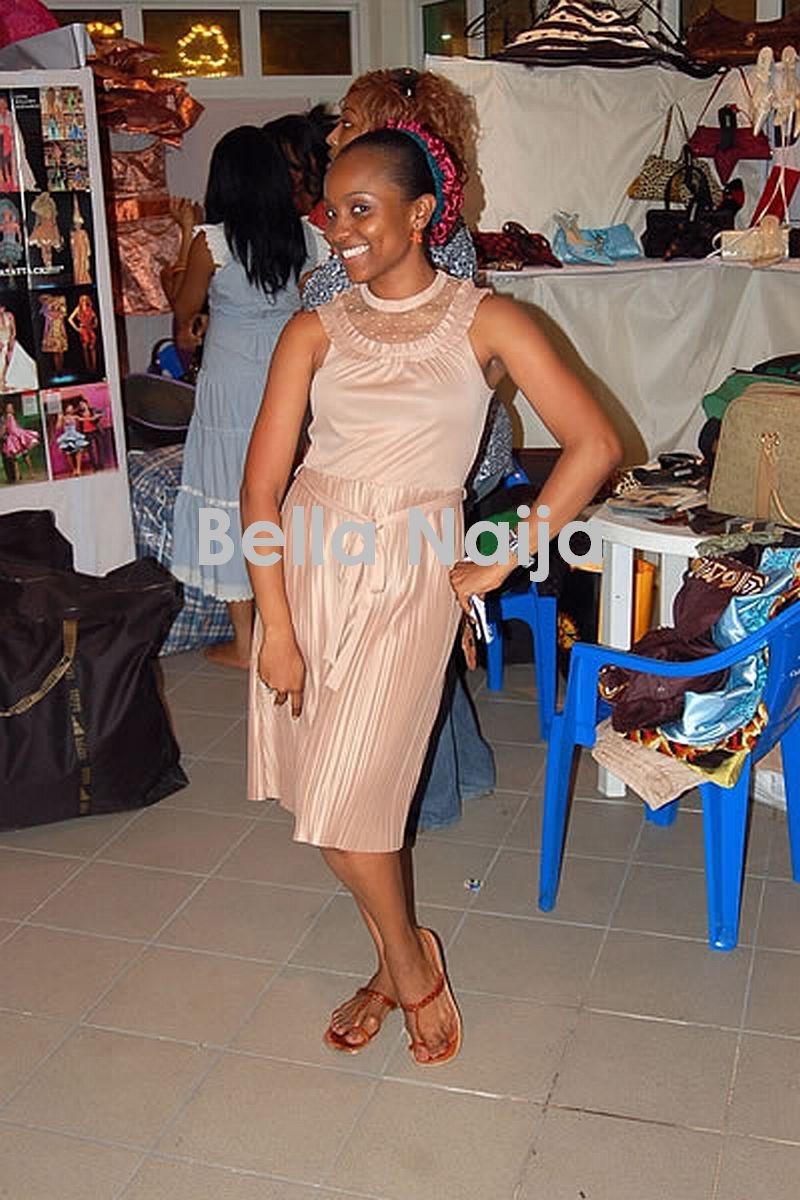 One accessory mainly used in 50's and 60's were hats. With the sixties we had the bonnets; in the mid fifties the hats styles more floral blooms appeared.  Some designs consisted solely of bomb-like shapes covered with flower petals. Later hats consisted of folds of tulle, organza, or swirls of georgette. I guess we can clearly identify where the inspiration of the hat Ifeoma has on, springs from!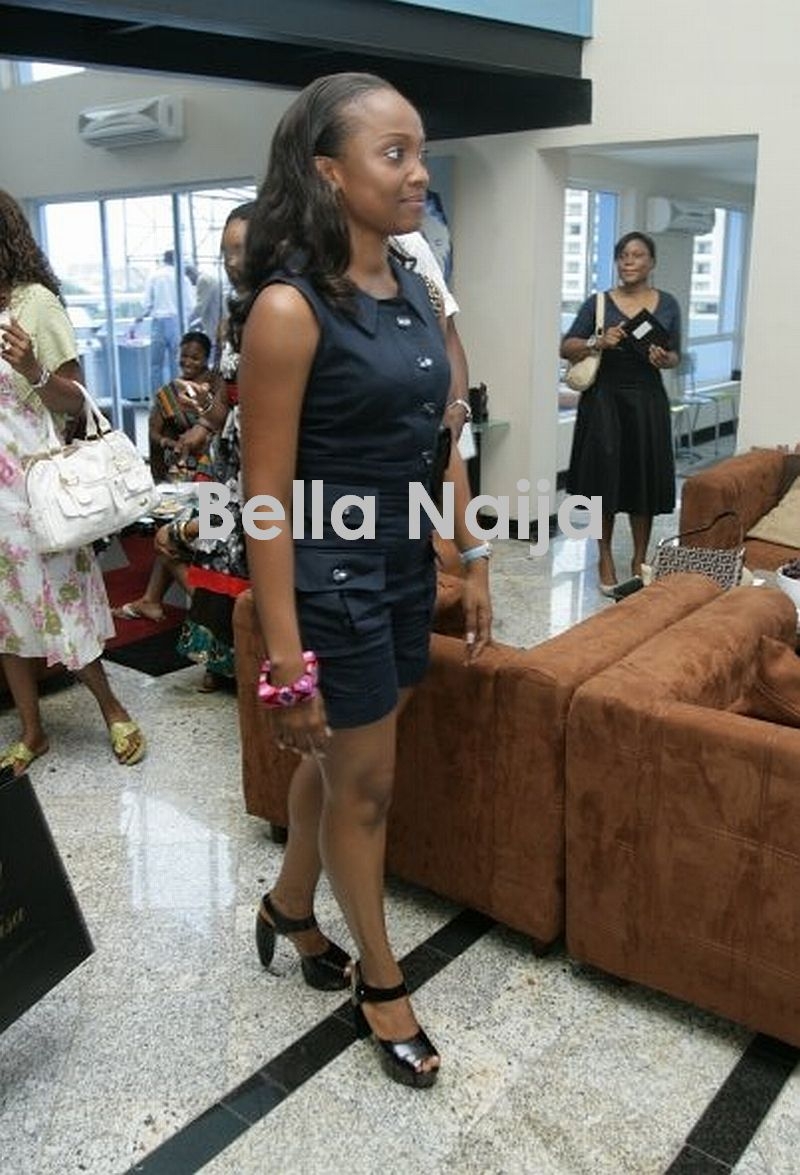 Taking a cue from the retro military influence of the 60's,the combat pockets and buttons give this away, Ifeoma rocks this short navy blue  jumpsuit.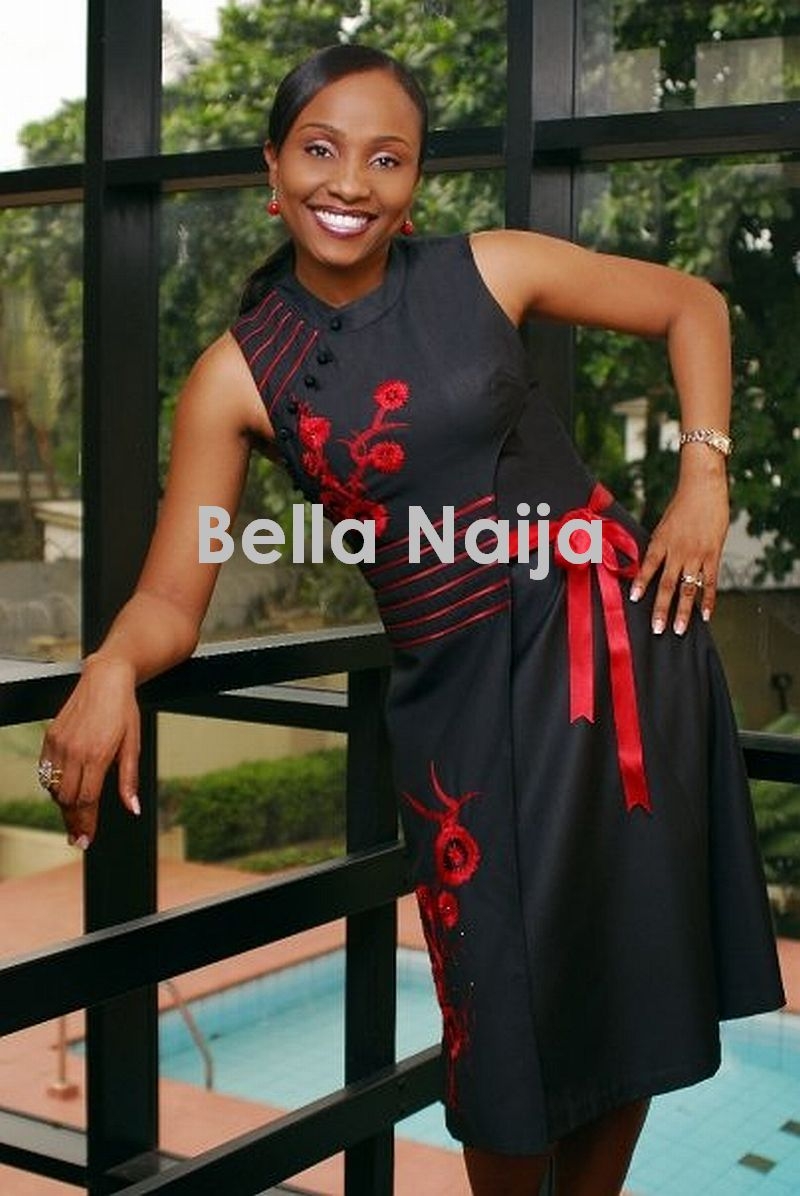 Jackie O remains one of the greatest fashion icons of all time. Like with Ifeoma Williams, she became a symbol of fashion for women all over the world. She set the style for the early sixties with her clean suits and sleeveless A-line dresses. Ifeoma has admitted to going out of her way to dress like the 1960's icon. This Deola Sagoe A-line Chinese inspired dress with flower embroidered detail screams Jackie!
THE DRAPPED SILHOUTTE: The appeal of Grecian drapery is easy to understand. It is simple but ever flattering. The ruching and the pleats that flow easily around the body are a challenge to the creator and an extreme pleasure for the wearer; it's got femininity with clean lines, and is every bit uber glamorous.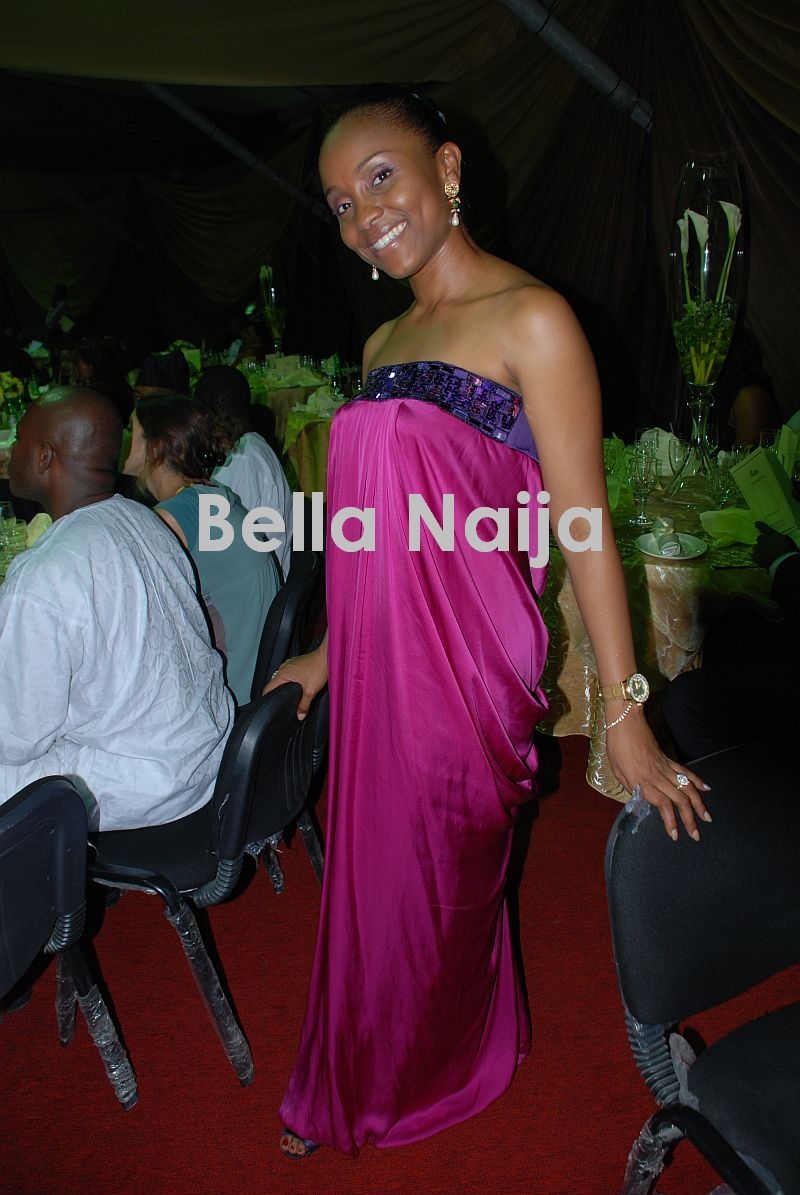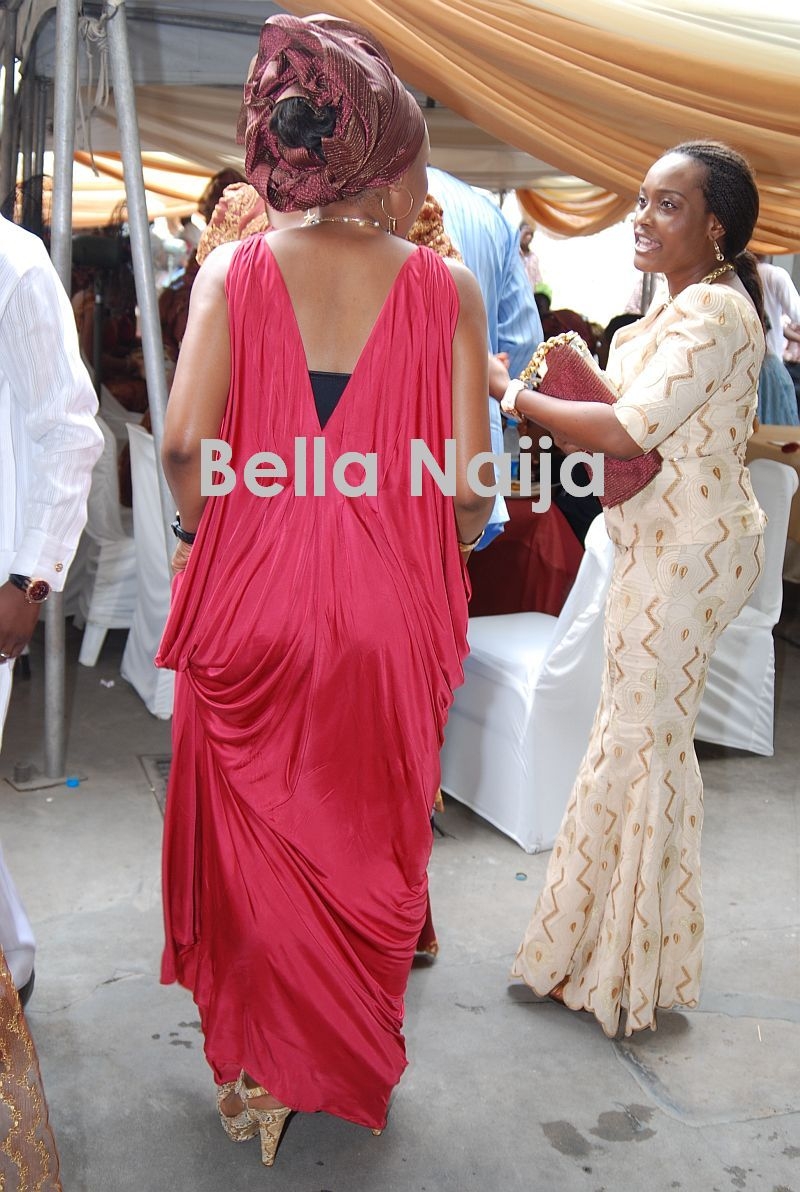 Ifeoma's choice of  draped silhouettes is in line with her love for the 60's glamour.
THE LDA LOVE AFFAIR: In a 'who are you wearing' celebrity spotting game; I would be lucky to have a go on an Ifeoma Williams outfit. As Renee Zellweger is to a Carolina Herrera design, so is Ifeoma to a Lanre Da Silva design. LDA designs are inspired by the Victorian era; which were characterised by elaborate sleeves and dresses, sharper tailored jackets which reflected the ideas of early female liberation. This explains Lanre's loud artistic expression, either in adding a bit of African, Japanese flair or just colour with intense ruffles, pick-up skirts and  decorative buttons. Ifeoma is one to make statements, and can be daring in her fashion choices; So her relationship with Lanre, I would describe, as a match made in heaven!
GET THIS IFEOMA WILLIAMS LOOK:

I particularly adore this look on her; showing her love for the fashion of the 60's with the straight skirt, Ifeoma here combines individual pieces with delicate details to pull of a striking look.
Here are the Key pieces needed to channel Ifeoma's look:
THE TOP: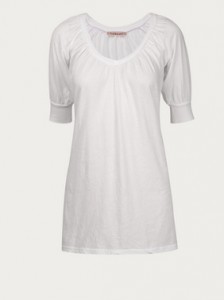 This white top by velvet is a close resemblance. Although missing the button detail it is a V-neck with short-sleeve cuffs
THE  SKIRT: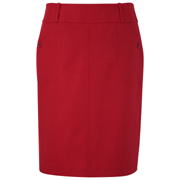 Like with Ifeoma's red straight skirt, this one by Laura Ashley has a deep waist band,belt hoops, side pockets and a button detail.
THE CLUTCH: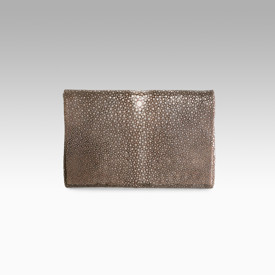 Ifeoma goes for texture with her oversized clutch; the subtle glimmer of this exotic Jalda stingray skin clutch makes it the perfect accent for this outfit.
THE SHOES: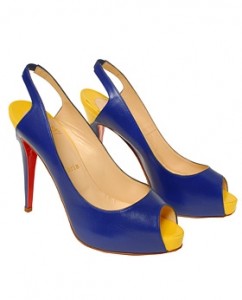 Ifeoma chooses to complete her look with Christian Louboutin blue Architek slingbacks. These shoes are literally too die for; a celeb fav, she was definitely one of the lucky ladies to get their hands on them before they sold out.
Channeling looks like in this case, Ifeoma's is about the idea behind each piece. With these shoes; it's the presence of two colours and the shoe's clash with the rest of the pieces of the outfit. For someone who is coined the phrase 'clash is the new black' this is far from a surprising added touch!
Here are some high street options that embrace the same idea behind the Architek Louboutin shoes: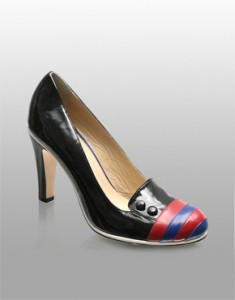 Although black being the dominant colour with this shoe, the slight presence of red and blue make quite a statement. This option is best for someone leaning towards the conservative.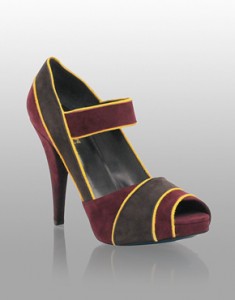 This shoe is every bit suitable for this look. The gold accents combined with the gold accessories will bring what seem to be two dull colours alive to complete this look.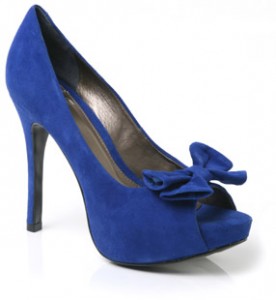 Although one colour, the colour clash is undeniable striking, It will cause a few stares and some more applauds when combined with the rest pieces.
THE BRACELET: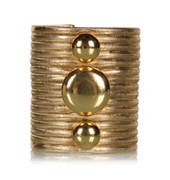 While Ifeoma's bracelet seems to be a three tiered one; this on the other hand is a multi chain gold cuff.
You can purchase here for £176
THE RING: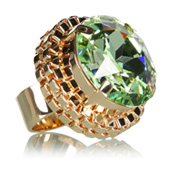 Ifeoma loves to show some love to big statement cocktail rings. This fulfils those criteria.
You can purchase here for £203
When it comes to accessorizing; Ifeoma knows how to strike the right balance. This she does with a black watch, a simple small beaded necklace and stone clip earrings. Take a cue from her when completing the rest of the look!