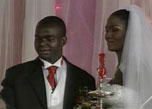 SA Based Nigerian Model, Doyin Haastrup made history today as she tied the knot in the Big Brother Africa III house and the ceremony was broadcast LIVE on TV. Doyin and her now-husband, Ayodeji Olatokunbo are both huge fans of BBA and took the bold step with over 30 million viewers from around Africa watching. I saw it and it was actually romantic. Doyin and Deji are actually a very cute couple! All the best to them. More details on the couple below as well as videos from the ceremony below.
______________________
Those with an eye on the fashion world will have heard of Doyin Haastrup, the willowy 23-year-old model who was last year's Future Awards Model of the Year in Nigeria. She first burst onto the international scene in 2005, when she was a runner-up in the prestigious Pan African Face of Africa competition. Doyin has since become hot property, working for model agencies Ice Models and Storm and gracing magazines such as Cosmopolitan, Elle and Marie Claire. Most recently she broke into TV as one of Deal or No Deal's bevy of beautiful women. She now divides her time between Nigeria and South Africa
Her fiancé is 28-year-old businessman Ayodeji Olatokunbo. The couple met at the South African High Commission in Lagos, where they were both renewing their work permits. Doyin says that she knew immediately that she had found love. "He makes my day every day of my life," she says. Ayodeji puts it a little differently: "I saw the woman in me in her," he says.
They have been together for two years, and are proud parents to a baby boy, Olatokunbo Ayomide Wonder Ayodeji.
Both Ayodeji and Doyin say their families and friends are supportive of their unique wedding plans, and can't wait to see them on Big Brother. They are big fans of the show, and (naturally) they were both Uti supporters!
The Ceremony
The newlyweds's union becomes official with the signing of the registry. Reverend Tshabalala declares their union lawful by presenting them with their wedding certificate. Fireworks and confetti and some heartfelt words from the Munya, the master of ceremonies, lead into the toast.
In Your Name
Next on the agenda is to celebrate the sealing of the union. Munya sings a very romantic song and Ricco and Hazel offer a poem entitled "I Do". After the congratulations from the guests, the couple lift their glasses looking forward to a life full of happiness and many many blessings.
First Slice
They cut the cake hand-in-hand and play out the tradition of feeding each other the first slice, washing it down with some non-alcoholic champagne. Presented with gifts from the Housemates, Adoji and Doyin move on to the photo session that will mark the beginning of their journey as one.