By Louisa Olubukola Kinoshi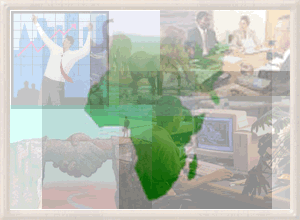 As the United States and the global economy continues to tank, Nigerians abroad are beginning to consider opportunities back home. A strong contrast to the "developed world," the African economy is expected to expand at more than 5% this year. Certain sectors that have been affected strongly by the global financial meltdown remain strong in Africa. Africa has the most profitable airlines since 9/11 and the fastest growing cell-phone service. Nigeria has been listed among Goldman Sach's "Next 11", countries identified by the bank as having a high potential of becoming one of the world's largest economies.
This past weekend I attended the Africa Business Forum at the Wharton School, University of Pennsylvania. Capitalizing on Obama's recent win, the conference couldn't help but address the economic and political climate in Africa. A recurring theme of the conference was the need for public-private partnerships. Panelists called for students to go back to the continent and participate in public service in order to redefine what is possible in Africa. According to the Former Minister/Governor of the Federal Capital City of Nigeria, Mallam Nasir El-Rufai, "to go into politics, you must care enough and be angry enough."
The conference provided rich information about business and economics framed by African history. Did you know that Socrates studied philosophy in Egypt? or that the medical procedure we now know as the "caesarean section" was performed on Cleopatra by African medical doctors in the ancient land of Khemet when she delivered Little Caesar? Sankoré Madrasah or the University of Sankoré located in Timbuktu, Mali was one of the first great learning centers in the world and students came from all corners of the African continent in search of excellence in knowledge and trade. The idea of Africa as a major world power should not be a new one because it has always been a part of our history.
The Media Landscape in Africa
I was really inspired by the panel on media which was moderated by Kemi Adetiba, host of Studio 53. Panelists included Toyin Subair (HiTV), Chantelle Abdul (Apprentice Africa), Tope Esan (NEA) and Mark Walton (The Africa Channel). According to the panelists, there is a strong market for media in Africa but there is also a strong need for infrastructure. The industry is currently run by talent and needs professionals who can create a formal structure of doing business. "Now is the time for managers who can help entrepreneurs achieve their dreams," said Subair.
Going Back Home
Now for those who are reading this post and are ready to jump on the next flight home, speakers at the conference cautions young people from having a distorted image of the realities in Africa. Students looking to go back home should do their research and prepare beforehand. It is still important to know that Nigerians are the highest educated foreign group in America and by participating in the brain drain we have become human capital for other nations. One panelist described this as slavery the second time around stating that we have taken resources away from our communities, e.g. the money that was used to pay for school fees, and instead of reinvesting our human capital back home we are only making western countries richer. Just a food for thought.
If you are interested in learning more about economic issues in Africa look out for the Harvard Africa Business Conference in February and the Wharton conference again next year.
Ciao! Au Revoir! Odaro!
_____________________
About Louisa Olubukola Kinoshi
Louisa enjoys working with fashion designers from emerging markets and freelanced during the Spring/Summer 09 New York Fashion Week. She is an Assistant Account Executive in the Public Affairs practice at Edelman PR, the world's largest independent agency. Louisa has worked for various clients including Starbucks, Robert Wood Johnson Foundation and Higher One, a financial services company focused on higher education. Prior to joining Edelman, Louisa interned at the Democratic National Committee where she conducted research regarding women's issues, women's voting patterns and wrote pieces for the Women's Leadership Forum blog. Louisa graduated from Carnegie Mellon University in May 2008 with a degree in Professional Writing.