Its always so inspiring to see African women relentlessly pursuing their passions and despite obstacles attaining success. We aim to put the spotlight on them, not just to celebrate their achievements but to encourage others. We kicked off our in-depth interview series with Folake Kuye of WeWe Clothing, now we are shifting the spotlight to Arieta. Enjoy!
By Ijeoma Ndekwu – Bella Naija Style Editor.
FACTFILE: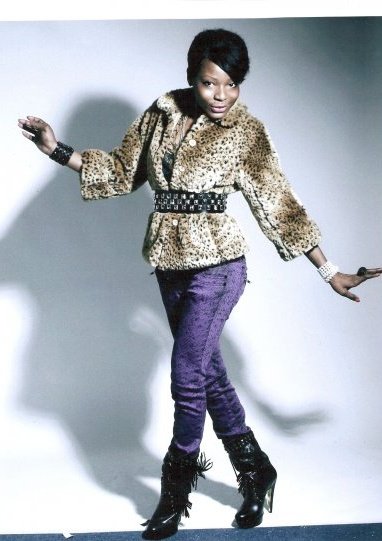 Full name:
Arieta Mujay aka Arietafashionista!
Age: 29
Occupation: PR Manager, Stylist.
Height:
5 ft 5 inches, but way taller in my sky high platforms!!
Relationship status:
Single and ready to mingle!!!
State of origin: Delta State, Nigeria.
Place of birth: Lewisham London UK
Hobbies: Watching documentaries, people watching and flipping through magazines in cafes.
Favourite designers:
Vivienne Westwood, Marc Jacobs, Commes De Garons, Giles and Deola Sagoe.
If I ever doubted that friendships or even serious relationships could develop from regular mail messaging, then I have to re-think my stand. I couldn't get to interview Arieta Mujay in person, and this will probably be the same with some other interviews, but did that take anything away from it? Absolutely not!
A good interview is made up of two distinct elements; a good conversationalist for an interviewer, and the other all important element, an interviewee who is so warm, he/she immediately calms your nerves and puts you at ease!
Arieta definitely made this 21st century 'only an e-mail away' interview worthwhile, and while I can't say much about my interview skills, she was phenomenal. A formal over-edited email to her, was replied with the beginning 'hey chic'! And gosh! Did I have fun reading her replies!
I got a feel of her happy-go-lucky, eccentric, bold and 'the quirk' of her fashion fabulous personality! Her sweat… determination, drive and the occasional beams of the joys of her accomplishments!
This 29 year old Nigerian, stylist to the stars, PR manager of River Island retailers ltd, and a great fan of Madonna and Amy Winehouse is truly an inspiration!
And although Arieta and I aren't going to be walking down the aisle anytime soon, after our constant emails, I have to admit, I fell in love. She is every bit the quintessential role model; one who speaks of the bountiful reaps of hard work and considers her family as the every beat of her heart.
Bella Naija features an outstanding African woman who is doing her very best, to make her mark in the fast-paced Fashion Industry.
IJEOMA: How would you describe your personal style?
ARIETA: Tomboy Chic- I'm doing it for the sexy tomboys, you'll never see me wear tight fitting clothes.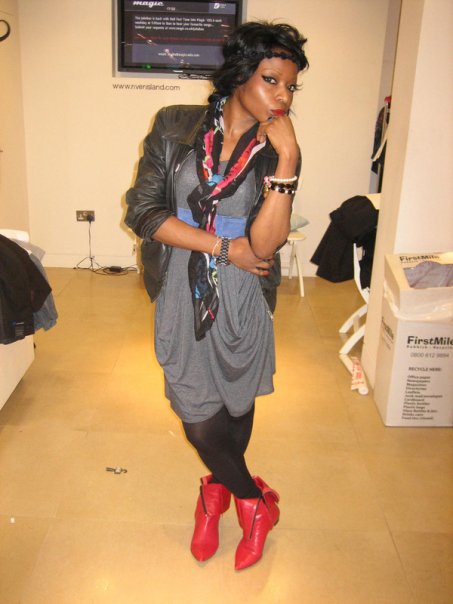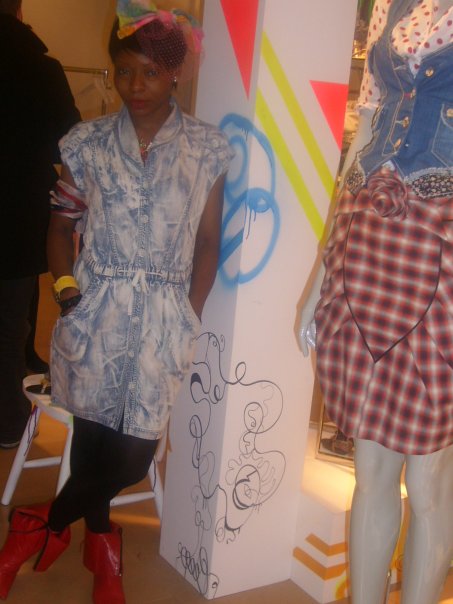 I: What's your educational background: degrees, courses, schools attended?
A: I attended the Nigerian Navy Secondary school Ojo for my O levels, Woolwich College for my A levels, the London Metropolitan University for my 1st Degree in business and marketing and Brighton University for my degree in Business Law.
I: How much work experience have you had, prior to being the superb stylist that you currently are?
A: I've worked everywhere. From MacDonald's, to behind the bar at a nightclub, to jobs in market research, and in stores. While I was at university, I got to work in Gap as a window dresser, it was so much fun, I loved it! I kind of talked my way into it and got to learn so much. In the last 7 years, I have however had constant work in the UK high street fashion industry. I had an internship at Smash Hits Magazine, there I met the designer Henry Holland, we were both on work experience at the same time. I have worked as an intern for a few other weekly magazines in the UKlike; Sneak, Just 17 and New Woman. Being an intern or "workie" at these magazines continued to spur my interest in fashion. Then Didi Danso who is the Fashion Editor of The Daily Mirror in the UK took me on as her assistant, the rest they say, is history.
I: That's a whole lot for working experience, have you always been extremely driven?
A: Yes I have, I believe that sleep is the cousin of death, and therefore there is no time to lazy about. Hardwork has its own rewards, even God said that.
I: What would you describe as your point of view you express as a stylist?
A: Fashionistas are BORN not MADE
I: So I guess you will agree with me that not everyone can be fashionable, but everyone can be stylish.
A: Yes indeed!
I: So where did it all begin, who was the first person you styled?
A: A friend at university who was on a fashion course allowed me style her final year show, it was brilliant!
I: And the first celebrity?
A: Lily Allen, it was for the launch of her clothing line at New Look.
I: How did you find the experience?
A: Surreal, I had to pinch myself over and over!
I: You've come a long way since then considering you've gone on to style a host of celebrities, who have been the lucky campers? , the people you've worked with?
A: Apart from Lily, I've worked with Deola Sagoe, Oluchi, Ojy, Chalya Shagaya, Agyness Denn, Henry Holland, Kelly Rowland, Solange, Alek Wek, Liya Kebede and Tyson Beckford.
I: That's impressive; who's been the most fun to work with?
A: I love Lily! She's simply amazing and awfully funny; I keep telling her she has got to come to Lagos.
I: You got to work with Tyson Beckford? Is he well deserving of the craze about him? , is he truly as gorgeous in person?
A: And then some….he is a little short though.
I: What was the first big break?
A: Styling a UK boy band called TRIPLE 8 for Smash Hits. Ruby Warrington the Fashion Editor of the mag at the time believed in my talent and let me go for it. I was absolutely blown away when I saw the shoot in the mag.
I: When styling a client, how are you able to express your point of view while keeping in mind the client's personal style?
A: Definitely, style in majority is about comfort and the rest is the confidence with which you execute the outfit. I could wear a bin bag and it would be stylish, it's about the swagger. I would never dress someone in something they are uncomfortable in, having said that, you need to be prepared to take risks!
I: I am still convincing my dad about my decision to work in fashion, was that the same with you or did your parents warm up to your profession from the get go?
A: My parents are both dead but I am lucky that my immediate family have been and are very supportive. I think my parents would have been happy as long as I was…I mean, things could be a lot worse, right?
I: Being a stylist, has it always been a life long dream of yours'?
A: No actually, I just LOVE fashion and everything that encompasses. I used to be a massive hip-hop head; I am actually a failed rapper.
I: Styling for a photo shoot or Styling an individual? Are you more passionate about one?
A: No, I happen to LOVE them both.
I: For the Thisday Style Music and fashion festival, you styled 36 Deola Sagoe models, how did you find that experience?
A: Exhausting and also very overwhelming.
I: You styled and directed the photo shoot for Deola Sagoe's spring/summer 2007 online look book??
A: Yes I did. I love being around Deola, she is such an inspiration and we bounce ideas off each other.
I: What are the everyday challenges you face, with being a stylist?
A: As with everything you always question how good you are. You are only as good as your last work and it is a jungle out there. You have to keep up with the pace especially with everyone clamouring for the same job.
I: So, What do you consider the best thing about your job?
A: Meeting people, Travelling round the world, and just generally being around CREATIVE people.
I: What's your best accomplishment yet?
A: Being a good Aunty to my nieces and nephews, and meeting Mary J Blige.
I: What are Arieta Mujay's future plans?
A: Global domination, to spread fabulousity and definitely, work more in Africa.
I: What's the fashion/style advise would you give every woman?
A: IT'S NOT WHAT YOU WEAR IT'S HOW YOU WEAR!!!!
Shopping with Solange:
[slideshow=31]
Shopping with Kelly Rowland:
[slideshow=30]
Backstage at Deola Sagoe:
[slideshow=32]
Deola Sagoe Lookbook:
[slideshow=29]