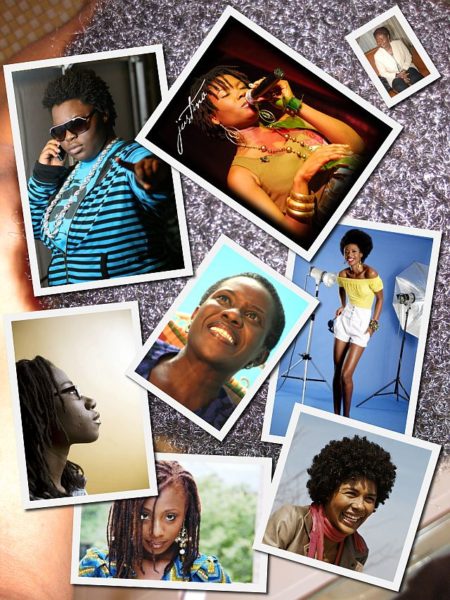 I was never the greatest fan of getting my hair done. The weekly ritual comprised sitting down for hours on the cold metal of my parents' garden chairs, my head tucked in the Hausa woman's 'lappa' who lived across the street. The intermingled odor of sweat, her womanly parts and hair grease was an uncomfortable normalcy, as was as the intermittent thumping of plucking of my hair by hair thick fingers on my tender scalp, interrupting my thoughts and sometimes daydreams. Even as a child, I always wondered why my hair was compelled to bow in submission to instruments of heat, chemicals and the manual torture like the Hausa woman's hands.
A decade and a half later, I have accepted this normalcy as the accepted practice for Nigerian women's "hair care", but have rejected it as my own means. I stopped 'relaxing' my hair almost a full year ago. Like many women, my journey has been filled with many worries, but many rewards. Whether we admit it or not, on the road to becoming natural
* We worry what men would think.
* We worry about what our friends will say.
* We worry about what natural hairstyles would be acceptable in the workplace.
* We worry about answering questions from our curious (albeit sometimes rude) White friends and colleagues.
* We worry about hair maintenance. As children, we used inch-size plastic brushes through our Barbie dolls' hair without a glitch. Unknowingly, with every brushstroke, we brainwashed ourselves into accepting straight hair as the only maintainable hair texture.
* Lastly, we worry about accepting ourselves. Will we still be beautiful? Nigerian women sing every Sunday at church that we are proud to be made in God's image, but yet we run to the hair salon at the glimpse of 'koko', 'natchy' undergrowth.
As a NATURAL woman (sing it Aretha!), becoming natural involves ridding ourselves of these fears, or being bold enough to fight them on the road to self-discovery and eventual acceptance.
* Girl, you have to realize every man has a preference. If a man cannot look past the texture of your hair into your heart, then he is not right for you. The same applies to skin color, body shape and height, but that is a story for another day.
* Secondly, as an intelligent modern woman in the Google age, you will find countless Natural hair websites and networks that offer a sisterhood of support for your natural hair journey. You must acknowledge that your friends love you, but may not understand what the heck you are talking about, and that's OK.
* Thirdly, about hair maintenance, articles such as those by Azara will help, as well as countless YouTube instructional videos on Bantu knot-outs, two strand twists, frohawks, which will leave you saying salon-whaaaat? And would save you some money as you do your hair yourself. Over time, you will become faster and neater, and if stuck in a desert island, you won't need your hairdresser or a carton of relaxer as 1 of 3 essential items to survive.
* Fourthly, love yourself.
You will discover that your natural hair grows up to the heavens, thanking God for every day. It does not bow to the elements of sun, wind or rain. It withstands the wind, is nourished by the rain, and by the natural heat of the sun. It is as resilient as the African woman it is sitting on. Indeed, if a woman's natural hair is her crowning glory, you are an undefeatable queen.
So when my male friend asked me the other day if I was trying to be like Lauryn Hill, I laughed and said I was trying to be like myself. After nearly 2 decades, I was finally ready to be myself… I look into my mirror and find inspiration in my reflection.
However, in your natural hair journey, you will find resonance with the natural hair role models in the media. Don't be afraid to acknowledge them as your inspiration and proof that beauty is not only represented by the body in the box that Mattel sells. (That's Barbie. Lol.) Or the one that Soft Sheen Carson sells, what we call a 'relaxer', but often does more harm than good to our scalp and our pockets. It is in accepting that short, long, kinky or curly, healthy hair of any texture is beautiful hair.
For me, this means thanking Dakore Egbuson, Asa, Joke Silva, Ruth Benemasia-Opia, Ayo, Justina, Nyja and many others. These are my living loved examples of no holds barred expression and creativity.
So if you decide to take the road less taken, be proud of yourself Natural Woman, you are on a brighter path to self-love.