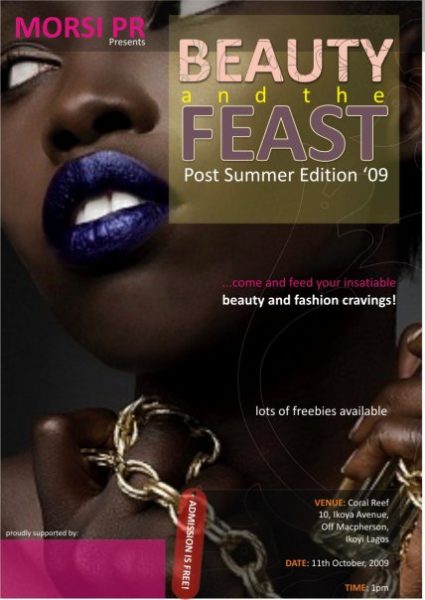 BEAUTY AND THE FEAST is Nigeria's finest, professionally driven Fashion, Beauty and lifestyle exhibition, designed intricately by the couture board at MORSI PR to fulfill the most outlandish fashion PR dreams.
It is a gathering of the most outstanding, unrivaled, style-imbued designers, fashion icons and beauty professionals under one roof to showcase the effulgence of Nigerian Fashion.
The event which is intricately designed by the Couture Board at MORSI PR is built to orchestrate a highly spicy ambience with the elite fashion workers in attendance. The different Brands [Fashion designers, beauty specialists, Hair specialists, shoe and Bag designers, Fashion product stockists] would be accorded maximum Brand exposure as the who is who in the fashion industry would be there.
Even in the most austere conditions, Nigerians would still cater to their beauty and fashion needs and in the spirit of indulgence, BEAUTY AND THE FEAST is set to showcase top notch designers of men, women and children's wear, stockists and designers of exquisite shoes and bags, hair pieces, all kinds of accessories and beauty ranges. The edge which this exhibition offers is the professional tips which the different exhibitors intend to share on the day. Hair, beauty, skin and fashion professional tips will be doled out by our various exhibitors. Priceless tips on how to care for your hair, how to treat your skin, lingerie essentials and how to avoid fashion faux pas will be granted.
BEAUTY AND THE FEAST is beyond exhibiting wares and designs, it is an ambience which facilitates not only buying and selling, but also networking with key players in the fashion world and potential customers amidst a charged atmosphere charged with oomph and glamour.
The designers are reputed for exploring the waters of excellence and art with their designs. They constantly extend the frontiers of professionalism with their world class designs. Designers like ADU and make-up Brands like NUBA will showcase their products on the day. BEAUTY AND THE FEAST is a festival billed to showcase Nigeria's strength in the fashion and beauty sector as the media intensity is set to create multiple platforms for the exhibitors in and out of Nigeria.
The fashion experience is billed to hold on the 11th of October at the CORAL REEF, 10 Ikoya Avenue, Off Macpherson Street, Ikoyi, Lagos.
The event is coutured by Nigeria's first Fashion, Beauty and Lifestyle PR firm – MORSI PR. MORSI is the first Fashion, Beauty and Lifestyle PR firm in Nigeria positioned to redefine the Fashion, Beauty and Lifestyle industry through the creation and deployment of parity-breaking PR strategies. MORSI is a Brand obsessed with STYLE and thus passionate about communicating this via all media pores. With MORSI's relentless passion comes an unmatched expertise in the world of Brand positioning and Fashion PR. With years of experience in Fashion Journalism, Fashion event creation and Brand Strategy evolution, MORSI demonstrates the know-how and the contact list to take Fashion, Beauty and Lifestyle Brands to Brand Paradise.
We are young which only counts for our differentiating strength as our insight has been brought to bear on premium Brands like LANRE DA SILVA AJAYI, SIXTH SENSE, TAE, ALIMA OYOFO, HAIR SOLUTIONS, HALLERO, HOUSE OF DORCAS, ACCESSORIES PLUS, ETC LINGERIE and many others.
The couture board at MORSI PR boasts of the best hands with a pedigree in handling some of Nigeria's first and high profile fashion events and exhibitions like Ankara Show, Bridal Exhibition, Accessory exhibitions, Launch of Dermalogica's Clean Start range of beauty products, Return of Mon-Ami, An intensive 3-day shoe seminar and many more.
BEAUTY AND THE FEAST is borne out MORSI's passion for the development of Fashion Brands. Following the tremendous increase in the fashion industry, a veritable platform for the exposure of these Brands is important and this is what MORSI is bound to achieve with the exhibition.
Some of the Exhibitors include DAVIDA, MY Q, XCLAMATIONS BY TOMI ROTIMI, B KIDS, NOUBA MAKE-UP, ALIMA OYOFO, HAIR SOLUTIONS, EP BLING, RENEE Q [GHANA], ACCURATE TIME AND AMEDE.
DATE: 11TH OCTOBER, 2009
VENUE: CORAL REEF, IKOYI. 10 IKOYA AVENUE, OFF MACPHERSON STREET, IKOYI, LAGOS.
TIME: 2:00PM-8:00PM.
This event is proudly supported by Bella Naija and Gistmaster.
For more information go to the Morsi PR Blog