Yeah, the BN 25 Days of Christmas promotion is on and popping!
We are so excited by the positive response that we have received so far.
Today's BN Day of Christmas belongs to Zebra.
Readers of Bella Naija will be well acquainted with Zebra is a Nigerian lifestyle brand that we are incredibly proud of!
In less than 5 years, the brand has leaped from a small label to a major presence in the Nigerian fashion industry and they are just getting started….
The brand is launching their flagship store next week with a grand and fabulous event!
Here are details of the event:
On the 18th of December, Zebra Living will host a special fundraising event, The Zebra Garden Party. The 2009 Zebra Garden Party will be the social platform on which we'll further demonstrate our belief in DIY development and specifically exposing issues of great concern to us: Culture, Civic Rights and Duty and the Environment.
It is our hope and continuous mission that this year's Zebra Garden Party, like all previous Zebra Community Initiative events, will successfully create awareness as well as offer financial support to the selected initiatives.
The 2009 Zebra Garden Party promises to be a tasteful, dynamic, culture-inspired evening which we hope will raise significant funds for our selected causes and enhance the lives of everyone associated with it and our wider Zebra Community Initiative.
Zebra Garden Party Highlights INCLUDE:
*Live Performance from the MOBO award winner, NNEKA
*Performances from our friends and favorites like Yinka Davies, Mike Aremu, Mfon, Awoko and our very own Irie Band.
*DJ session with AMPLIFIED in full force setting the turn tables ablaze.
* Fashion Show featuring Limited Edition Zebra and a debut show by Irie for Men.
* Delectable Grey Goose Bar ALL NIGHT LONG – free cocktails!
* Photography exhibition + 24 hour Zebra boutique
* Fabulous raffle prize give-aways, wholesome canapes and a wonderful chance to network
* The unofficial opening of The Life House.
Its definitely an event worth attending!
Tickets are LIMITED and will NOT be available for sale at the gate of the event, so hurry and buy them now to avoid disappointment.
Payments methods: Cash, Cheques, Bank Transfer, Debit card payment (We have an Interswitch POS portal), PayPal.
Please make cheques payable to ZEBRA LIVING and please ask any of the team for any help at all.
Team Zebra Garden Party
Amaka – 0802-322-4996
Lisa – 0703-412-4503
Jinmi – 0703-123-3757
Toyosi – 0802-302-4443
Uchenna – 0702-599-1520
Ugoma – 0802-699-0796
Zebra is graciously giving the winner of the contest a free ticket to the event worth 12,000 Naira + A Zebra dress! See contest details below.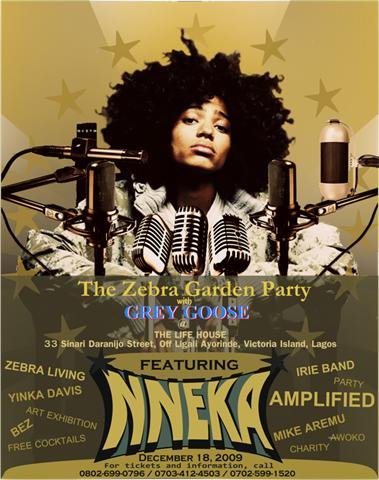 Zebra Questions
What colours are on the Zebra logo that are NOT on an actual Zebra?
Name the 2 non-profit foundations that will be benefiting from the Zebra Garden Party?
What curly haired star will be performing at the Zebra Garden Party?
Steps to Enter
Join Living Zebra Group on Facebook – Click to Join – Members of the Zebra Group get extra points 🙂
View and Accept the Zebra Garden Party Facebook Invite – Click to View
Visit Zebra's official website – Click to visit site – It's fabulous!
See previous BN features on Zebra – Click
Answer the easy questions
Send entries to [email protected]
Subject Line: Zebra
Entries should be received before 11:59AM (Eastern US Time) – Today 2nd of December
Good Luck! We can't wait to read your submissions!
Terms & Conditions for Zebra Contest
As event takes place in Lagos o the 18th, contest open to all Bella Naija Readers in Lagos/or who will be available in Lagos on that date only
Contest is only valid where contest terms do not contravene local laws
Entries should be submitted to [email protected]
Only shortlisted entrants will be contacted
To promote transparency and fairness, winners names will be published on BellaNaija.com
One prize per person throughout duration of promotion
We will work towards ensuring that you receive your prize expediently.
________________________________________________________________________________
The Zebra prize has been won by ***Michelle Nnaji***
She completed all the 'tasks' and answered all the questions correctly then was chosen from all the correct entries by our randomizer.
Congrats to Michelle!
See her answers below:
What colours are on the Zebra logo that are NOT on an actual Zebra? Pink and Brown
Name the 2 non-profit foundations that will be benefiting from the Zebra Garden Party? The two non-profit foundations that will be benefiting from the Zebra Garden Party are: Orderly Society Trust and The Tocatina Music Development Fund.
What curly haired star will be performing at the Zebra Garden Party? NNEKA (love her btw)