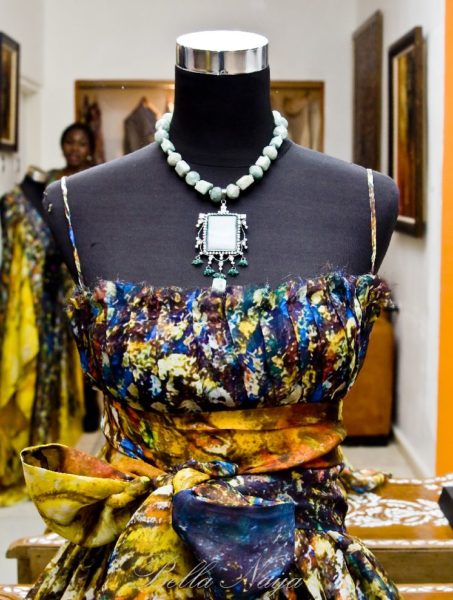 I have always loved art exhibitions but an invitation to a fashion & art exhibition by iconic Nigerian designer Tiffany Amber in collaboration with talented veteran artist Kolade Oshinowo definitely peaked my interest. What could this be all about?  I took my time preparing for this event and as I do not like going for events alone, I dragged my sister and her friend along.
On arrival at the venue, we were greeted by a bevy of Lagos 'paparazzo' who were basically interested in my sister's Ghanaian Ankara outfit. Not that I wasn't looking splendid but I guess African Fashion is really"IN" and here to stay.
I made my way across the room looking for any familiar faces to no avail then THEY caught my eye; the flawless artwork by Mr. Oshinowo and the extraordinarily beautiful designs of Tiffany Amber. I went from rack to rack feeling the luxurious fabrics and also seraching for a size 6 (UK) outfit. With all the activity around the cash register, I was not surprised when I realized other customers beat me to it!
I must confess that Tiffany Amber certainly knows how to design clothes for every type of lady ranging from the floral maxi dresses to beautifully draped gowns to gemtastic accessories. I was also pleasantly surprised when I spotted some showstopping pieces that were sexier and 'younger' than the classic Tiffany Amber pieces that we are used to. I was particularly attracted to the rack of gold, silver and white designs; there was an amazing white accessorized jacket and the gold strapless little dress (or the Little Gold Dress). Very Chic.
Just when I thought I had reached heaven, I spotted the "Rhapsody of Fashion & Art" pieces – I had previously seen the photos from New York Fashion Week but viewing the pieces firsthand alongside the painting 'Marketmood' – a vibrant work of art by Kolade Oshinowo was an experience to remember. The collaboration was pure genius.
I realized then and there that – fashion plus art equals 'magic'!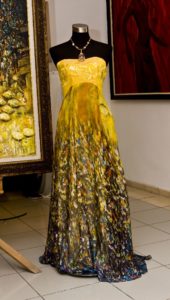 ___________________________________________________________________________________________
As expected, everyone looked FAB! Check out our BN Red Carpet Fab below