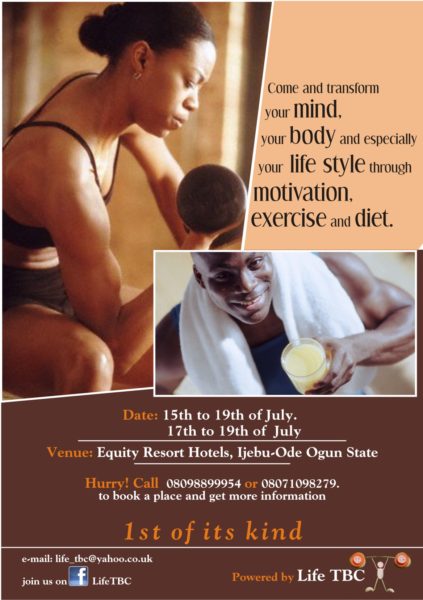 TBC is all about making lifestyle changes towards a fitter and healthier you!
Making and staying committed to lifestyle changes can be long and arduous, At TBC, the team of experts will be there to hold your hand throughout your transformation journey till you reach your goal.
It is Five days and Six nights (from 15th July to 19th July 2010)  at the Equity Resort Hotel Ijebu-Ode– a picturesque 100 bed hotel in a very serene location, with extremely dedicated and a world class team of trainers, nutritionists and boot camp managers who take pride in helping you every step of the way to reach your personal goals.
The courses during your stay ensure unbeatable results as an average weight loss of 9lbs for ladies and 10lbs for gentlemen is predicted. In addition, an average inch loss of 10inches for ladies and 13inches for gentlemen. Clients will drop up to 2 dress sizes or 2 suit sizes.
Open to all age ranges, fitness levels, backgrounds, the week promises to be life changing as the team will help you develop a new sense of self worth, unbreakable self esteem and confidence as well as a new found psychological strength that you can transfer into all you do once you leave TBC.
To find out more about TBC and book your place call: 08098899954 or 08071098279
Email: [email protected]