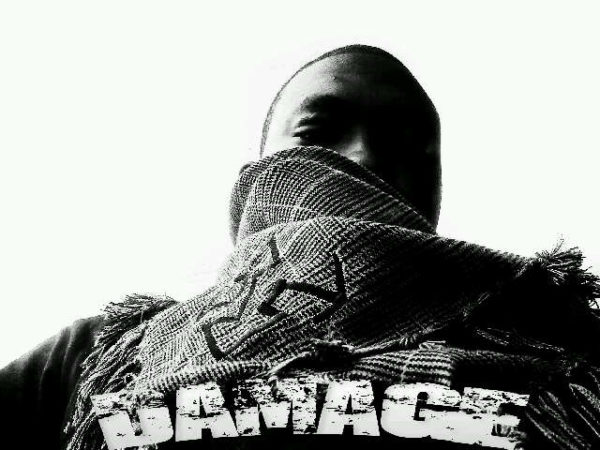 I am now of the opinion the state of Taraba must experience a different kind of rain seeing as it keeps popping out musical talents (Think Jesse Jagz and M.I). Yes you guessed right. Damage also known as Musa David hails from Taraba state. His musical journey started about ten years ago when he was in Military school, Jos. When asked why he picked the beautiful genre of Hip-Hop, he said:
"I have always loved hip hop. I used to be in the choir until my voice broke and I couldn't hit some of the notes, like I used to. Rapping became a better option".
Well I say thank God for puberty. We now have a wonderful addition to our "rap industry". I have been privileged to watch him compete in a rap battle and I must say dude can sure hold his own. Like his name implies, he is not playing with anybody. He currently has three tracks but I'll be sharing two of them for your listening pleasure. He has got his delivery down to a "Y" and keeps you curious about what he is going to say next.
Here is an excerpt from We taking over featuring Shapera:
"I'm taking over/Nothing you can do to withstand me/
Better off if you just hand me the keys real classy/
Me chase you? hardly/
Boy got "skales"(skills) so i'm heading for a grammy/
They wouldn't let me said i wasn't "9ice"(nice) enough/
So I had to get mad and rough /"rugged" and "raw"/
I "freestyle"d till i got to the door/
Now i'm going at it solo like W4/"
Listen, Download and Enjoy:
Click Play to Listen to Damage Feat. Shapeera – We Takin' Over

[audio:https://www.bellanaija.com/wp-content/uploads/2010/09/01-Track-1.mp3|titles=01 Track 1]

Download: http://bit.ly/9Drll6
Click Play to Listen to Damage – Off the top (Wayoo freestyle)
[audio:https://www.bellanaija.com/wp-content/uploads/2010/09/off_the_top.mp3|titles=off_the_top]
Download: http://bit.ly/c6X1U2
I, of course, have put my stamp of approval here. The Nigerian music industry had better look out for Damage.