Growing up, many young girls read fairytales in their childhood and then romance novels in their teens. The descriptions of love are so awe-inspiring that they sometimes wonder if these fantasies can ever come true. When you meet the right person, it might not be a perfect fairytale, instead it is a wonderful and thrilling experience filled with love and adventures.

BN Our Wedding Story brings you the wonderful wedding of Banke Adeniran & Yinka Akinsola.  It is interesting to note that one of Banke's hobbies is matchmaking, she owns the site –  www.faithmatefinder.com – and has successfully matched several couples so it is so sweet that after helping others find love, she found her own lifemate! Banke and Yinka's love story is beautiful and inspiring in its simplicity; they met through a friend, talked then met and almost instantly they knew there was a connection. They celebrated their love with fairytale themed wedding in Atlanta, Georgia. As they say in fairytales…and they lived happily ever after.
___________________________________________________________________________________________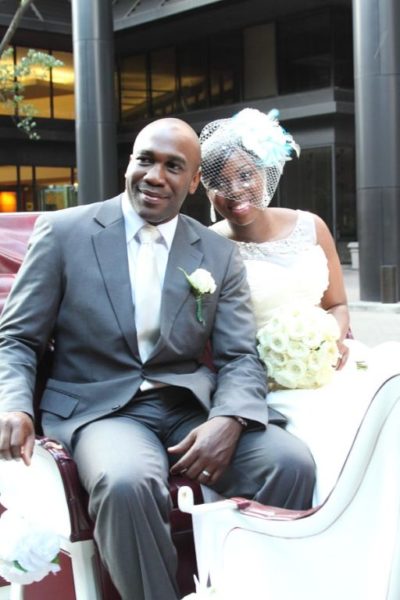 How Banke & Yinka Met
Banke and Yinka grew up in the same town, had similar circle of friends but never ran across each other before coming to the U.S. One lovely evening in Houston TX, while visiting for her nephew's birthday Miss Banke (who has been coined cupid by the many people she has attempted or successfully hooked-up) ran into an old family friend; Kola whom she grew up with. One conversation led to another and it circled back to "why are you still single Banke"? To cut the long story short, he said he had a friend whom he thought would be a good match and of course she thought he was kidding until she got a call from Yinka a couple weeks later.
Banke:
"I remember picking up the phone and hearing the voice and thinking hmmm doesn't sound bad at all. We talked briefly that day and I apologized for not being able to chat because I was headed to a friend's birthday; but said I'd call back the next day. So one conversation led to another and the more we talked the more we wanted to talk. So he planned a visit to Atlanta. I remember seeing him and thinking he looks like cute teddy bear and he jokingly said he should have brought an engagement ring with him. I think it's safe to say, we were both attracted to each other and soon after, we decided to take the relationship to the next level. For a relationship that started out long-distance, I'm grateful to God it turned out pretty well. We are both grateful to God for creating both of us and for the love we have for each other".

"Will You Marry Me?" – The Proposal
Yinka:
" I consulted Doyin (Banke's sister) about how to go about proposing to Banke, in private or in the presence of family and friends. Doyin suggested that we surprise her with loved ones in attendance. On August 22, 2009, I came down from for an event in Atlanta which Doyin had also come for. I coordinated with one of Banke's closest friends to have her enter Banke's house and arrange it with rose petals and candles before we got home. We also had about a dozen of Banke's closest friends in attendance, hiding in the kitchen. When we pulled up to the house I exited the car quickly and went inside. Banke was surprised that I rushed in so quickly and left her outside, but I played it off like I had to use the restroom. When Banke eventually walked into the living room, the room was dark but for a few candles. I was standing in the middle of a heart shaped out of rose petals and was holding a dozen roses in one hand. Banke was confused and clueless on what was going on. She did have the presence of mind to ask who the people hiding in the darkness of the kitchen were and what were they doing there. Smiling, I beckoned to Banke to approach me. I told Banke how much I loved her and how I wanted her to be my wife and the mother of my kids. I then got on one knee and brought out the ring and asked Banke to marry me. She was still surprised and in shock but she said yes! Her friends and Doyin stepped out of the kitchen clapping and we all celebrated until late into the night. The rest, as they say, is history".
Planning their Dream Wedding
Banke:
I had always wanted a Disney/fairytale themed wedding and had spoken a few times with my sister who owns "Events by Doyin" about how I wanted my wedding to look. Since happened to be in Atlanta the weekend I got engaged, so without any need for persuasion, she started the planning right away. We visited a bridal show together the very next day and believe it or not, I found my wedding dress that day. It was the first and only one that I ever tried on and bought. I guess I knew what I wanted huh. My sister asked for my colors and started designing my big day with the hopes of bringing my dreams and ideas into reality. I'm grateful to God for her help and everyone who helped to make the day wonderful.
___________________________________________________________________________________________
The Wedding
Date: May 1 2010
Venues:
Ceremony – Ravina Gardens, Atlanta, GA
Reception – Crowne Plaza Hotel, Atlanta, GA
Colours: Turquoise, Ivory and Gold
Event Planner: Doyin Fashakin – www.eventsbydoyin.com
Florist: Ozo Adeyeye – www.flowerplus.com
Cake: Edet Okon, Houston, TX
Brides Dress & Veil: Sweet Elegance Bridal, Atlanta, GA
Groom's Suit: Ravis Tailor, Bangkok, Thailand
Photography: Adebayo Agbabiaka – Stay Fokus | Anderson Flewellen
**
Banke and Yinka's big day began as the bride arrived for their beautiful garden ceremony accompanied by her father in a white horse drawn carriage. Even though rain had been forecasted for that day, God shone his light on them as the weather turned out to be simply bright and wonderful as Banke and Yinka exchanged their vows and committed to each other.
Banke was a gorgeous bride in her beautiful matte satin, contour tucked mermaid style dress, with a sleeveless chiffon neckline accented with beaded crystals. Her bouquet of ivory roses was embellished with crystals and her hair was swept up in an elegant chignon with a stunning fascinator and veil. The groom, Yinka was handsome in a dark grey custom-made suit. The bridesmaids were chic in their ruffled blue dresses with a matching hair pieces and clutching yellow roses.
After their ceremony, Banke and Yinka rode off in their horsedrawn carriage and enjoyed the scenes and sounds  of the city as they savoured their first few minutes as Mr and Mrs Akinsola. Their reception venue was straight out of a fairytale dream with 'cinderella shoe' ice sculptures, romantic mood lighting and a breathtaking cake – and most importantly, Banke and Yinka's celebration of love all through the day – it was such a glamorous and beautiful event.
BN wishes Banke & Yinka a blessed and wonderful life together. May each day be even more blessed than the last and may you continue to bring each other joy and happiness for the rest of your lives.
___________________________________________________________________________________________