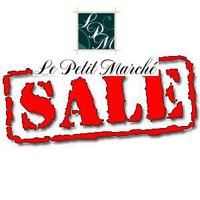 Last month's LPM was a huge success! The Le Petit Marché team tried a new layout and this completely changed the look and feel of the market!
LPM had Urban Image Consultancy, giving the shoppers mini facials while Jewels & Scents created a serene atmosphere with their in scents and melts. Babushka was a shop floor HIT and Shop Meoki dazzled with her Malaysian style totes! NACK & Drunken Monkey stalls saw a lot of traffic with their awesome customized tee shirts and polos while FnR allowed us choose from her gorgeous trimmings to make our own tee shirts and sexy vests. It went by quickly and was a lot of fun with everyone buzzing from the sugar high they got from the CamCam sweeties stall!
So great news! LPM is officially taking reservations for their customary GRANDE Marche in December send an email on – [email protected] to get details and information about how to register. As usual, LPM has lots of special surprises so you will not want to miss out on this one.
If you are interested in becoming a media partner or sponsor, please send us an email in order to receive the Media & Sponsor package
Let's not forget November! Here is the list of the super cool vendors for this month.
See you on Sunday.
***
LPM November 2010
Date: November 28 2010
Venue: GET Arena, Oniru Estate, Lagos
Time: 12 Noon to 7PM
Vendor List
FADE – FADE is an international non-governmental organisation actively involved in promoting global awareness on the environmental hazard called desertification and ways to combat it. Products on display will include the book, "Me, My desert and I" authored by the founder, Dr N.C Jibunoh where he talks about his journeys across the desert. Awareness materials about the current and upcoming projects of the organisation will also be on display.
Beach Living – Everything you need for the beach including ladies and men's swimwear, havianas, goggles, indoor and outdoor decoration, sunglasses, tank tops, t-shirts, children swimwear and sand toys, picnic sets, towels, fitness DVDs, bandanas, hats, bags and lots more! Have fun in the sun!
Lar'sh – Lar'sh sells of exquisite accessories (Earrings, rings , necklaces etc…)
Fatima Maida – Simple, pleasant and cheap slippers and sandals made for the Nigerian woman. Fatima Maida pieces are individually handmade and can be made to your specifications! The slippers and sandals aims to maintain and improve their standard of quality. The more expensive slippers and sandals are all individually hand beaded. They are all very simple and pretty!
Uyai – Casual chic female clothing. Beautiful chiffon pieces, flirty dresses, frilly tops, a playful mix of feminine and edgy
Bling – All things bling and beautiful! Costume jewellery, jewelled clutches, crystal encrusted pens and pencils, brooches, etc.
Tunica – Tunics from Dubai and London. Made from light sari-like and chiffon fabrics,with beads,sequins, and stones. Basically,  heavily embellished tunics.
La Bennis – LaBennis offers retail and wholesale services on unique customized handmade African and Contemporary jewelry, Designer jewelry, Bridal jewelry and makeup, Unique African prints and Tailoring services. LaBennis Creations…….. Uniqueness personified.
Diamante Africa Enterprise – Transparent Plastic Shoe Boxes
Moofa – Beautifully designed clothing
Fashion Nation – Where quality meets affordability
MoMah – Art & Jewelry
Tribal Lines – Traditional African Outfits for Men plus other household items made with African Fabrics
Retrospective – Vintage & Retro accessories, clothing and jewellery for men and women.
SISI Hair – Sisi sells Human Hair Extensions for women, costume wigs for parties and carnivals.
Kasher – Kasher is a young and dynamic company. Kasher's elegant and funky shoe and bag sets from Spain are a breath of fresh air to the 'traditional' shoes and bags, Nigerian ladies are used to! Prices range from N10, 000 to N35, 000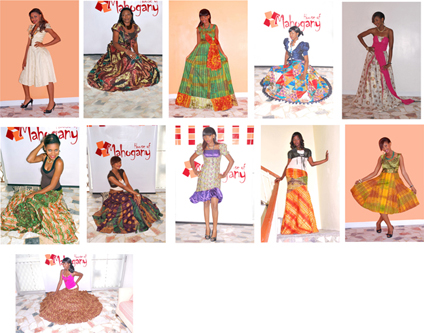 House of Mahogany – Elegant tops, skirts and dresses, contemporary africa designs, bespoke creations, unique fabrics plus ready to wear pieces.
Cam Cam  Confectionery – UK and Retro sweets (Haribo, Swizzels, Wham Bars , Sherbet etc). Sold in a variety of selection packs of 150g, &500g ranging from N800-N2,000.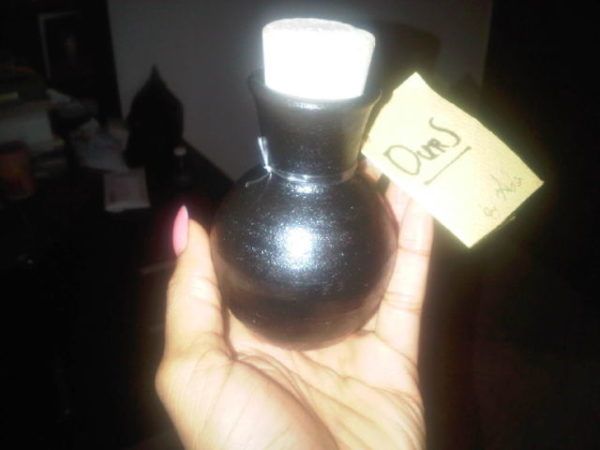 Ours by Juliada – Organic Hair and Skin products and Hair accessories.
Rouge – Rouge Couture is a fashion brand that infuses African culture – both vintage and  new African prints to create new and  inventive pieces that show creativity as well as spicy 'n' vintage looks. Rouge is fashion with attitude, fashion with courage and is spreading through the fashion scene even faster everyday. You are welcome to be a part of Rouge as we change the face of fashion in Africa as well as other continents.
Virtue by Focus Wear – A wide selection of high quality tee shirts, cardigans, polos, cardigans, shirts, blazers and y-neck shirts
April – Female Apparel, Accessories, Shoes And Bags etc..
Stephs Clothing – Stephs' sells a variety of dresses ranging from XS to large.  Pieces include gorgeous day and party dresses…Other items for same are tops, accessories, ladies shoes, tees and polos for men.
Daks Golden – Hair Extensions: Human Hair Weaves (Indian and Brazilian hair of all size, shapes and colours), lace front and lace wigs of all size, shapes and colours.
Jidz – Elegantly designed leather products reasonably priced for that sophisticated individual.
Savvie Hair Boutique – Accessories for every occasion – Cocktails/ Dinner. Purses and chunky crystal bracelets, layered chains, colourful clutches, stone chokers, stone rings, classy and pearl necklaces
DnA – Dresses (cocktail, dinner/evening) will include designers like Calvin Klein, BCBG, Michael Kors, Gucci, John Varvatos, Roberto Cavalli, Free People, Rachel Roy and Kenneth Cole;Accessories (Wristwatches) will include Michael Kors, Emporio Armani, Fossil and Gucci; Shoes- Vince Camuto, Calvin Klein, BCBG; Fragrance -Gucci, Juicy Couture, Dirty English, J.Varvatos, Calvin Klein and Kenneth Cole.
Kuddy Cosmetics – Black Opal, Mary Kay, MAC, Bobbi Brown, NARS, Estee Lauder, Clinique, Bath and Body Works, and Kuddy Cosmetics, Makeup brushes and professional makeup box. Skin care: Black Opal, Kuddy Cosmetics, Elizabeth Arden, Skineal, Erno Laszlo, Clinique, etc. Hair Care: Revita, Garnier, Organics etc…
Maju – Maju's products are an accentuation of feminine beauty. Maju's creations are always upbeat with today's fashion. Our designs also carry a vintage look. Our products include clothes, shoes, bags and accessories. All maju's products are available at 'unbelievable' affordable
High Sole / Hedges & Smith – Nine West, Dune, Aldo, Steve Madden, Marks& Spencer,Dorothy Perkins, Guess etc…Shoes, bags and accessories.
Ejiro Amos Tafiri – EAT is an emerging fashion brand on the Nigerian fashion scene. They pride themselves in the production of wearable clothing and accessories inspired by the vibrant, fun loving, joie de vivre culture of the Lagos people and the cultural diversity of its populace which spans the globe. Creativity and excellent craftsmanship is their watchword. EAT pieces include casual, formal and evening dresses, tops, skirts, pants, kaftans, boubous and laptop bags for ladies and for men, traditional tunic and pants (buba and sokoto) and biker jackets.
***
Vendor descriptions are submitted by vendors.
***
LPM November 2010
Date: November 28 2010
Venue: GET Arena, Oniru Estate, Lagos
Time: 12 Noon to 7PM
___________________________________________________________________________________________
Sponsored Content