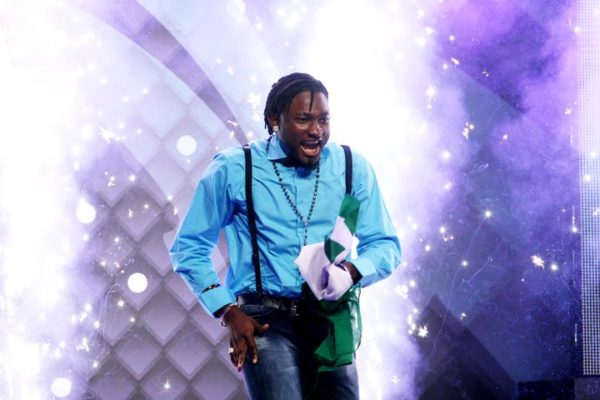 The 2010 SoundCity Music Video Awards is set to be a groundbreaking event.
Yes, we have seen the long list of nominees from all around the continent.
Most of the stars on that list have confirmed their attendance. Just a few days ago, man of the moment, Big Brother Africa All Stars winner Uti Nwachukwu was confirmed as the host.
As if that wasn't enough to get us excited, a major Pan-African couture fashion show has been added to the SMVA agenda.
The SoundCity Music Video Awards aims to become the "Ultimate African Awards event" and with the addition of this fashion show, they just might achieve that goal.
On the 20th of November 2010, as notable musicians and celebrities from all around the globe converge to witness the show, there will be added element to excite and dazzle them. According to the organizers, "the award pre-show at this year's SMVA has been designed to be an altogether different and exciting visual experience quite unlike anything you've ever seen before."
The basic red carpet format will kickoff with a live exclusive couture production at the poolside of the Eko Hotel from 6:00PM – 7:30PM. The show will feature stunning models donning exclusive collections from the continent's boldest, most accomplished international designers and labels. The fashion show will be directed by Jan Malan and top designers from across Africa have been commissioned to create signature looks for the evening says Olamide Adedeji, Project Director SMVA 2010.
We can't wait!

The SMVA 2010 – Couture Fashion Showcase – The Designers
David Tlale (South Africa)
Established in 2002, David Tlale is a home grown label that stands out from the crowds, thanks to a design elegance that challenges the clichéd and predictable. Couture that embodies beauty without pretence and shuns harshness for poise, answering the call of today's men and women for design that is young, bold, and elegant. David Tlale is undoubtedly one of Johannesburg's most interesting clothing labels. Dynamic in its response to local and global trends and influences, David Tlale prioritizes style coupled to expert use of fabrics. Garments of impeccable quality are born guaranteed from craftsmanship of exquisite materials, conceived from meticulous stylistic research.
Mustafa Hasanali (Tanzania)
African fashion without borders is one way of regarding Mustafa Hassanali's body of work. Designer Mustafa Hassanali, a celebrated name in Tanzania, pursues fashion as a religion. His personable and affable demeanour in parallel with his bohemian work of art has placed him amidst the premier and popular designers in Tanzania. No wonder then he sports an A-list clientele including the crème de la crème of the society. Considered a fashion guru, his designs reflect the deeply embedded cultural heritage of the Tanzanian society along with the avant-garde, hip and contemporary styles.
His designs are dedicated to women of power, confidence and prestige. His gowns are breathtaking. It is a testament to African fashion when a woman wears Mustafa Hassanali's gowns and she's transformed into a vision of classic beauty.
Dax Martin (South Africa)
The South African fashion scene has been altered by the very presence of Dax Martin's vision. He is basically known for his swimwear designs, but he has proven himself to be master of 'personal space', as was revealed by his lingerie line early this year. His designs captivate and seduce by a new appreciation for the 'human form'.
Jewel by Lisa (Nigeria)
In 2005 Lisa Folawiyo and her team of expert craftsmen stormed onto the Nigerian fashion scene with Jewel by Lisa (JBL). In less than five years, Lisa has perfected the art of wearing Ankara, being the first to embellish the fabric with sequins, swarovski crystals, beads and the like, and turning Jewel by Lisa into a coveted luxury label. Starting out with Ankara skirts, the label has now expanded into ranges of dresses, skirts, tops, jewelled accessories, and soft furnishings. Jewel by Lisa uses the highest quality Ankara from the Vlisco- Hollandais brand and is frequently mixed with fabrics as wide ranging as taffeta, linen, cotton, chiffon, chantilly lace, and silk.
'Feminine and Vibrant', 'Shine and Texture', are just a few of the words used to describe the works of JBL as she has turned around the conceptual use of Ankara and also brought a favourable blend of ornamental finishing with the brave, smart new use of colour on the prints. She has redefined the modern African woman's look. Very tres chic!
Lanre DaSilva-Ajayi (Nigeria)
LDA is her brand. Haute Couture is her niche and she does a great job with it. Strong, yet tasteful influences from mid-20th century are evident in her jackets and evening wear, bringing a strong nostalgic element into her work. Launched in 2005, the fashion label fuses Victorian and contemporary architecture to make 40's inspired English wear relevant and practical for today's discerning, stylish and avant – garde woman.
Tiffany Amber (Nigeria)
In 1998, Folake Folarin-Coker launched Tiffany Amber revolutionizing the fashion industry in Nigeria. Having spent most of her childhood in Europe and exploring diverse cultures, she has successfully translated her love for different cultures into an iconic fashion brand in Africa. Every collection shows the designer's love for luxurious fabric and intricate embellishment from all over the world whilst at the same time instilling her African heritage to produce timeless, feminine and effortlessly stylish pieces.Tiffany Amber is an international award winning label – an accolade that was received by designer Folake Folarin-Coker who was awarded Designer of the Year 2009/2010 at the Arise Africa fashion week in South Africa.
Zizi Cardow (Nigeria)
Ethnic fabric at home on the modern woman: This is how Zizi Cardow's work comes across to those taken by surprise by the bold, yet classy style of her designs. Women look amazing in her cuts and she has been doing this since 2000. If the strength of her styles is anything to go by, she will remain at the vanguard of African fashion, where she's always been.
Mai Atafo (Nigeria)
Armed with an impressive clientele from Nollywood actors (Stephanie Okereke, Stella Damascus, Ramsey Nouah), to beauty queens (Omowunmi Akinnifesi, Munachi Abii, Adaeze Igwe), and stylish musicians (Banky W, Omawumi, D'banj), the MAI ATAFO INSPIRED label's signature bespoke crested blazers and striking gowns are instantly recognizable, buoyed by designer Mai's versatile yet smart approach to couture; an approach that seamlessly blends the essence of African and Western cosmopolitan styles into functional, classic pieces.
Odio Mimonet (Nigeria)
'Beauty in the feminine form', is the philosophy of her couture line. Driven to be 'chic, unfussy and breathtaking', only a visionary like herself could capture such an ambitious goal, but it helps to have the spirit of an answer. Inspired by impressionist painter Monet's works, Odio Oseni accepts that every woman is an individual and she works to make the individual emerge, looking both unique and beautiful.