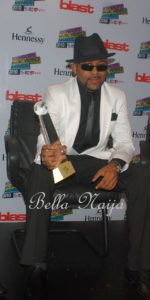 This year, BN was represented by two members of our team at the  2010 SoundCity Music Video Awards. BN Contributor, Jite Ovueraye and BN Features Editor, Glory Edozien both attended. Here are is Jite's account of the event.
SoundCity blasts off with the 2010 SMVAs by Jite Ovueraye
This year there have been many prestigious events and like fine wine, as time goes by they each keep getting better and better. SoundCity who have been bridging the gap in Nigerian and now African music to the rest of the world took this opportunity to push the bar even higher . The SMVAs took place on Saturday 20th November 2010 at the Eko Hotels & Suites in Lagos.
The awards were preceded by a classy and super organized poolside fashion show, with the red carpet covered by Spice TV. The celebrities and celebutants (the "IT" guys and girls of Lagos) had their pictures taken and were interviewed before going to the cordoned off poolside to feast their eyes on glamorous outfits.
As the gorgeous models meandered with style and grace down the all white catwalk which hovered over Eko hotels half Olympic sized pool, it was hard not to feel like you were elsewhere. The.… (for lack of a better word) "Effizi" was palpable and as celebrities mingled and watched the show. The colorful and differing outfits really made an impression and kudos has to be given to the featured African designers including Tiffany Amber, Lanre DaSilva-Ajayi, Dax Martin, Ituen Basi , MAI, Zizi Cardow and David Tlale.
As a guy I must say that MAI never ceases to impress, with the cut and finishes of each suit worn by (has to be said) well chiseled guys made me want to start a new wardrobe.
The show took a long pause after the fashion show and before the awards began, the rain, as unwanted as it was with an open-air red carpet segment, did help to drive people into the cool Eko Conference hall. Quickly filling up the regular ticket seats and also populating the VIP section (which for once was at the back upper level of the hall, well spaced and well catered for, with their round tables and white sheets).
When the show eventually started it looked like it may straggle or drag a little as the live band fiddled about just before it all went off with a bang. P-Square came out in their white reflector clad jackets (reminiscent of Michael Jackson) and rocked the stage. Every time their washboard abs where shown the women in the crowd went crazy and then for the guys, the dancing queen of Nigeria "Kaffy" came out to perform with them. Her sexy gold sparkly outfit and tastefully sensual dancing made this one heck of an opening act.
Just as we were all slowly coming down from the hype of the performance Uti came on stage like a space man in a shiny silver suit, covering his whole body. But he was promptly stripped by three models, unveiling his stylish black suit and patented hairstyle. As he went on to announce the start of the show a voice impersonated Big Brother and informed him that his last task was to host the 3rd  edition of the SMVAs. He gracefully accepted and with that the show was underway.
Many awards and performances wowed and surprised the crowd as the night drew closer to the morning, but to make things easier I'll put the highlights out there for you:
Favorite Performance: Sasha P
Sasha has been in the game for a long time and I was impressed as the self titled "1st Lady" did a fantastic job on stage. Her performance was ushered by Bez who strummed his guitar and serenaded the crowd with the chorus of "Making Money", followed by the vocals of a talented back-up singer, Sasha came on stage in a cute black "tuxedo-esque" outfit (very reminiscent of Janelle Monae) and rapped, danced and entertained us all.
Rising Star Moment: Wiz Kid
This guy is truly the future of Nigerian hip-hop. After seeing him grow behind Banky W all this time, it's amazing to see him do his thing in his own right. At such a young age not only does he have musical talent but he is also blessed with stage presence (his "moves" on stage really got people going) and as my friend said "the boy has mad swag". His performance was well rehearsed and it all came across so fluidly it had the people on their feet and even boogying in the wee hours of the night.
Let Down of the Evening: Overcrowded gates
I must give credit where credit is due and SoundCity did put on a tremendous show but I was immensely disappointed when I went to meet a friend and the lack of organization at both entrances had caused crowds to gather. And we all know how crowd mentality can be as one person tried to push his way through and caused a mini stampede. Taking cover behind a pillar I waited till control was gained again only to see a well known PH Celebrity had suffered at the hands of his fans. He brushed himself down and went on to enjoy the show.
Funny Moments: Mr. Nigeria's slip of the tongue, Eldee's Kanye moment, Mo'hits bouncer gets physical.
During the show there were a lot of funny moments, some planned:
• When Uti was asked by "Big Brother" if he thinks he can win the money and her replied "I've won it already now, what are you talking about?"
• And then some not so planned: When Mr. and Miss Nigeria came on stage and as a means to rouse the crown Mr. Nigeria says "Let Me Hear Your Hands Up" and as the audience reacts, he notices the mistake and jokingly reminds us "English is not my 1st language, oh"
• Goldie wins award for Best Female Video and as a rep of Kennis is picking up the award, Eldee comes on stage, grabs the mic and uses Kanye's famous words to Taylor Swift "I'mma let you finish but" and as the crowd laughs with them he gives his thanks and props to Goldie then gives the mic back and walks off.
• During the Mo'Hits All stars performance, an overzealous fan runs on stage to go dance with the stars but is abruptly booted off the stage by one of the bouncers.
The show was just amazing and so much happened I could go on for hours, I mean Asa's performance was great, showing her emotions with every gesture and when it was time to dance, she reminded people of her roots with her Yoruba dance moves. It was obvious she was having fun out there and it got to the audience as she received a standing ovation. Looking around the crowd you could tell people were spellbound with smiles lingering on faces and general bobbing to the beat, oh and let's not forget the accents which completed her act… Her outfit, the lovely red shoes and her "never seen without them" "cat" glasses.
So all in all it was a great night (or should I say morning) out, memorable moments all captured and hopefully will be broadcast on TV soon. Now it is time I leave you all and catch up on some sleep as not only was the event so much fun but so were the after parties. But that's gist for another day.
~ Jite
_____________________________________________________________________________________________
BN Red Carpet Fab for the SMVAs will be up this week – Trust us, you'll want to see this!

SoundCity Music Video Awards 2010 – WINNERS

Best Male Video
Banky W – Strong Ting – Nigeria
Best Female Video
Goldie – You Know It – Nigeria
Best Choreography
Dama Do Bling – Moza Girl – Mozambique
Best Special Effects
Djinee – Overkillin' – Nigeria
Best Editing
P-Square – Danger – Nigeria
Best Duo Or Group Video
Deep Level – We Run The City – South Africa
Best Cinematography
Teargas – Mhlobo Wami – South Africa
Best Hip Hop Video
Jozi – Wild Life – South Africa
Best R & B Video
Mike Anyasodo – Fine Fine Lady – Nigeria
Best Pop Video
2Face Idibia – Implication – Nigeria
Best Collaboration In A Music Video
Sarkodie Feat. Sway & Jayso – Lay away – Ghana
Discovery Of The Year
JR – Show Dem – South Africa
Best Video (Voting)
Banky W – Strong Ting – Nigeria
Viewers Choice (Voting)
Buffalo Souljah – Ezandlha Phezulu – Zimbabwe
Hit Producer Of The Year (As Used In A Music Video)
Sossick/Da Grin – Pon Pon Pon – Nigeria
Best Western
2Face Idibia – Nigeria
Best Southern
ProVerb – South Africa
Best Eastern
Wyre – Kenya
Best Central
Fally Ipupa – DR Congo
Soundcity Fresh Video
Tania Tome – Nhi Ngugu Haladza – Mozambique
Photo Credit: BellaNaija.com | Tyna Ezenma